Hollow Block
The picture below is a sample picture of a hollow block machine, but before we start talking about the hollow block machine, first, we need to know exactly what a hollow block is and where it is used.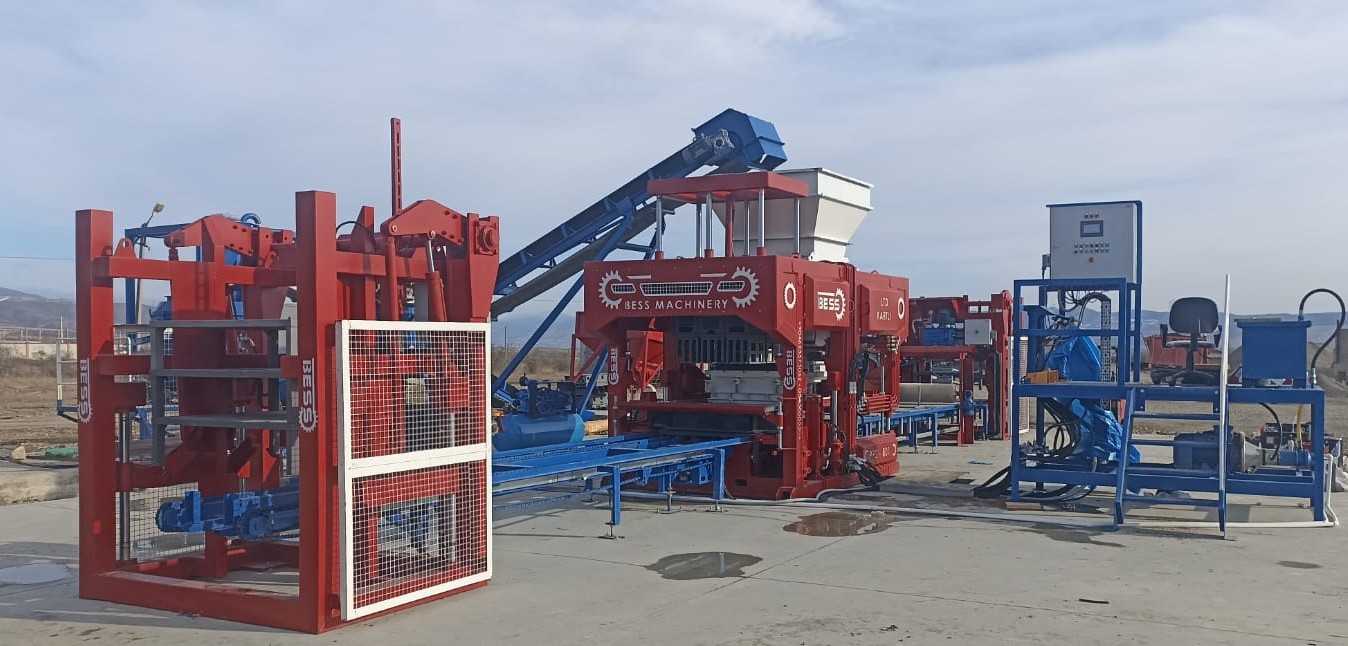 A hollow concrete block is a block that usually has two or three hollow spaces between its walls, that is why it is called a hollow block. The number of hollow spaces depends on the width and length of the blocks and the bigger the size of the block is, the more it has hollow spaces in it.
Hollow blocks have different shapes and sizes according to your use. These concrete blocks are mostly used to build walls in the construction industry. If you only need information about concrete blocks you can read the article ''What is a hollow block?''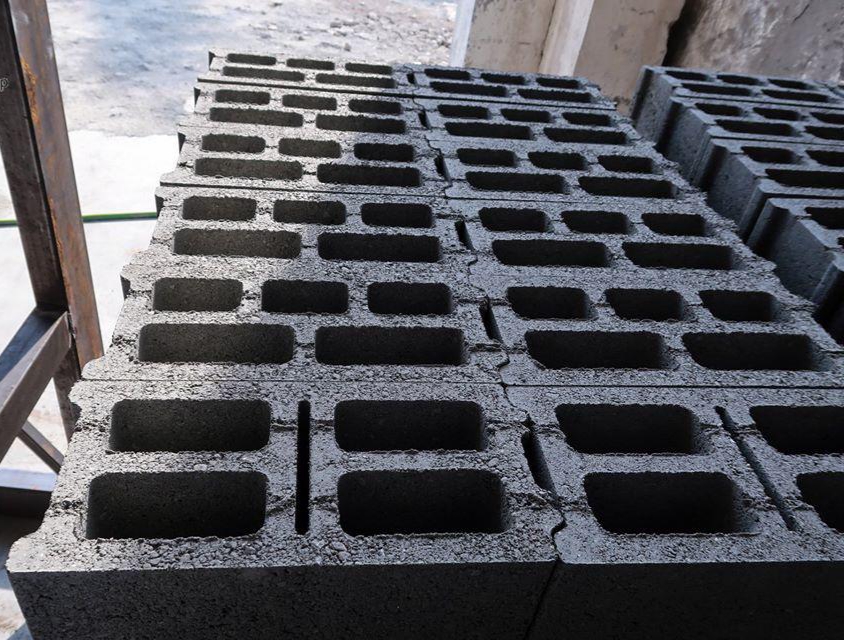 In some countries like Kenya, Ethiopia, Ghana, the United Kingdom, Somalia, and Uganda, this type of block is called concrete brick or concrete masonry unit too and the machine, of course, is called concrete brick making machine. It is also called a block making machine or paver block machine as well. These are common names used for this machine, but the original name hollow block machine is more common.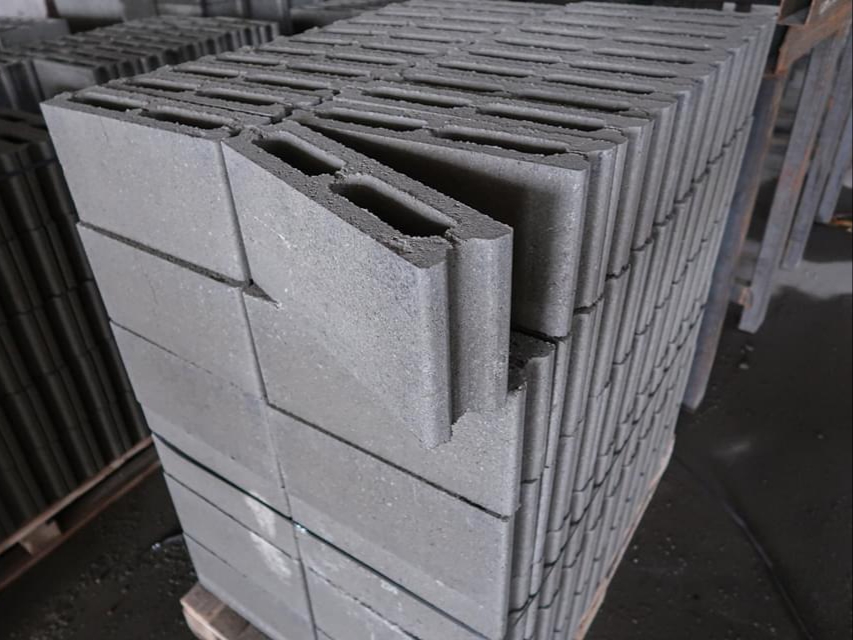 A hollow concrete block is made of concrete, there are different standards of the mixture ratio of the mortar that is used to make hollow concrete blocks and there are different additives for the mortar as well. The mixture ratio determines the resistance and other characteristics of the hollow concrete block.
Another factor is water, if it is drinking quality water it won't cause any trouble but using low-quality water with many minerals dissolved in it can cause some white lines and spots to appear on the block when it is dried. These blocks are usually used to build walls and they are covered with plaster or other covering products almost in all cases, so it won't be a big problem if your water doesn't have good quality. Further details: everything about hollow block making machines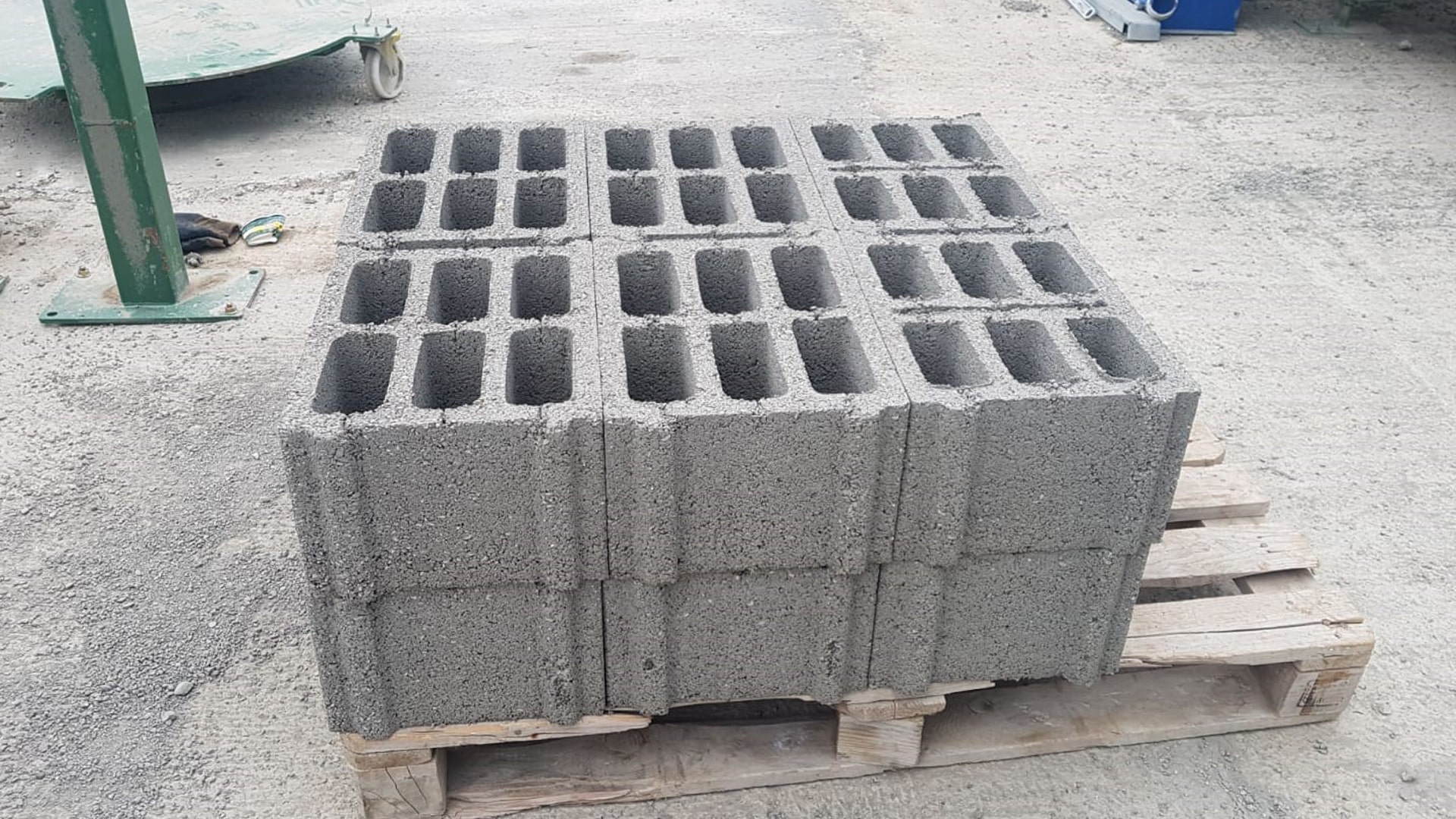 You may ask why we need these hollow spaces in blocks. Actually, air traps winter's colder temperatures or summer's heat between the walls of hollow concrete blocks and forms a barrier that blocks the heat and cold from affecting your home. So, you will spend less energy to reach the temperature you desire.
---
Hollow Block Machine
hollow block making machines have different automation levels and of course, they are built in different capacities as well.
The capacity of the machine has an international standard:
The number of standard blocks that a block making machine can produce in one press determines the standard of the hollow block machine. Here are some examples:
A block making machine that produces 8 pieces of hollow blocks in one press is called a size 8 machine. Bess company has named it the PRS-800.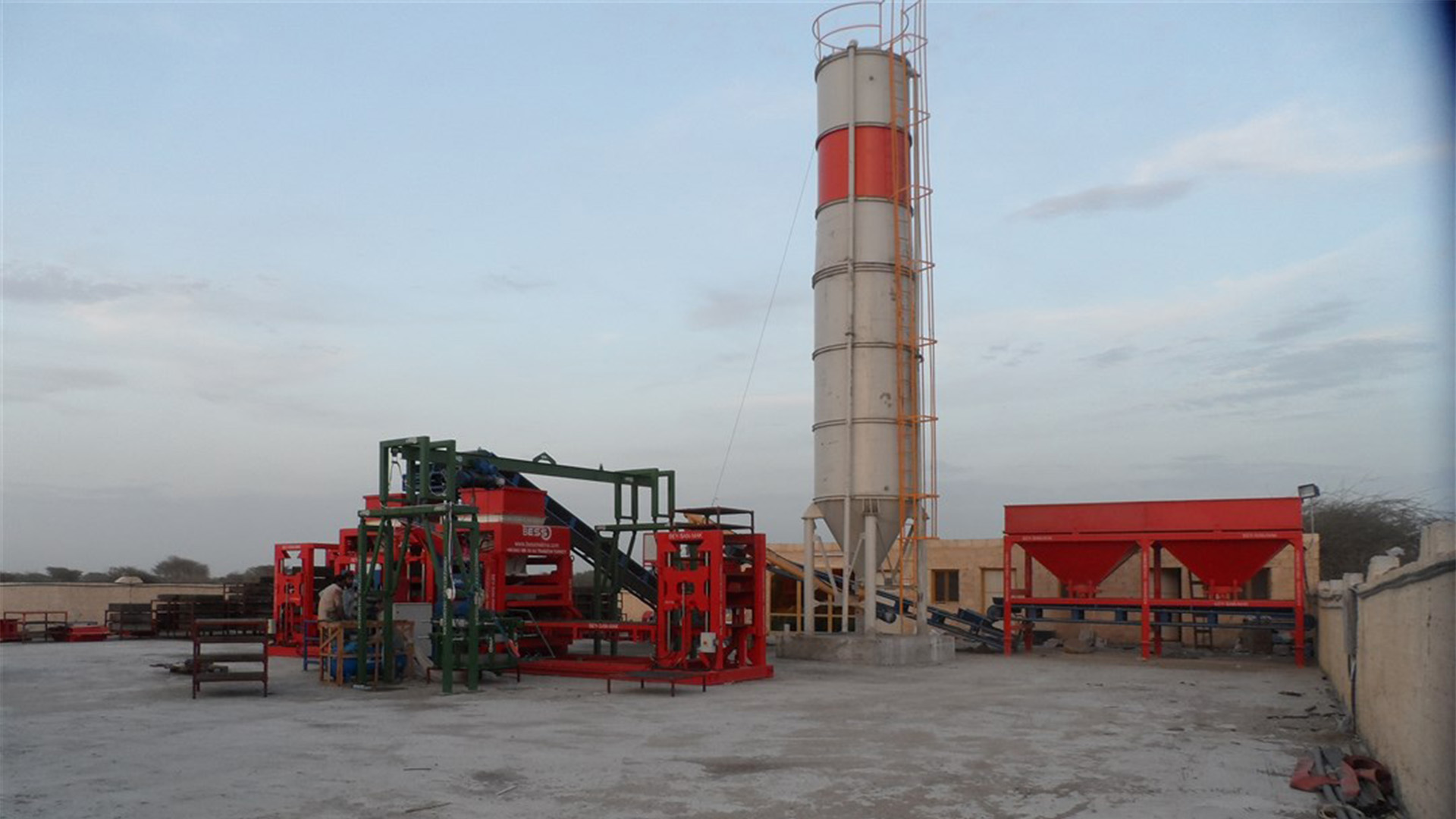 The minimum capacity of the stationary block making machine is 4 pieces of blocks in each press. It is called a size 4 machine. Bess company has named it the PRS-400.
Note that if you order a double-hopper machine to produce double-layer pavers the machine will be called a paver block machine. A paver block machine is different from a hollow block machine in terms of equipment and working system.
---
Hollow Block Machine In Kenya
On the 15th of march 2023, we will be in Kenya for installing one of our hollow block machines and visiting a few customers. If anyone is interested we can arrange a meeting as well. our contact details are available at the end of this article.
Keep reading this article and discover the benefits of using hollow block machines in Kenya for your construction projects. This article covers everything from the technology behind these machines to their versatility and customization options. Learn how investing in a high-quality hollow block machine can improve your productivity, reduce labor costs, and create unique designs that stand out in the market.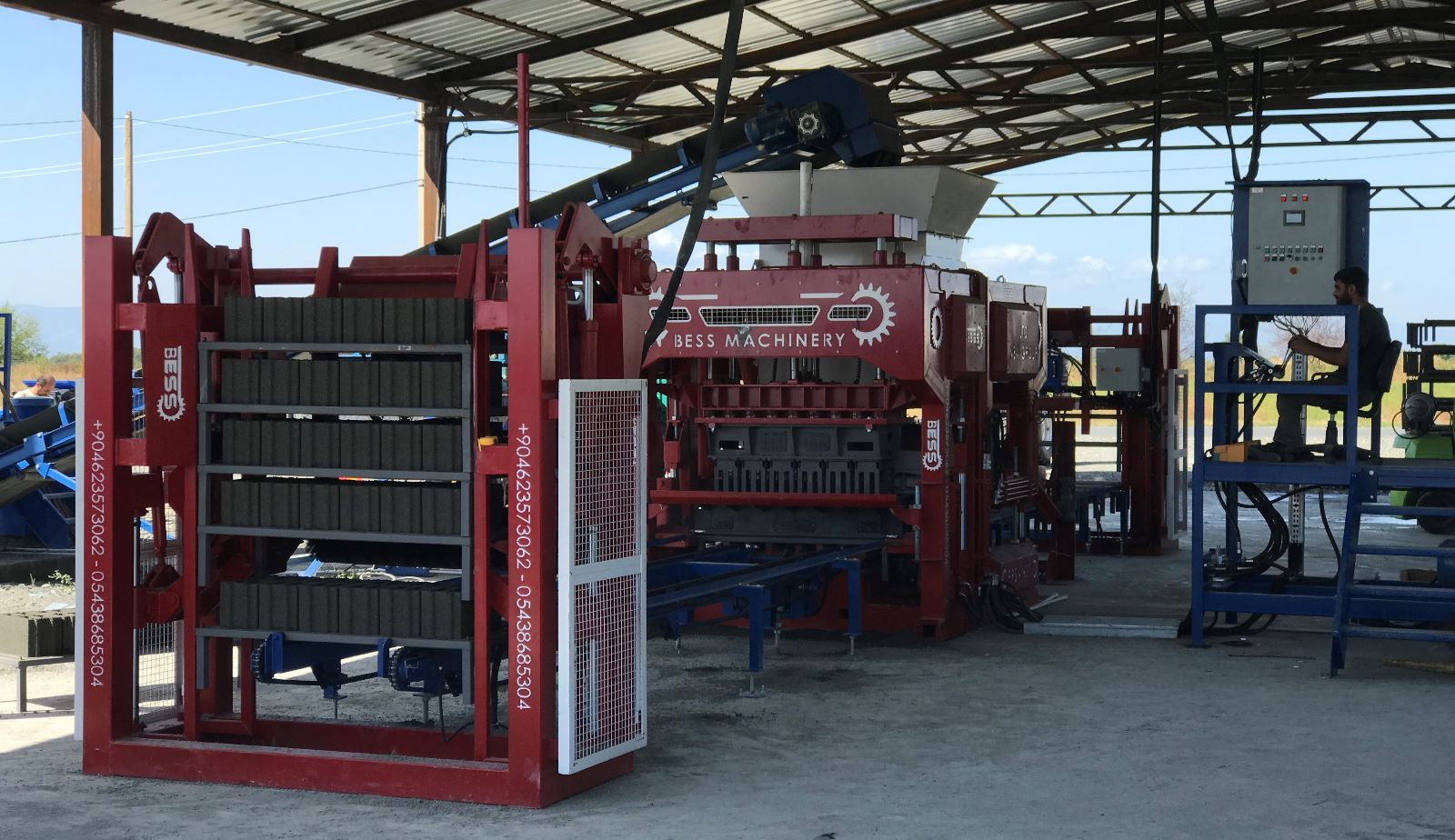 A Step-By-Step Guide To Buying A Hollow Block Machine In Kenya:
Determine your needs: Before buying a hollow block machine, you need to assess your needs and requirements. Consider factors such as the volume of production, the types of blocks you want to produce, and your budget. This might be different from one city to another.

Research and compare: Look for suppliers of hollow block machines in Kenya, and compare their products, prices, and customer reviews. You can also check online marketplaces and directories for more options.

Contact suppliers: Once you have shortlisted potential hollow block machine suppliers in Kenya, contact them to learn more about their products, services, and pricing. Ask for a quotation and any additional information you need to make an informed decision.

Check the specifications: Carefully review the specifications of the hollow block machines you are interested in buying. Look at the production capacity, power requirements, and quality of the finished blocks, among other things.

Check the warranty and after-sales support: Ensure that the supplier offers a warranty for the machine and has a reliable after-sales support system in place. This will give you peace of mind and ensure that any issues or repairs are addressed promptly.

Place an order: Once you have chosen a supplier and reviewed the specifications and warranty, place an order and make the necessary payments.

Arrange for delivery and installation: Coordinate with the supplier to arrange for the delivery and installation of the hollow block machine at your preferred location. Ensure that you have the necessary space and infrastructure to accommodate the machine.

Training and commissioning: After the machine is installed, the supplier should provide training to your staff on how to operate the machine and maintain it properly. This will ensure that you get the most out of your investment and maximize the productivity of the hollow block machine.
By following these steps, you can confidently buy a hollow block machine in Kenya that meets your requirements and delivers value for money.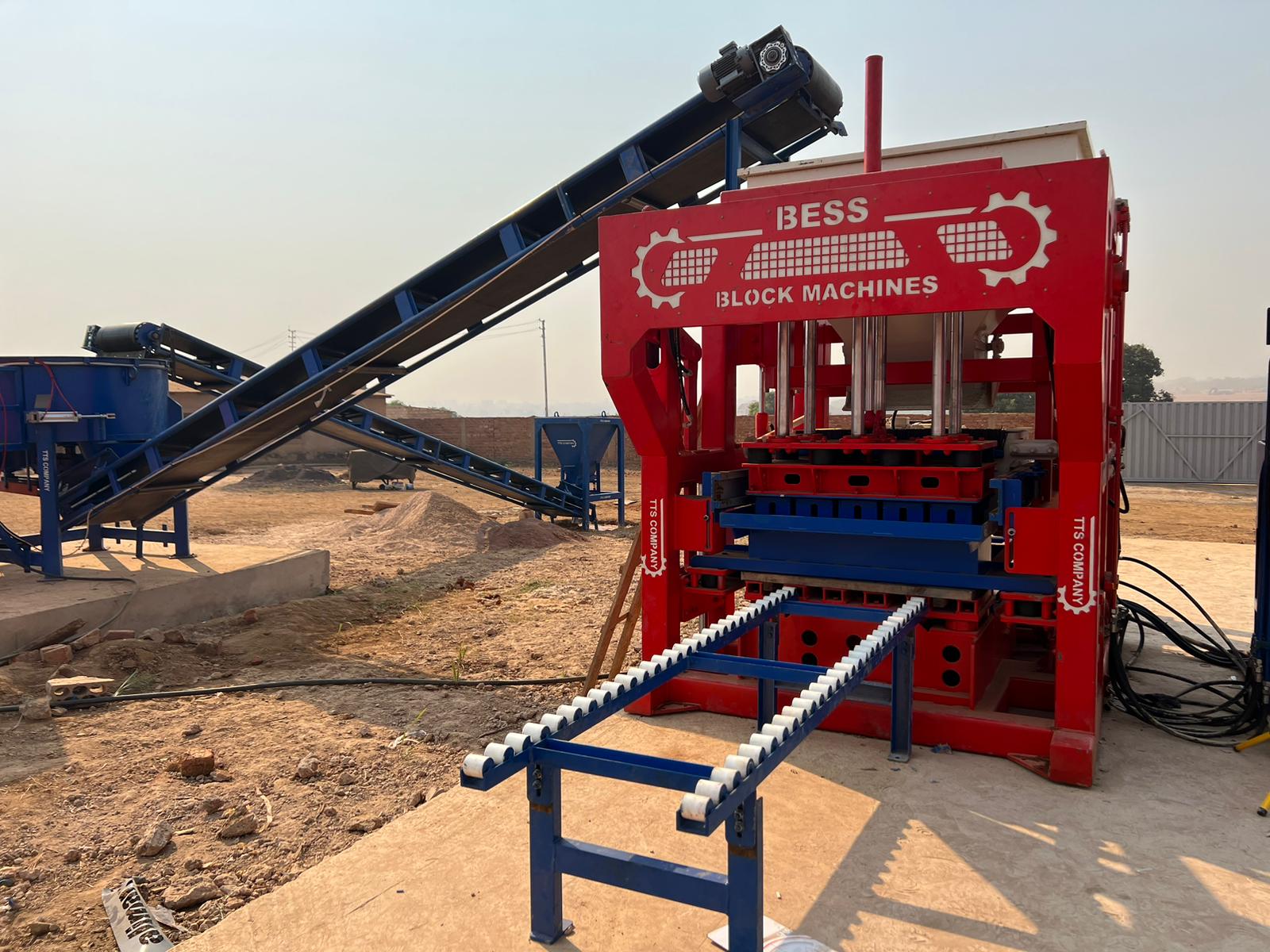 ---
Hollow Block Machine Pallets
The stationary hollow block machine needs pallets to produce hollow concrete blocks. The size and thickness of the pallets differ due to the size of the machine.
For bigger capacities, you also need to increase the number of pallets to cover your production number. Because some pallets are stored in the curing section while the other pallets are used in the production line to produce hollow blocks. Normally If you are planning to use the machine for one 8-hour shift, you will need 1000 pallets.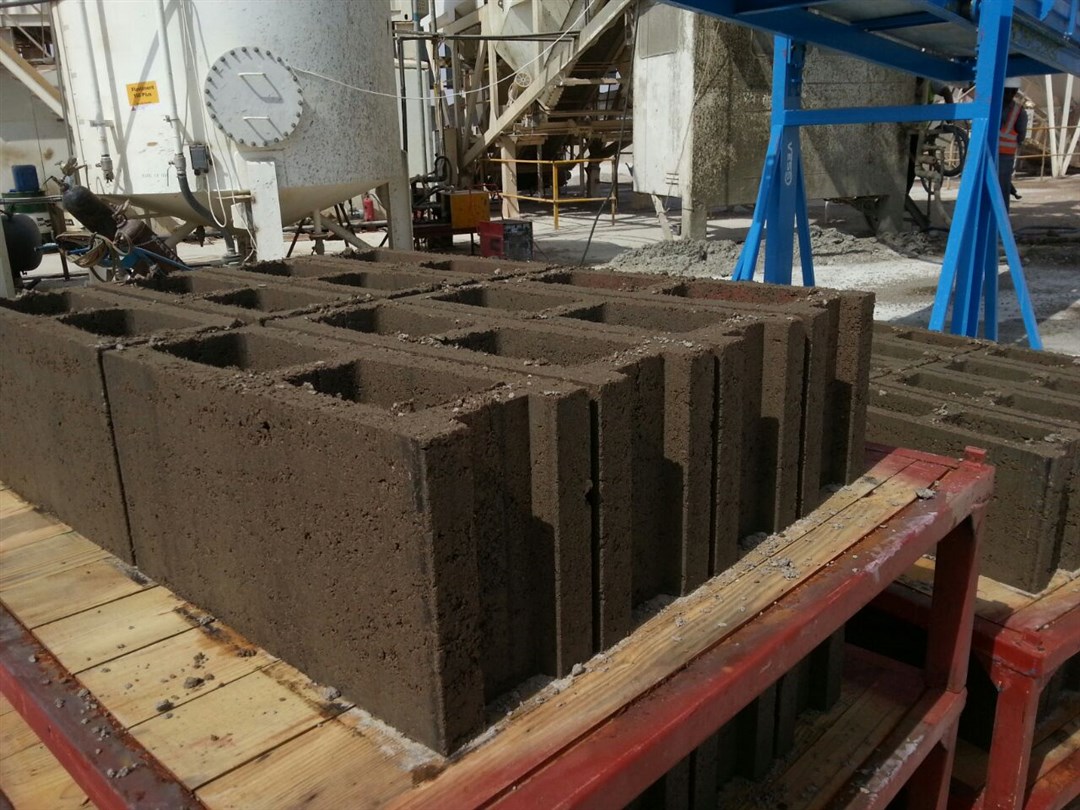 The smallest pallet in size is 60cm*75cm*4cm and the biggest pallet size is 140cm * 180cm * 8cm.
---
Necessary Elements For Establishing A Hollow Block Factory
1. Land dimension:
The land needed for this purpose depends on your machine's capacity and its automation level. But it should be more than 1500m2 for the lowest production capacity and full-automatic concrete block machine.
If you choose a semi-automatic machine you will need more area because in semi-automatic hollow block machine pallets are collected one by one after the press but in the automatic model first, five of them are stored on top of each other then they are delivered to the drying section together.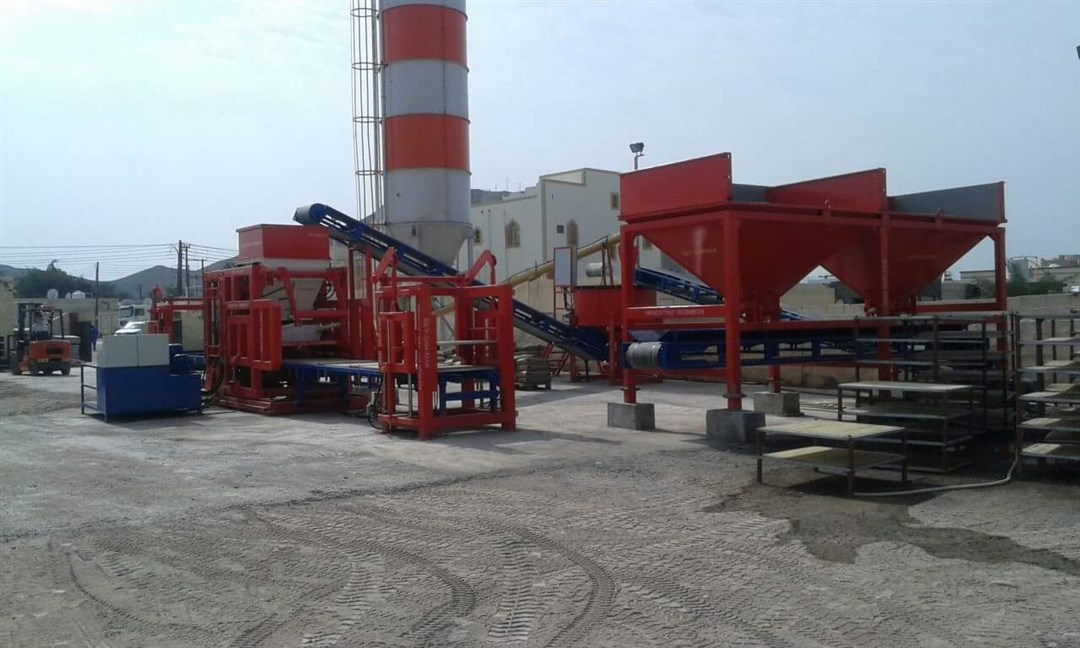 Of course, for bigger paver block machines, you will need more pallets, more space, and more workers so it will be wiser if you choose the automatic hollow block machine. In this way, some of the duties are done by robots instead of workers.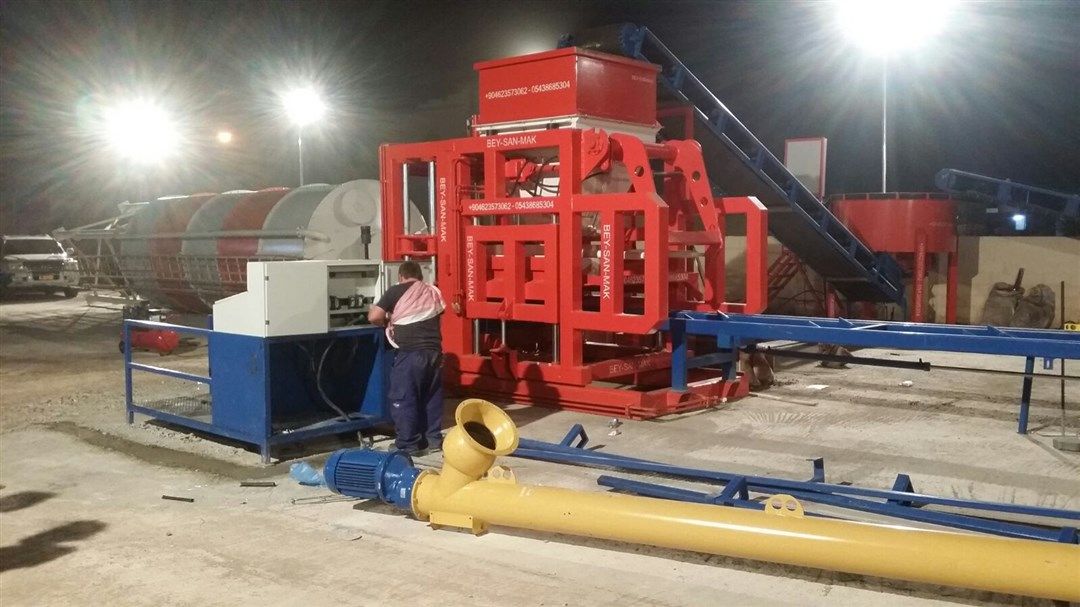 It is recommended to buy bigger lands if it is possible in your country because you may develop your business in the future and buy a ready-mixed concrete batching plant for construction purposes or even develop your own block making machine and add robots to your interlocking brick machine. In this case, you won't need to buy land if you have enough budget to buy it in the first place. Different names are used for the hollow block machine, like interlocking brick machine or paver block machine to make you more familiar with the different names of this machine based on the use.
2. Ingredients:
You should make sure that the ingredients are supplied to you locally and at a reasonable price because raw materials directly affect the final price of the product. Ingredients are:
1. Powdered Portland cement
2. Reasonable quality water
3. Sand
4. Gravel
This is the basic ingredient list for the mortar that is fed to your hollow block machine. In some countries the ingredients are different but the size of the ingredient should be below 5mm. The most expensive material above is cement. It is stored in cement silos and added automatically in the automatic model and it is stored in 30kg packages added by hand in the semi-automatic model.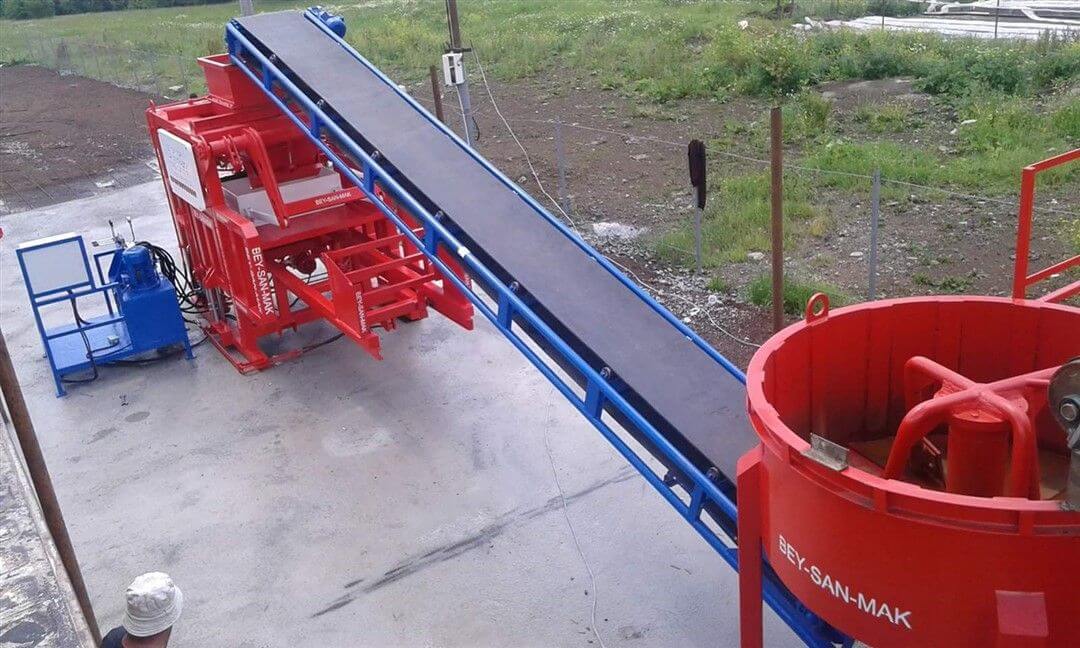 3. Labor force:
For a semi-automatic machine, you will need about 9 people for your hollow block factory, they will feed the aggregate to the mixer, operate the hollow block machine, take the pallets to the drying section after they are pressed, gather the dried hollow concrete blocks from the pallets and finally feed the pallets again to the machine.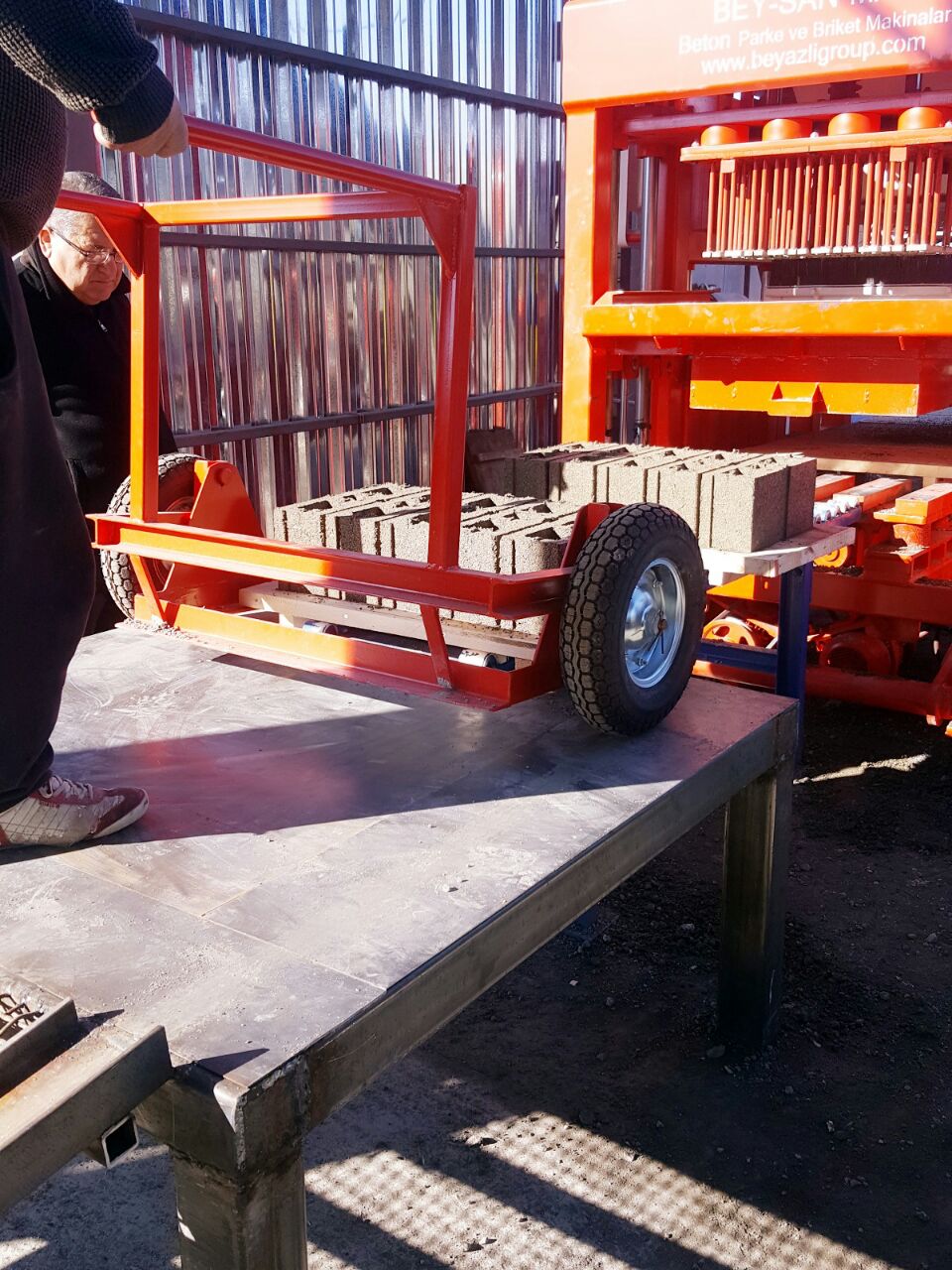 To reduce this number, we suggest that you buy an automatic pallet collecting system which is more accurate and faster as well. You will need 6 workers for your hollow block factory when you buy an automatic block making machine.
In this brick making machine, the act of collecting the pallets, collecting the hollow concrete blocks for the pallets, taking them to euro pallets, and feeding the pallets to the machine is done automatically. Buying the full-automatic model is not recommended in countries where labor cost is cheap.
If the labor cost and land are expensive in your area, we recommend you buy an automatic machine.
4. Hollow block machine:
The machine has different names, it is called brick making machine, hollow block making machine, even brick laying machine. They all mean the same. It is very important to choose your machine wisely, the machine you choose should be able to produce hollow concrete blocks, paving blocks, tiles, concrete gutters, curbstones, concrete hollow floor blocks, and grasscretes by changing the molds.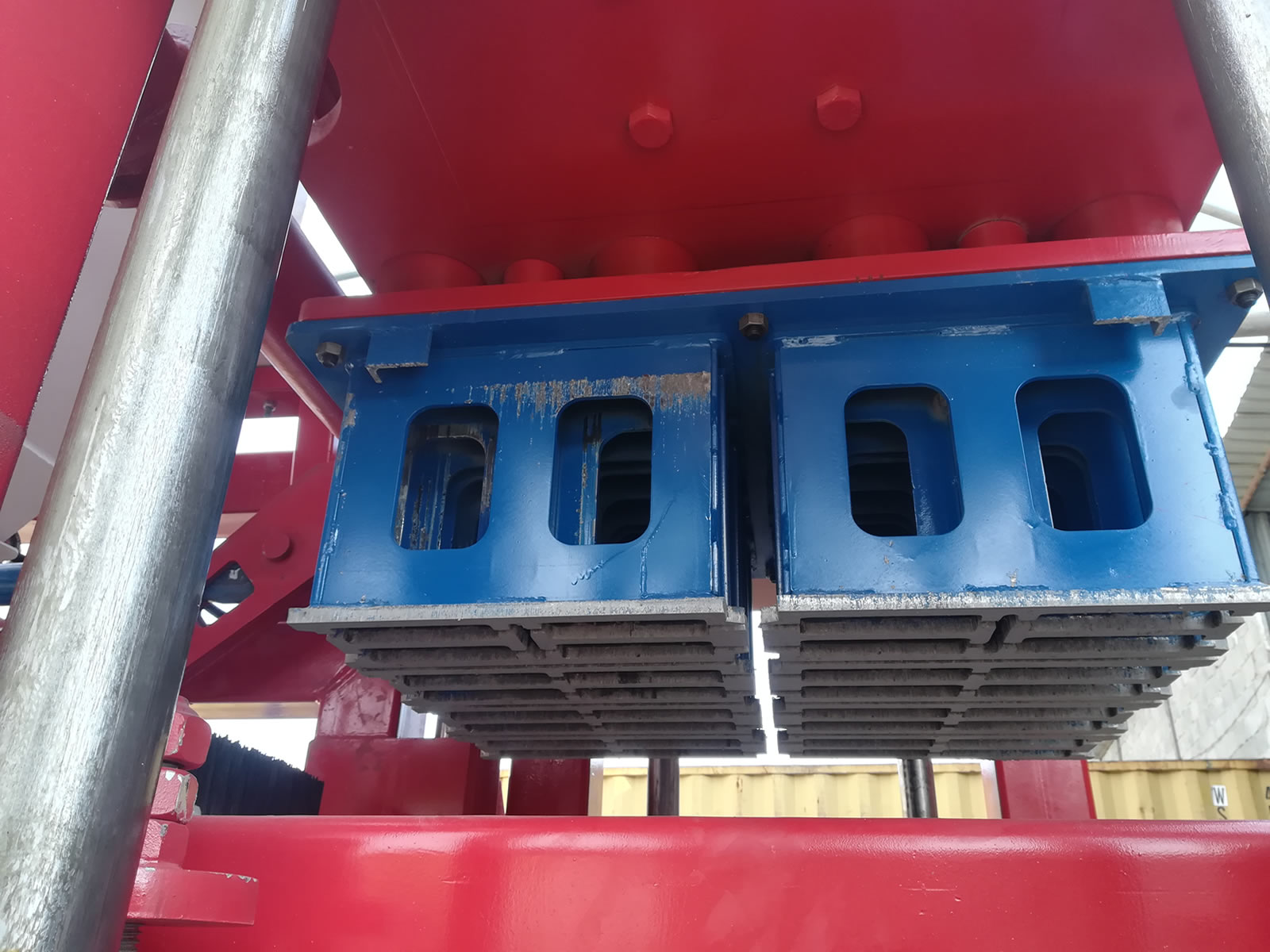 The hollow block machines that don't have such a capability are not worth spending money on them. It is not logical to buy 3 machines to produce 3 different kinds of blocks. The machine you buy should be capable of producing all these blocks only by changing the molds. You can see our concrete block mold models for further details.
One of the most important things that you should consider is the hollow block machine's quality. If you want to run this machine for 24 hours a day it should have premium quality. The quality of the machine prevents the failure of the machine and reduces maintenance services.
Of course, every working machine will stop working due to some failures, but the important thing is how many times it happens during a year and how many hours of production you will use. This is directly related to the quality of the machine and the quality of the equipment used in this machine.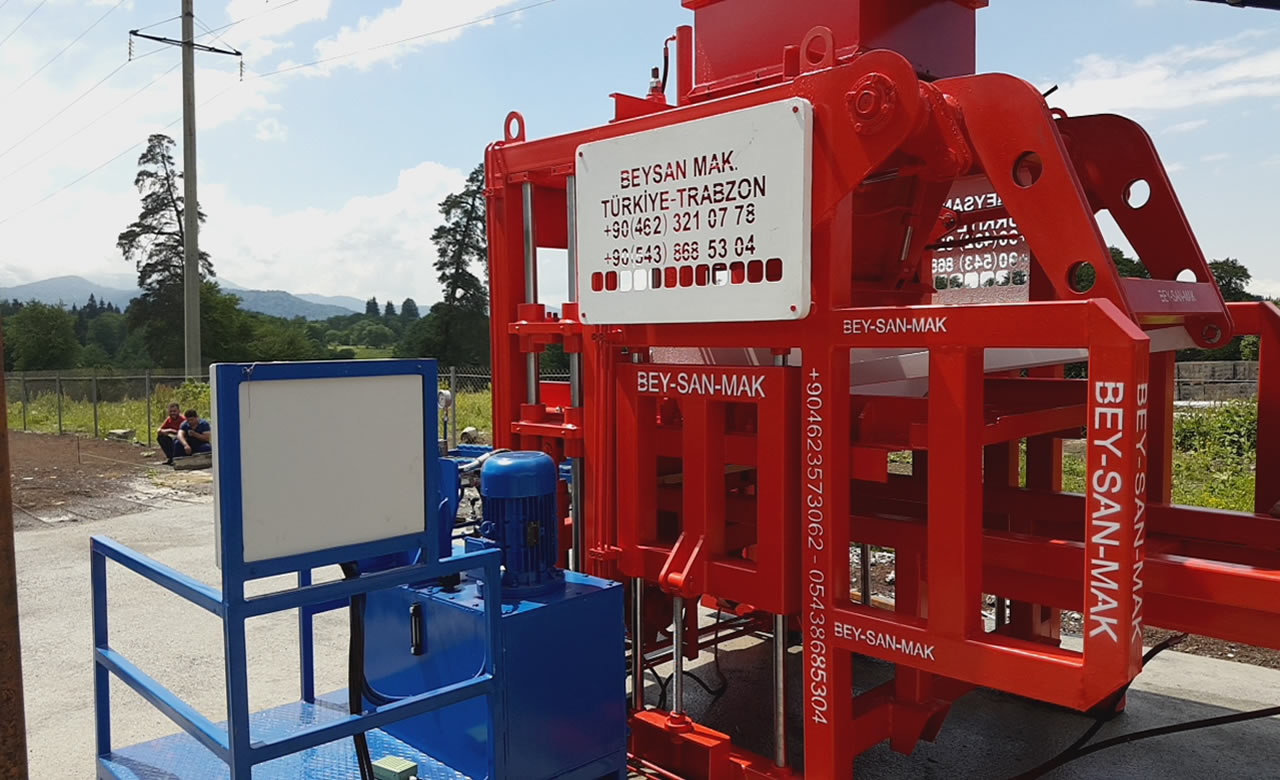 The Block making machine usually doesn't need roofing but if you have a roof over the machine it is so much better if the manufacturer company forces you to have a roof it means their machine doesn't have the desired quality.
Some of these hollow block machines are designed as a double-hopper system. The second hopper is for producing double-layered paving blocks and it doesn't affect hollow blocks and it is explained in another article related to the paving blocks.
Below you can see the production process of hollow blocks. You can also visit the Bess youtube channel for both animation and real videos.
5. Budget:
You should spend your budget wisely. You shouldn't spend your whole budget buying the block making machine. Considering the expenses like shipment transporting the machinery and its insurance, using a crane to place your machine, buying aggregate, and paying the personnel for a few months if you are selling your products in installments is very important.
6. Electrical energy:
The land that you are installing your hollow block machine on should be supplied with electricity. It is necessary for the production line because the machine runs on electricity. Choosing the machine, you should consider its electric consumption as well because today energy costs are higher than before, and this cost directly affects the final price of hollow concrete blocks.
Machines with higher efficiency are preferred these days due to the higher costs of energy. higher efficiency means the machines use less energy to do the same job.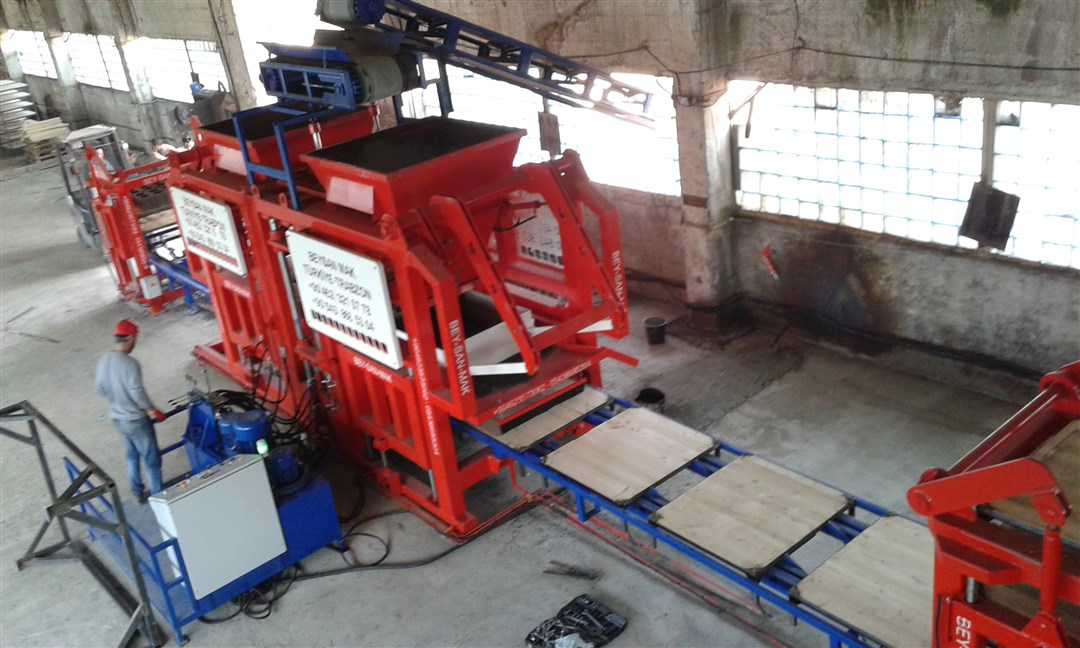 Hollow Block Machine Price
---
Hollow Block Machine Technical Details

Mortar Hopper and Capacity
Single Hopper /0.5 m³
Control System
Operator Control
Production Capacity
100-120 Pallets / Hour
Weight
6.500 Kg
Machine Dimensions
200 cm /550 cm / 250 cm
External Chassis Dimensions
150 x 150 x 6 mm Closed Profile
Vibration Force
36.500 Kg
Lower Vibrator Motor Power
5,5 kW x 2 Pieces
Upper vibrator motor power
0.75 kW x 2 Pieces opt
Hydraulic Motor Power
5.5 kW
Hydraulic Oil Tank Capacity
350 L
Hydraulic Pressure
150 Bar
Vibration Cooling Capacity
22.000 Kcal
Total Power Usage
18 kW
Min - Max Product Height
5-25 cm
Wooden Pallet Dimensions
50 x 100 x 4 cm
Consider that this machine can produce 4000 pieces of hollow concrete blocks in an 8-hour shift. This model is the lowest capacity of production for stationary models.
A premium-quality block making machine should be able to press 100-120 times on pallets in one hour. It means it presses a pallet in approximately 30 to 40 seconds.
That's why the factory suggests an automatic machine for bigger production capacities. some times workers can't handle the speed of the hollow block machine, especially in bigger capacities.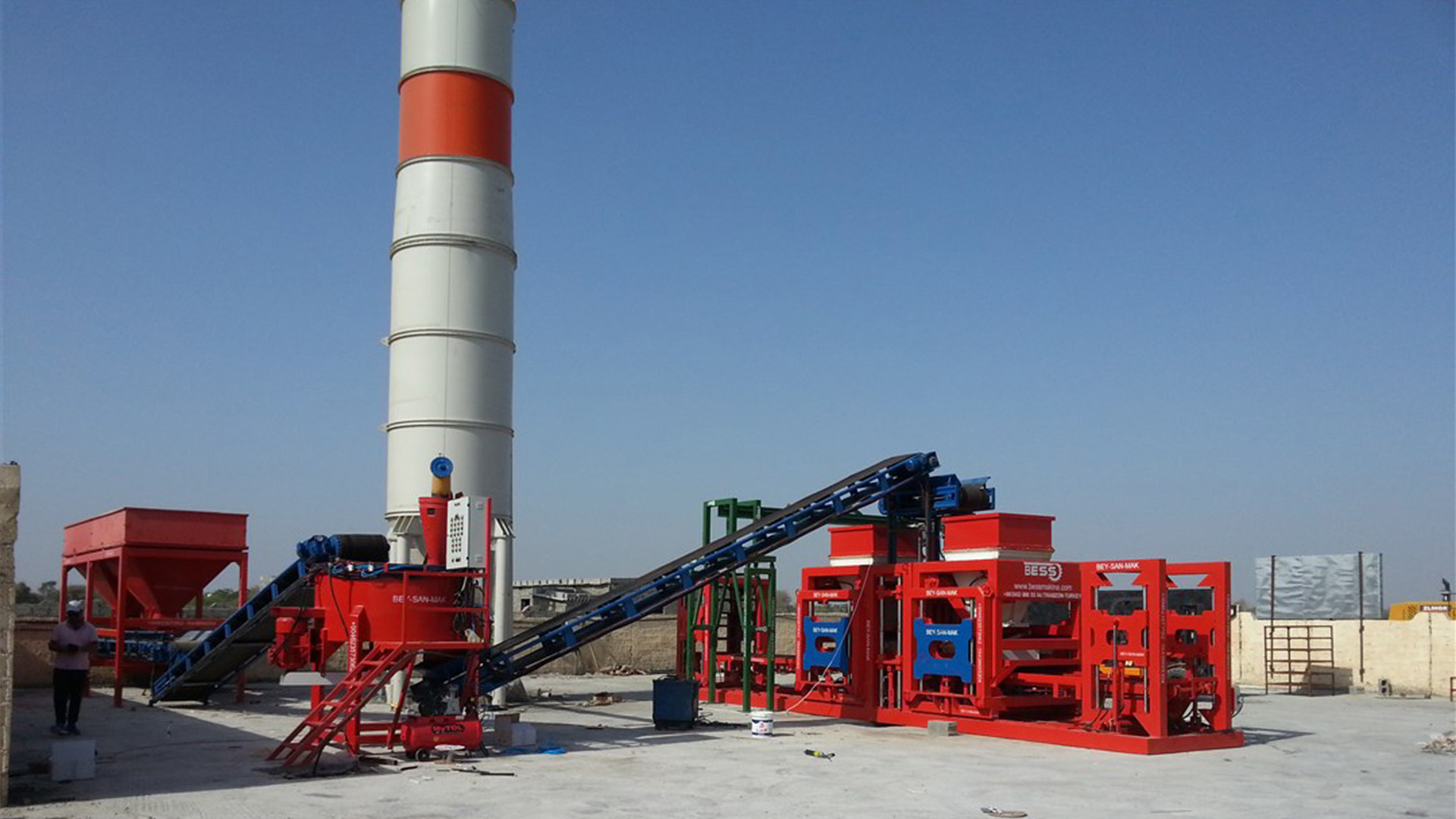 You may ask how much this machine costs after all and you are just going to have a list of hollow block machine prices but before that, you need to have in mind that these prices are for the year 2019 and it may differ from factory to factory.
You can visit each product by clicking on its name:
Semi-Automatic Hollow Block Machine

Machine name
Mini plant
Maxi plant
PRS - 400
66.200 $
89.100 $
PRS - 600
72.800 $
105.100 $
PRS - 800
94.200 $
131.000 $
PRS - 1000
126.900 $
179.100 $
---
keywords related to this article
tools used in making concrete hollow blocks
hollow brick machine suppliers
hollow blocks
hollow blocks business
how to make hollow blocks
hollow block machine
---
Conclusion
As the calculations show 20% to 30% of each hollow concrete block is profit. It depends on the country and the expenses of each country too, but this percentage is normally true.
You can start your company on less budget by buying a semi-automatic hollow block machine and upgrading it in the future if you buy an upgradable machine. To get your own hollow blocks business plan according to your machine and country you can contact us.