Interlocking Brick Machine
---
The interlocking system is used almost in all fields of industry including the construction industry, This is for both concrete block types and paving blocks.
This article discusses interlocking brick machines. It covers their capabilities, levels of automation, and prices. If you already know what these machines are and want to find out their prices, you can skip to the end of the article.

To understand everything, let's start with the basic meaning of "interlocking." It's when two or more things fit together like puzzle pieces, either by overlapping or by being placed snugly side by side.
This interlocking method is widely used in many industries, especially in construction, for making different types of concrete blocks like concrete blocks or paving blocks.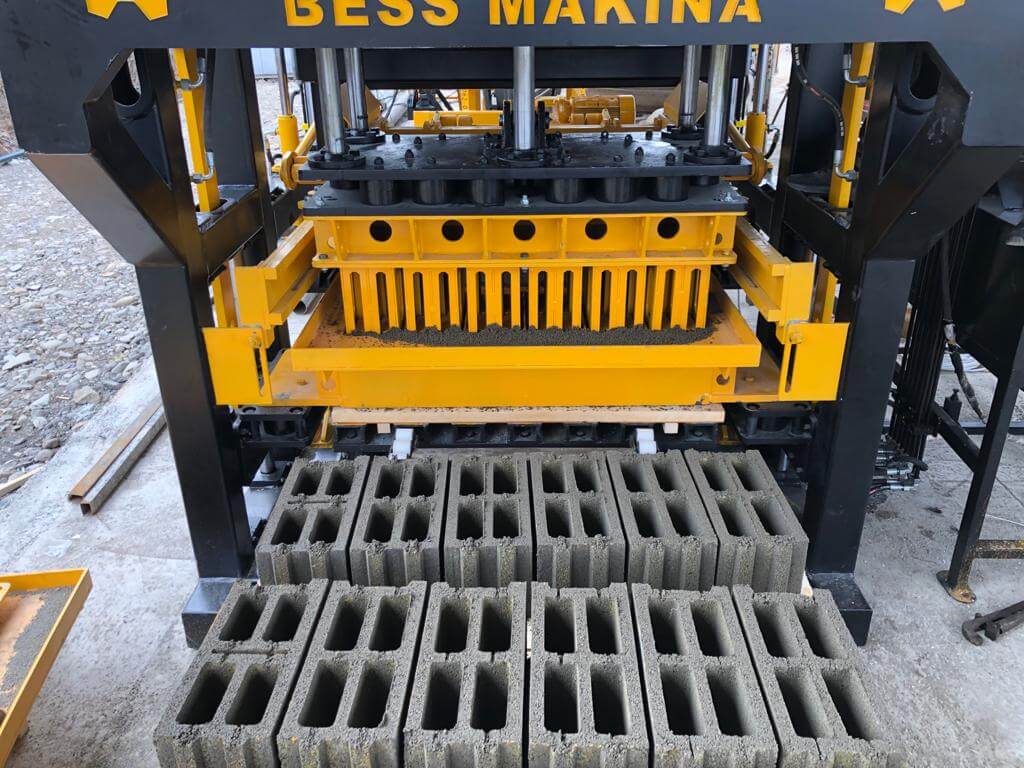 Hollow blocks or paving blocks that are interlocked with each other are called interlocking bricks or blocks and the machine that produces these blocks is called the interlocking brick machine. This machine uses molds to shape interlocking blocks and to shape them, pressure and vibration are applied to the mold.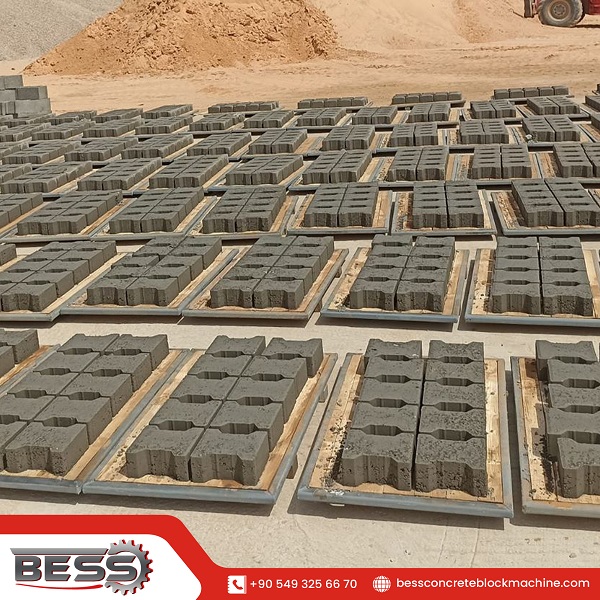 Interlocking bricks offer numerous benefits. Among them, a key advantage is that when constructing a wall, there's no requirement to use concrete to connect each layer to the one below it.
Instead, concrete is only needed for the wall's base and top portions. This interlocking feature significantly minimizes the concrete quantity used and accelerates the construction process. As a result, labor costs are substantially lower compared to traditional hollow blocks.
The Advantages Of Interlocking Blocks
---
Enhanced Stability: Interlocking design provides strong connections between blocks, resulting in increased structural stability and load-bearing capacity.
No Mortar Needed: These blocks fit together snugly without requiring mortar, which saves time and money in construction while promoting precision.
Reduced Concrete Usage: Only the base and top layers require concrete, leading to significant concrete savings compared to traditional construction methods.
Faster Construction: The ease of assembly due to interlocking design speeds up construction, reducing project timelines.
Cost Efficiency: Reduced concrete usage, faster construction, and decreased labor requirements contribute to cost savings in both materials and labor.
Minimal Skilled Labor: Interlocking blocks are easy to work with, requiring less skilled labor for installation, further lowering labor costs.
Eco-Friendly: By using less concrete and requiring minimal excavation, interlocking blocks have a smaller environmental footprint compared to conventional methods.
Variety of Applications: Interlocking blocks can be used for various structures including walls, retaining walls, pavements, and more.
Flexibility: The blocks' modular nature allows for adjustments and modifications during construction without extensive time or cost implications.
Durability: The robust interlocking connections contribute to the long-term durability and strength of structures built using these blocks.
Aesthetically Pleasing: Interlocking blocks often have appealing textures and designs, adding to the visual appeal of constructed structures.
Ease of Maintenance: Repairs and maintenance are simplified due to the block-by-block assembly, enabling specific sections to be addressed without affecting the entire structure.
Cold Weather Resilience: Interlocking concrete blocks can endure freezing temperatures without compromising their structural integrity.
Snow Removal Convenience: The surface of paving bricks allows for easy removal of snow, making maintenance in snowy conditions simpler.
Design Versatility: Interlocking blocks offer a wide range of styling options, catering to various architectural preferences from traditional to contemporary aesthetics.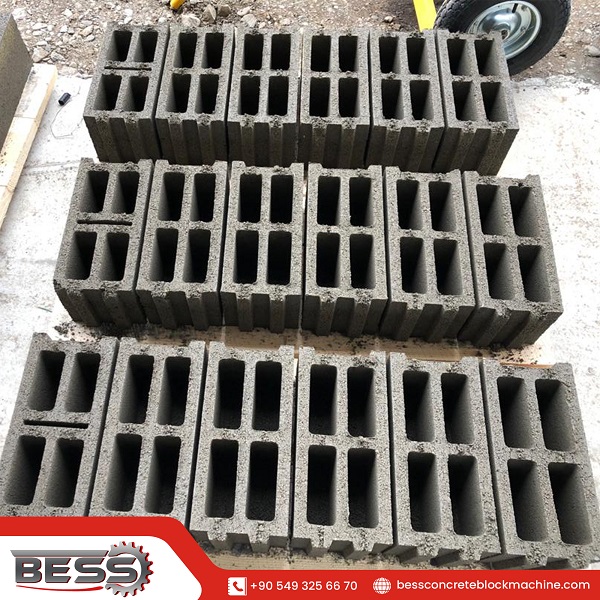 Now after having a general background, we can talk more specifically about interlocking brick machines.
In fact, the interlocking brick machine is the hollow block machine or paver block machine. The only difference is by changing the mold you can produce different shapes of concrete blocks.
There are almost 600 shapes that this hollow block machine can produce only by changing the mold. If you are interested in learning more details about this machine you can also read our article ''brick making machine price and details''.
Here you can see an interlocking hollow block produced by Bess machines. You can choose your desired interlocking block shape based on your market demand. In each country, 3 or 4 interlocking shapes are more popular than others. Choosing the most popular interlocking mold is preferred because it is easier to sell the products.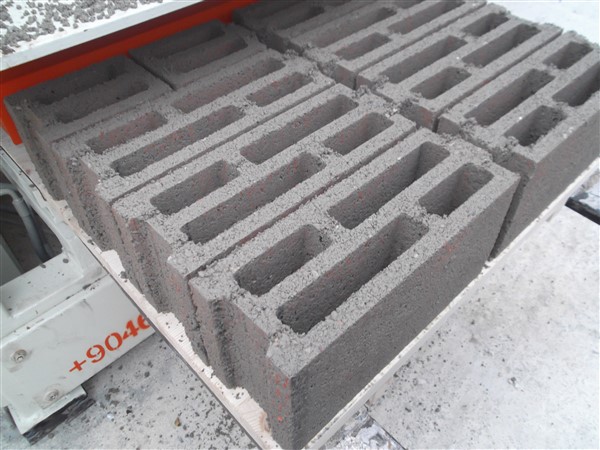 How To Operate An Interlocking Block Machine
---
First, you need to provide your plant with aggregates like sand, stone dust, sawdust, cement, additives, and water.
Pallets should be supplied for the machine too. Pallet sizes differ with the size and capacity of the interlocking brick machine. The number of pallets you need is also related to the capacity of your machine and the hours that you are operating the machine.
Normally you need a minimum of 1000 pallets for your plant if you are working an eight-hour shift daily.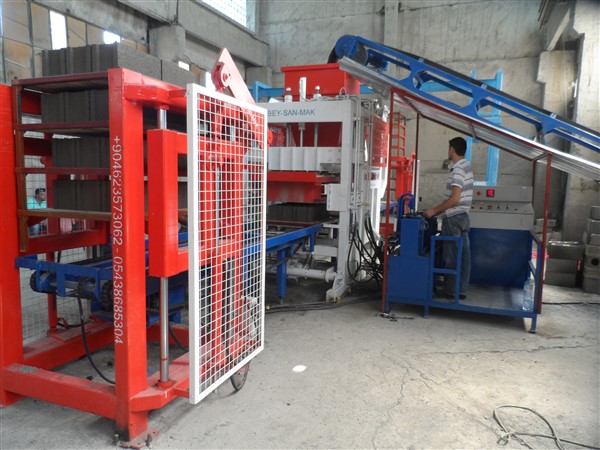 Preparing the concrete:
To form the mortar, it's crucial to combine the mentioned materials in precise proportions. Normally, a ratio of one part cement to three or four parts of raw material is utilized. Afterward, water should be added to the mixture. However, caution is necessary, as excessive water can lead to excessively liquid mortar, while insufficient water might undermine the desired impact resistance when the blocks dry.
Subsequent to this step, the mixture should be thoroughly blended until it reaches a consistent texture. To streamline this process, a mixer comes into play.

Transferring the mortar to the machine:
This is done with the help of the conveyor belt powered by an electric motor and a gearbox coupled to each other.
When the mortar is delivered to the hopper of the machine it is automatically added to the molds with the help of a mortar cart. The mortar cart makes sure the mold is filled evenly on all sides.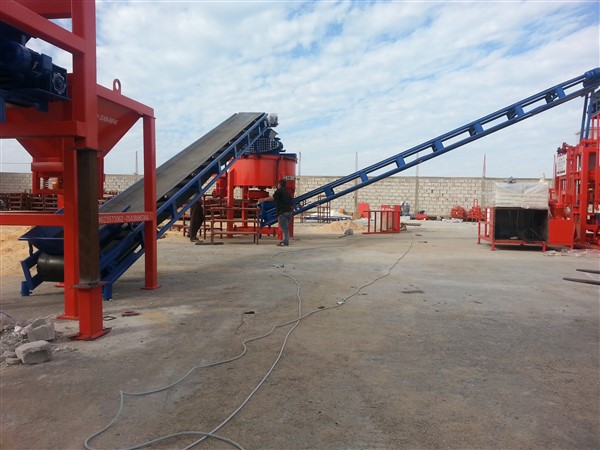 Producing interlocking bricks with the machine:
First, the mortar is poured into the mold filler to fill the molds. Then, the mold filler initiates a back-and-forth movement to accomplish the initial mold filling.
Subsequently, the first round of vibration is activated to close gaps within the mortar, causing the surface of the mortar in the mold to compact.
Ultimately, the hydraulic press comes into play, compressing the mortar within the molds. This action occurs on the pallet's surface and is accompanied by simultaneous vibration. The hydraulic force exerted by the interlocking brick machine typically exceeds 120 bars, while the vibration power reaches 15kw or higher, ensuring the creation of robust interlocking blocks.
For similar videos, you can also explore Bess' YouTube Channel.
Delivering the pallet containing the interlocking bricks to the drying section:
For this purpose, you have different choices
A. Collecting pallets by hand (semi-automatic machine)
B. Collecting pallets by forklift (automatic machine)
If the capacity of your interlocking brick machine is high you are recommended to buy the forklift system. With an automatic pallet delivery system. In automatic machines, a smaller drying section is required compared to the semi-automatic as well. In this way, the land required for the whole plant can be 1000 m2 smaller than the land needed for the semi-automatic pallet collecting system.
But if your capacity is low and your plant area is big, the manual collecting system will do the job. Bellow you can see PRS1000 semi-automatic block making machine in action
Delivering the interlocking bricks to euro pallets for delivery:
This also has two options; it can be done manually or by robots. It depends on your budget and production capacity.
This is the total description of how the interlocking brick machine is operated.
For this reason, you need a minimum of 3 and a maximum of 8 personnel for your site depending on your automation level.
For our automation system, we use Siemens PLC and for the hydraulic parts, we use Bosch Rexroth hydraulic parts as well. You can click on their names for more details.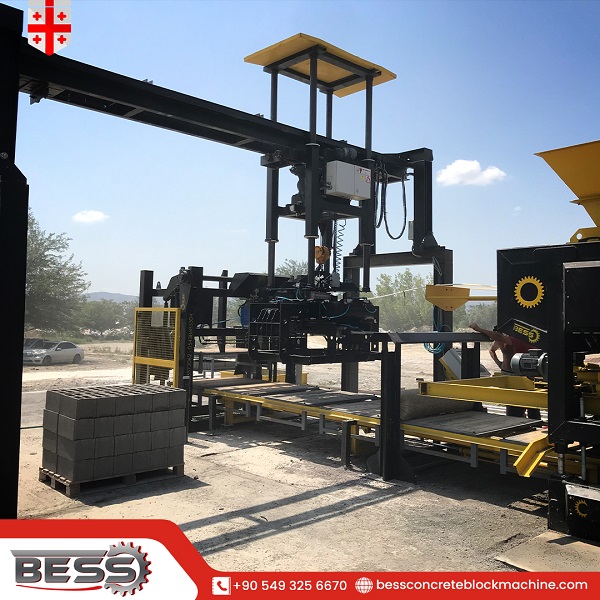 When we talk about Interlocking blocks, we mean different types of them.
Here is a list:
Interlocking paving blocks

Interlocking hollow concrete blocks

Interlocking bricks

Interlocking Lego blocks

Special interlocking blocks for special purposes
Consider that in different countries there are different names for this machine. When the machine is producing interlocking pavers people call the machine an interlocking paving block machine. But in countries like Ghana, Ethiopia, and Uganda where people use it to produce interlocking hollow blocks they call it an interlocking hollow block machine.
Don't get confused when you hear different names for the machine. They all refer to the same machine. Here are a few sample products of the machine.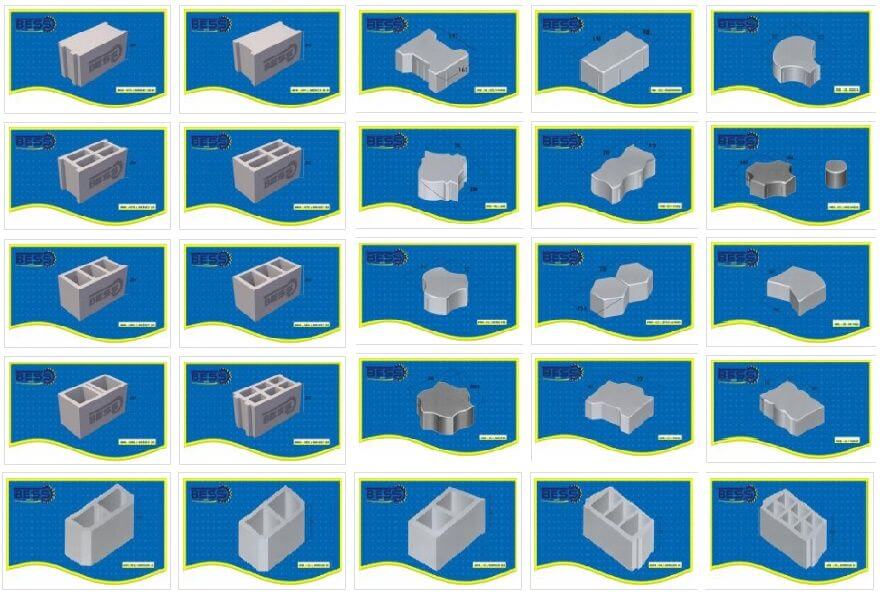 Double-Layer Paving Blocks
---
The block-making machine has some optional equipment that can be added to them if the customer wants. For example, a second hopper can be added. This machine is called a double-hopper interlocking brick machine this hopper enables you to add a colored thin layer to the surface of the interlocking paving block. By this method, you can have colorful paving blocks for your streets and pavements. This machine is also called the paver block machine.
Coloring the interlocking paving block is also possible with the single-hopper machine but you will need to add a lot more color because you should color the whole block when using a single-hopper brick machine. This machine is also called the hollow block making machine.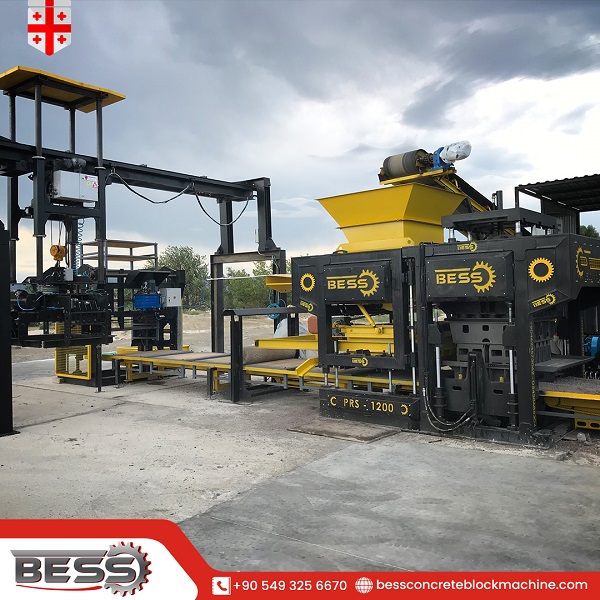 The coloring system is only logical for interlocking paving blocks. For hollow blocks that form walls, coloring is not applied because the wall is later covered with plaster or other materials.
The smallest machine can produce 4000 interlocking hollow blocks and 12000 interlocking paving blocks in 8 hours (one shift).
There are larger capacities of interlocking brick machines such as 6.000, 8.000, 10.000 interlocking hollow blocks and 16.000, 20.000 25.000 interlocking paving blocks, and even higher.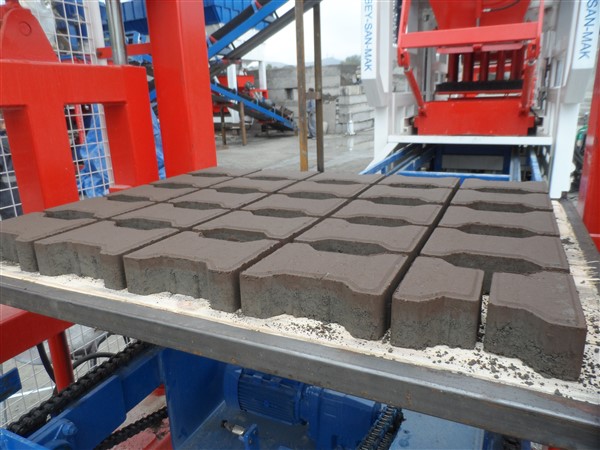 Interlocking Brick Machine Price
---
For buying an interlocking brick machine you need to know your desired production capacity, your working hours in a day, and your pallet delivery system. Of course, you will need at least 2000m2 of land as well.
You also need to find a machine manufacturer as well. There are a lot of manufacturers around the globe. Turkish, Chinese, German, and American companies produce these machines with different types and capacities. It doesn't matter which one you choose, the important thing is the quality of the machine that they produce.
For the first year, you might not face a problem with your machine but for long-term use, you will face lots of problems if your machine has low quality.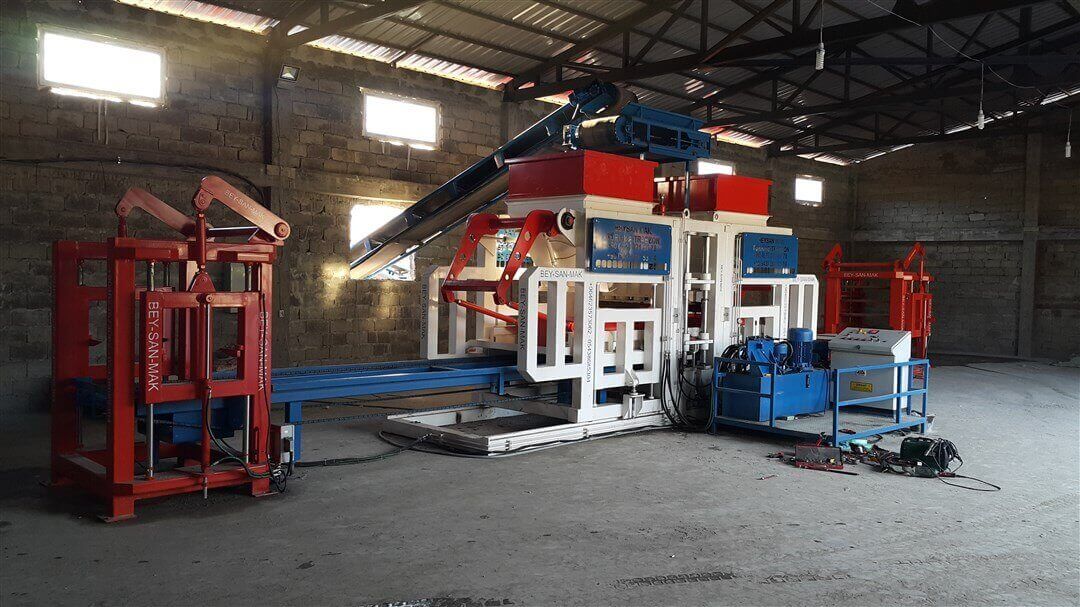 Our recommendation after a few years of experience in this field is not to buy the cheapest machine but to add a logical amount to your budget, in the beginning, to avoid unnecessary and serious problems in the future. The price is also important because you don't want to spend your whole budget on the block making machine you need to save some for the construction of your site, buying aggregate, and providing cement as well. So it is logical to buy a high-quality but logical-priced machine.
For this reason, you need to physically meet the interlocking brick machine manufacturer, their company, and their products, or at least go to one of the machines that they installed near your city or country.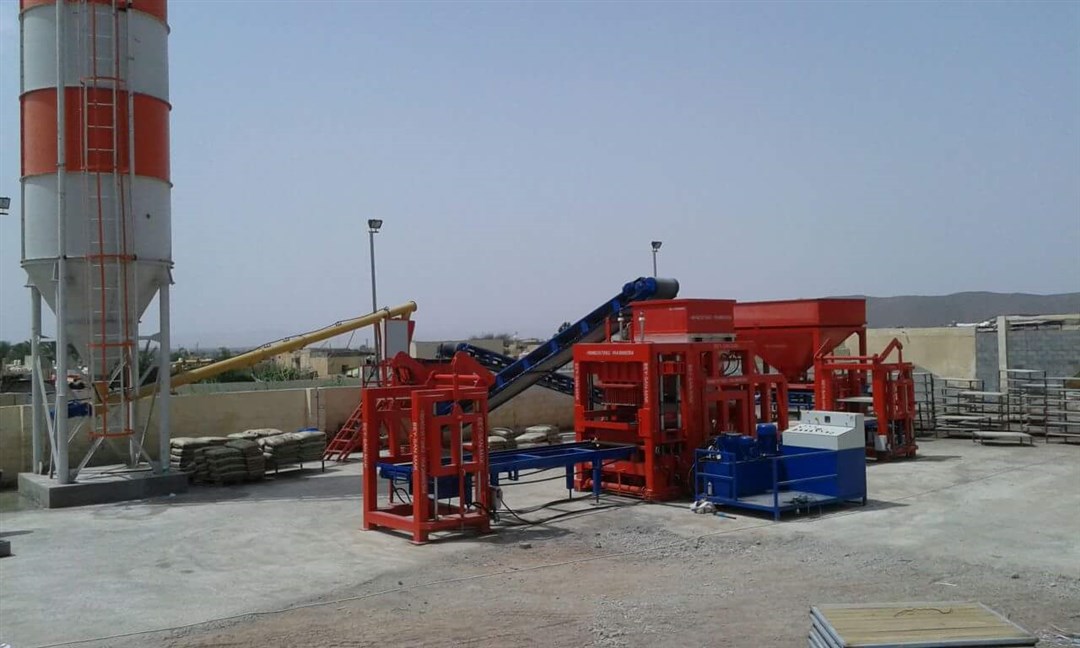 About the pallets, one unit of the pallet is not expensive but when you order them in bulk, there will be a considerable change in your interlocking brick machine price list. It is recommended to produce the pallets yourself locally instead of buying them from the manufacturer. You only need a sample from the factory to produce them. Important things you need to have in mind are wood quality, length, width, and thickness of the pallets. These are provided by the manufacturer.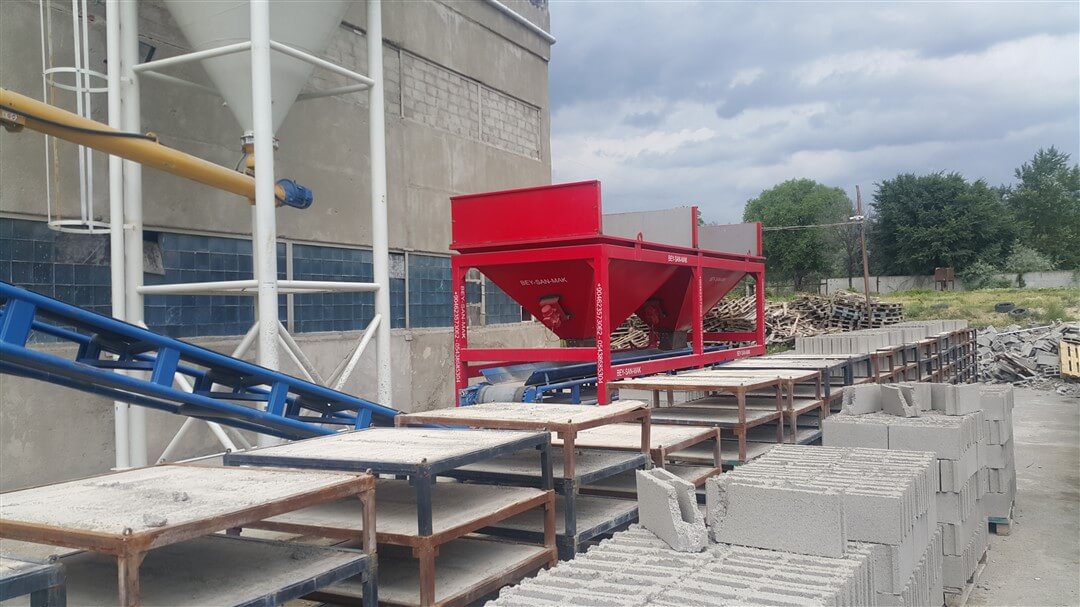 The number of pallets you need for your machine depends on your production capacity and the size of your machine. Normally you need above 500 pallets. There is also a robot called the pallet reversing robot. This robot turns the other side of the pallet to face up. Both sides of the pallets are used with this robot. In this way, your pallet life will be increased. Note that only high-quality machines have this option. The pallets with metal legs are not able to be reversed.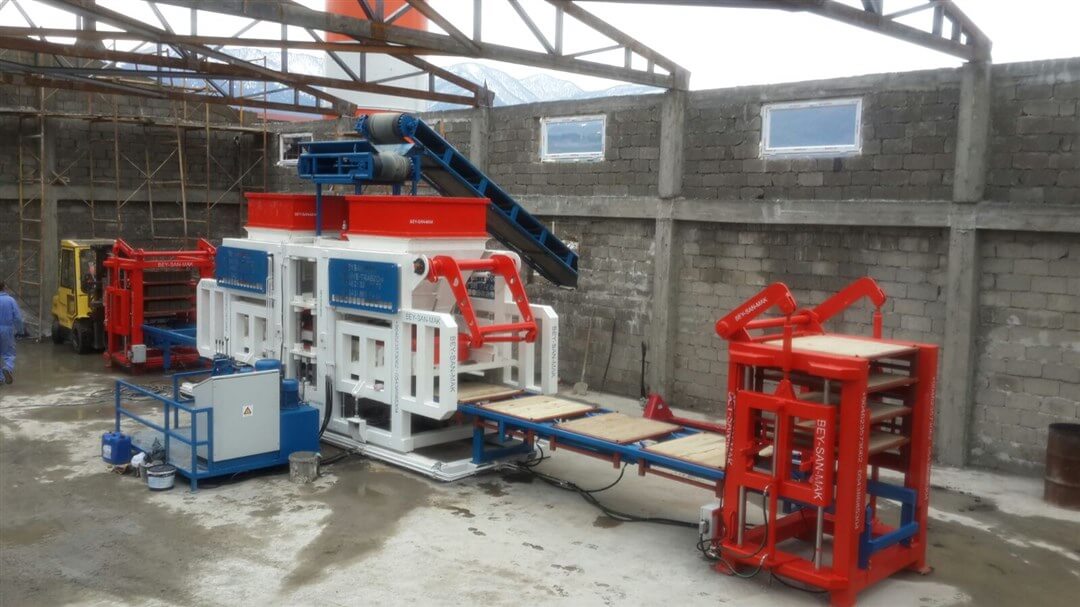 Here is the price for two interlocking brick-making machines that we have. For more information, campaigns, and technical details please contact us.
| | | | | |
| --- | --- | --- | --- | --- |
| Machine Name | Capacity | Installation And Commissioning | Automation Level | Price |
| PRS 400 | 4000 Standard Blocks | Included | Semi-automatic | 76200 USD |
| PRS 400 | 4000 Standard Blocks | Included | Automatic | 95300 USD |
If you are wondering why our prices are different from other factories we have prepared an article to explain all the details of the machine ''comparing the PRS400 with its Chinese rivals''.
Conclusion
---
If you don't know which interlocking brick machine is suitable for your project or if you like to get the best concrete block manufacturing business plan including interlocking bricks for free, learning about new prices, getting a quotation, and asking for special campaigns please contact us.