Interlocking brick machine introduction
---
This article is about interlocking brick machine but before we start, we first need to know what interlocking means. The interlocking of two or more things means engaging them with each other by overlapping or by the fitting together.
Hollow cement blocks or paving blocks that are interlocked with each other are called interlocking blocks and the machine that produces these blocks is called interlocking brick machine. This machine uses molds to shape interlocking blocks and to shape them, force and vibration are used.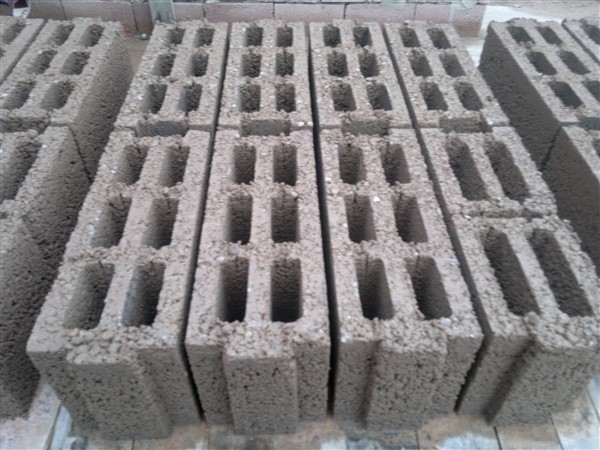 Interlocking brick produced by an interlocking brick machine has lots of advantages the most important one is that you don't need to add concrete to bound each line to the line under it. You just need to use concrete for the base of the wall and for the top. By interlocking bricks, you will considerably reduce the amount of concrete you use and your construction speed will be higher. By this, your labor cost will be much lower compared to the conventional hollow cement blocks. These are the other advantages of interlocking paving blocks:
1. It is environmentally-friendly
2. It is easy to repair.
3. It is durable.
4. It can withstand freezing temperatures.
5. Snow can be easily removed from the surface of the paving bricks.
6. A variety of styling options are available, from traditional to contemporary.
Now after having a whole background we can talk more specifically and more detailed about interlocking brick machines.
In fact, the interlocking brick machine is the hollow block machine or paver block machine. The only difference is by changing the mold you can produce different shapes of concrete blocks. There are almost 600 shapes that this hollow block machine can produce only by changing the mold.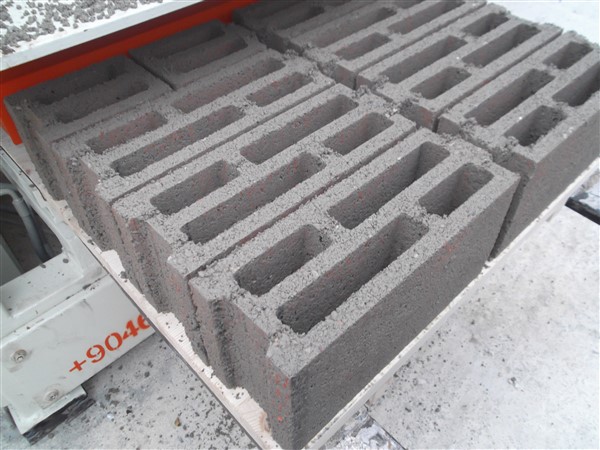 How to operate an interlocking brick machine
---
first, you need to provide your plant with aggregates like sand, stone dust, cement, additives, and water.
Pallets should be supplied for the interlocking brick machine too. Pallet sizes differ to the size and capacity of the interlocking brick machine. The number of pallets you need is also related to the capacity of your hollow block machine.
preparing the concrete needed for interlocking brick machine:
You need to mix the materials mentioned above with the right ratio to form the mortar. Usually, one unit of cement is added to 3 or 4 units of additives. Then you need to add water to the mixture, be careful because too much water makes your mortar too loose and inadequate water won't have the desired resistance against impact after the blocks are dried.
After that, you need to mix it until it becomes homogenous. For this purpose, you need a mixer

Transferring the mortar to the hopper of the interlocking brick machine:
This is done with the help of the conveyor belt powered by an electric motor and a gearbox coupled to each other.
When the mortar is delivered to the hopper of the paver block machine it is automatically added to the molds


Producing interlockings bricks with the interlocking brick machine:
First, the mortar is poured to mold filler to fill the molds. Then the Mould filler starts to move back and forth to fill the mold for the first time. After that, the first vibration starts to work to fill the gaps in the mortar and the surface of the mortar in the mold goes down. Again, the mold filling machine starts to move back and force to fill the mold for the last time
Finally, the hydraulic press starts to press the mortar into the molds. This action takes place on the surface of the pallet and with vibration at the same time. The hydraulic force of the interlocking brick machine is usually above 120 bars and vibration power is 10kw or above to form strong interlocking blocks.
Delivering the pallet containing the interlocking bricks to the drying section:
For this purpose, you have different choices
A. Collecting pallets by hand (manual interlocking brick machine)
B. Collecting pallets by forklift (automatic interlocking brick machine)
C. Collecting pallets by finger car (automatic interlocking brick machine)
If the capacity of your interlocking brick machine is high you are recommended to buy automatic model (forklift system or finger car system). With automatic pallet delivery system, smaller drying section is required compared to manual as well. By this way, the land required for the whole plant can be 1000 m2 smaller than the land needed for the manual pallet collecting system.
But if your capacity is low and your plant area is big enough, the manual collecting system for the interlocking brick machine will do the job.
Delivering the interlocking bricks to euro pallets for delivery:
This also has two options; it can be done by robots or manual. It depends on your budget and production capacity.
This is the total description of how the interlocking brick machine is operated.
For this reason, you need a minimum of 3 and maximum of 8 personnel for your site depending on your automation level.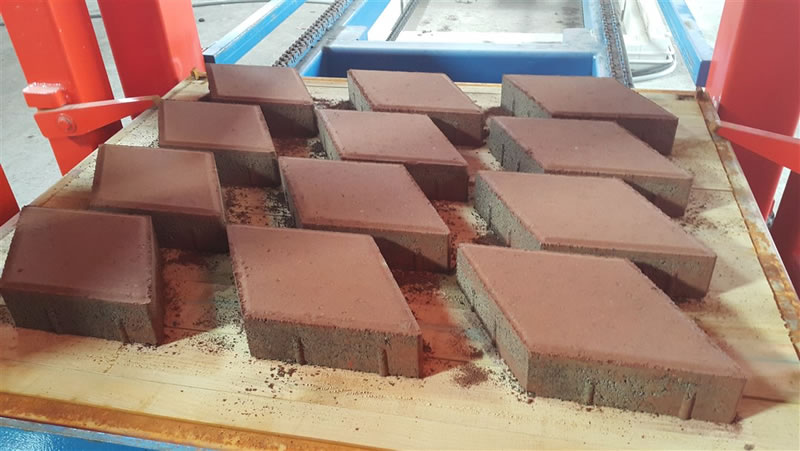 When we talk about Interlocking blocks, we mean different types of them.
Here is a list:
Interlocking paving blocks

Interlocking hollow concrete blocks

Interlocking Lego blocks

Special interlocking blocks for special purposes
coloring the paving blocks
---
Paver block machine has some optional equipment that can be added to the concrete block machine if the customer wants. For example, a second hopper can be added. This machine is called double-hopper interlocking brick machine this hopper enables you to add a colored thin layer to the surface of the interlocking paving block. By this method, you can have colorful paving blocks for your streets and pavements.
Coloring the interlocking paving block is also possible with the single hopper interlocking brick machine but you will need to add a lot more color because you should color the whole block when using a single hopper interlocking brick machine.
Coloring system is only logical for interlocking paving blocks. For hollow blocks that form walls, coloring is not applied because the wall is later covered with plaster or other materials.
The smallest interlocking brick machine can produce 4000 interlocking hollow blocks and 12000 interlocking paving blocks in 8 hours (one shift).
There are larger capacities of interlocking brick machine such as 6.000, 8.000, 10.000 interlocking hollow blocks and 16.000, 20.000 25.000 interlocking paving blocks and even higher.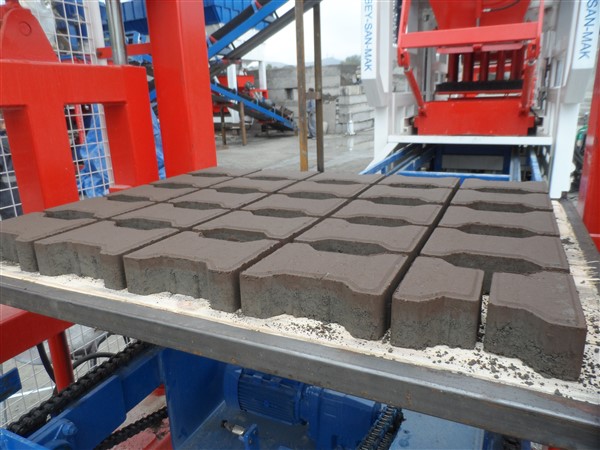 Buying an interlocking brick machine
---
For buying an interlocking brick machine you need to know your desired production capacity, your working hours in a day and pallet delivery system. Of course, you will need at least 2000m2 of land as well.
You also need to find an interlocking brick machine manufacturer as well. There are a lot of manufacturers around the globe. Turkish, Chinese, German and American companies produce these concrete block machines. It doesn't matter which one you choose, the important thing is the quality of the interlocking brick machine they produce.
For the first year, you might not face a problem with your interlocking brick machine but for long-term use, you will face lots of problems if your block making machine has low quality.
My recommendation after a few years of experience in this field is not to buy the cheapest interlocking brick machine but to add a logical amount to your budget, in the beginning, to avoid unnecessary and serious problems in the future. The price is also important because you don't want to spend your whole budget on the block making machine you need to save some for construction of your site, buying aggregate and providing cement as well. So it is logical to buy a high quality but logical-priced machine.
For this reason, you need to physically meet the interlocking brick machine manufacturer, their company and their products or at least going to one of the interlocking brick machines that they installed near your city or country.
and about the pallets, one unit of the pallet is not expensive but when you order them in bulk, there will be a considerable change in your interlocking brick machine price list. It is recommended to produce the pallets yourself locally instead of buying them from the manufacturer. You only need a sample from the factory to produce them. Important things you need to have in mind are wood quality, length, width and thickness of the pallets. These are provided by the manufacturer.
The number of pallets you need for your interlocking brick machine depends on your production capacity and the size of your machine. Normally you need above 500 pallets. There is also a robot called pallet reversing robot. This robot turns the other side of the pallet to face up. Both sides of the pallets are used with this robot. By this way, your pallet life will be increased. Note that only high-quality machines have this option. The pallets with metal legs are not able to be reversed.
If you don't know which interlocking brick machine is suitable for your project or if you like to get the best concrete block manufacturing business plan including interlocking bricks please contact us.