Concrete Block History
---
You may ask when the idea of designing the concrete block making machine came to engineers. In the late 20th century with the rapid development of technology in all fields and with the growth of population the need for multi-story buildings was unpreventable.
Today skyscrapers are built all over the world for this very same purpose. These multi-story buildings are very difficult to design and to build.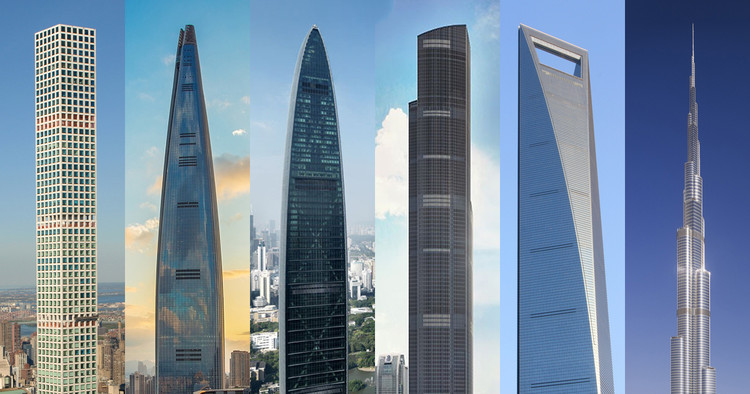 You may ask how it is related to concrete block making machines. To reduce the total weight of the building and to fortify the building against tough natural conditions concrete blocks are used. The concrete block machine produces concrete blocks for this purpose. Today the most commonly used material for walls all over the world is concrete blocks, this is because of the advantages it has over other materials. It is produced in different shapes and dimensions for different purposes. Please read the main article about concrete hollow blocks to learn all the details.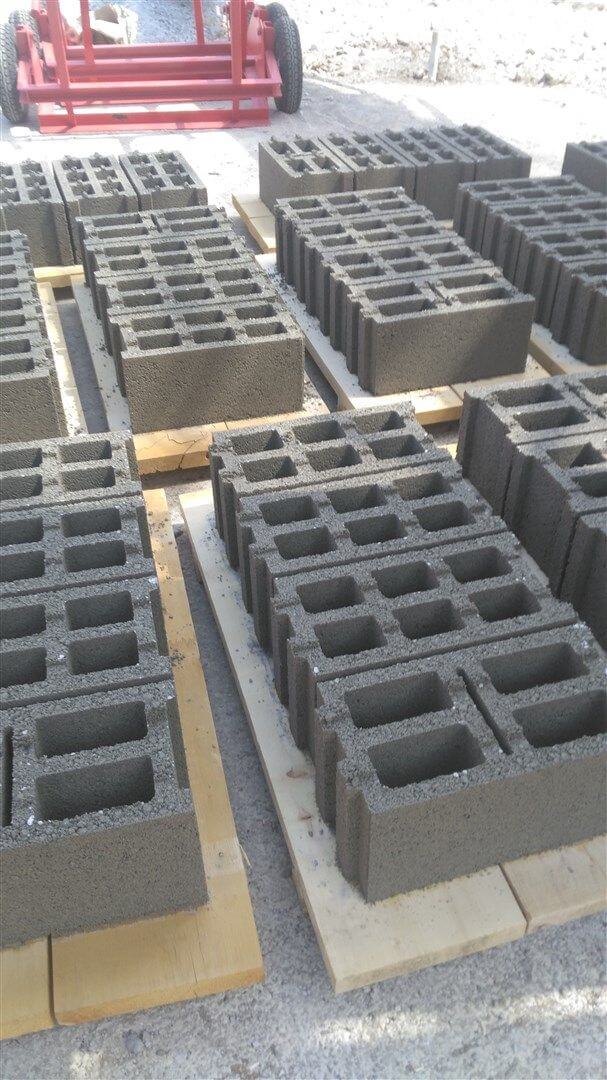 Concrete Block Making Machine Types, Advantages, and Disadvantages
---
The concrete block making machine is not a very complicated machine if you order a semi-automatic or automatic model. This block making machine should be mechanically strong and sturdy because of dealing with small stones, cement, and heavyweight mortar, otherwise, it will break down very soon. A concrete block machine uses pressure and vibration to form different kinds of concrete products with different molds.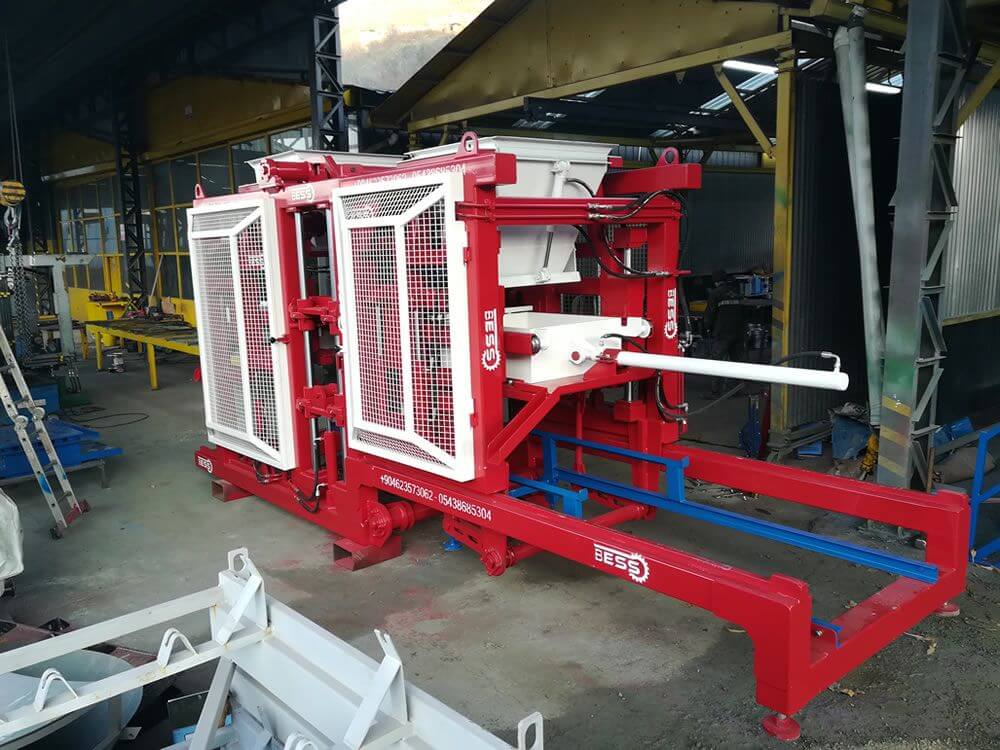 There are two general block making machines by their working system as is shown below:
1. Mobile Concrete Block Making Machine:
This machine is also known as a bricklaying machine because it has the capability of moving. It is smaller in size and it has a lower capacity compared to the stationary models, like every other machine, it has its own pros and cons. You can read the details of this machine in the main article the bricklaying machine.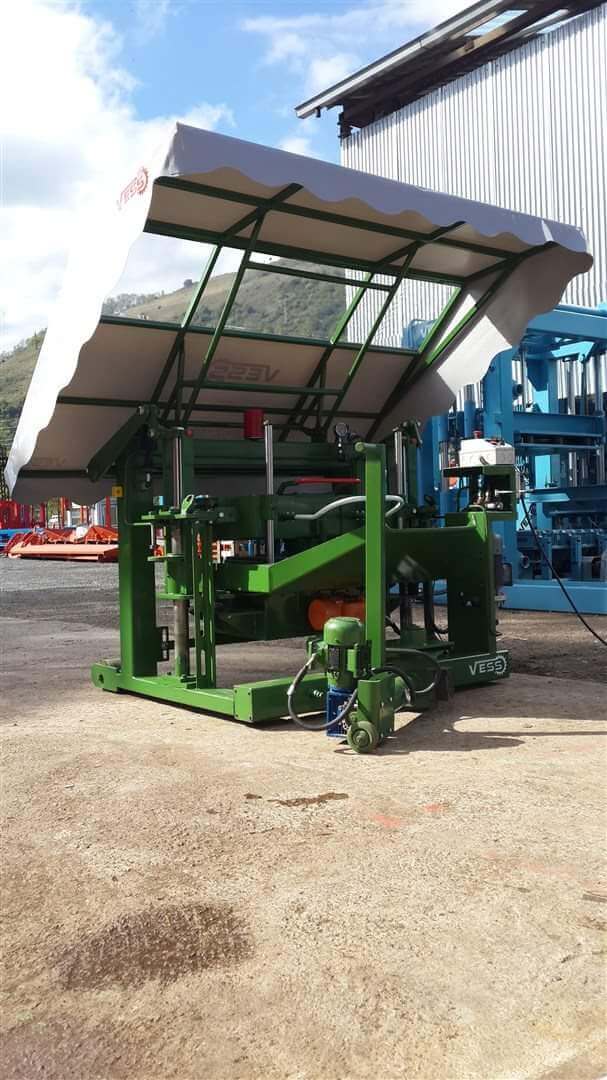 2. Stationary Concrete Block Making Machine:
This machine needs to be established on a hard, concrete foundation. This machine uses pallets to produce concrete products.
Stationary block making machine also known as the brick making machine has different capacities and different automation levels, choosing the best machine for your use depends directly on your budget and the country that the machine is being established.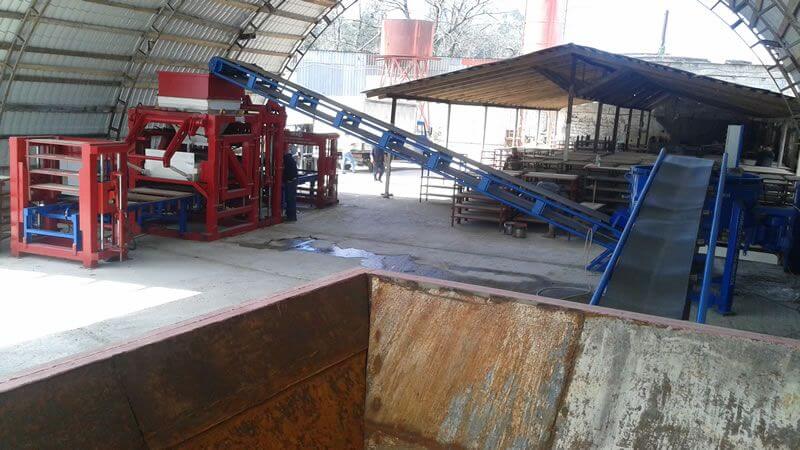 Stationary Concrete Block Making Machine Advantages
---
Considering your target production there are lots of choices for you. The smallest concrete block making machine is called PRS-400 and it can produce 4000 pieces of hollow blocks in an eight-hour shift. The bigger sizes are PRS-600 PRS-800, PRS-1000.
you can visit the Bess product list to see all our available concrete block making machines.
The number is derived from the number of blocks produced by the machine in one press. This means PRS-400 can produce 4 pieces of standard blocks in each press and PRS-1000 can produce 10 pieces of standard hollow blocks in each press.
Standard block means a block with dimensions of 20cm in width 40cm in length and 20cm in height.
Concrete Block Making Machine Capacity Details
Machine Name
Blocks / Pallet
Pavers / Pallet
Capacity In One Shift (Eight Hours)
PRS 400
4 Standard Blocks
12 Pieces
4.000 Standard Blocks - 300 m² Paving Blocks
PRS 600
6 Standard Blocks
16 Pieces
6.000 Standard Blocks - 400 m² Paving Blocks
PRS 800
8 Standard Blocks
20 Pieces
8.000 Standard Blocks - 550 m² Paving Blocks
PRS 1000
10 Standard Blocks
25 Pieces
10.000 Standard Blocks - 700 m² Paving Blocks
Different Choices For Molds And Products:
There are almost 600 available molds for stationary concrete block making machines and this machine is capable of producing paving blocks, hollow concrete blocks, curbstones, roof gutters, lawn stones, and styrofoam concrete blocks as well.
You just need to order the molds and mount them on the machine to produce them. Below you can see some mold options for Bess block making machines. Check out the Bess mold gallery for even more options.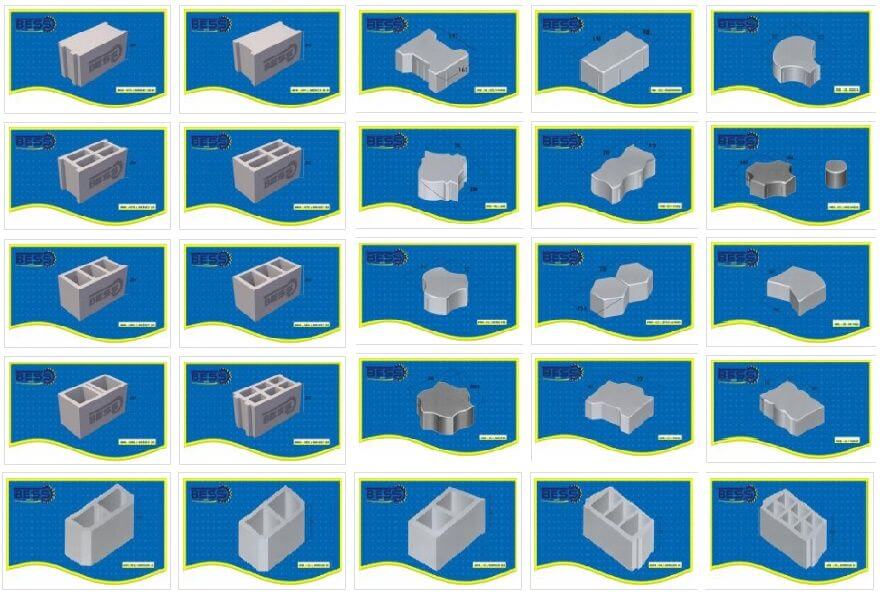 Different Automation Levels:
Based on your budget you can order different levels of automation for your block making machine. For countries with low labor costs, it is recommended to buy semi-automatic models but for developed countries with higher labor costs, it's recommended to buy full-automatic machines.
In a semi-automatic machine, the pallets are delivered to the curing section by handcarts however in automatic concrete block making machines these are done by pallet collecting robots (stacker robots) and forklifts.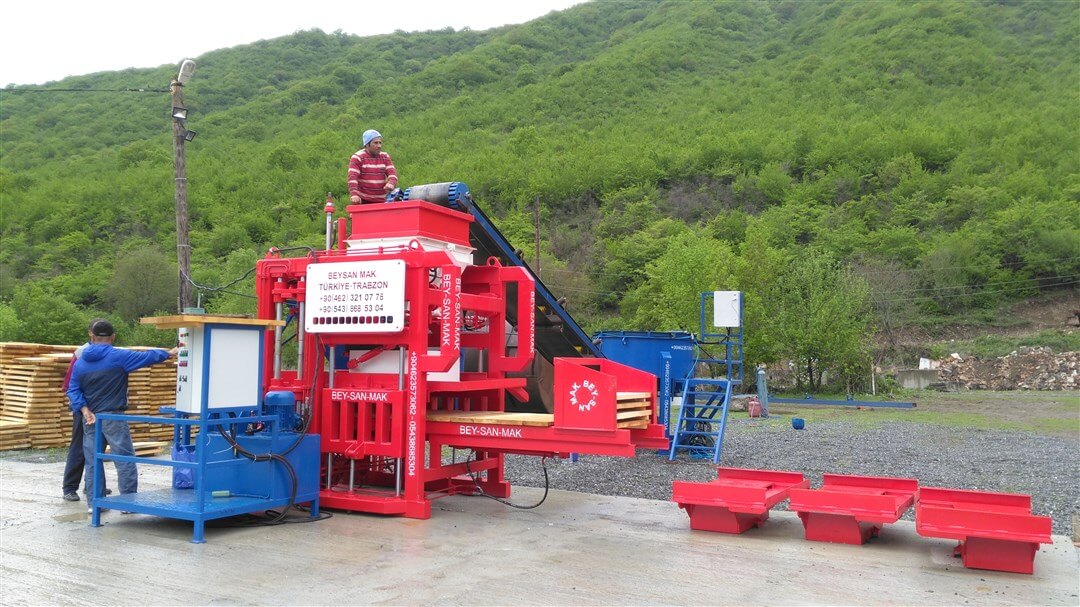 For semi-automatic machines, you need about 7 personnel but for automatic machines, you need 5 personnel!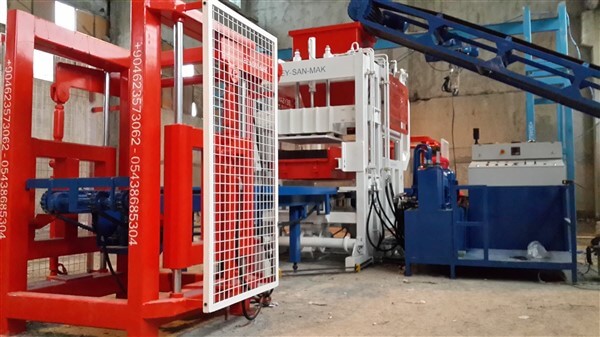 Ability to Reduce The Curing Area Using Automatic Concrete Block Making Machine:
With this robot, five pallets are first collected on top of each other and then transferred to the curing section. This way you need a five times smaller curing section for your site. Automatic machines are preferred in developed countries in which lands are expensive.
Thanks to the automatic weighing system of the stationary concrete block making machine, the raw materials, cement, and water are weighed before they are mixed and the quality will always remain the same and your customers will be satisfied with the quality of your concrete product all the time.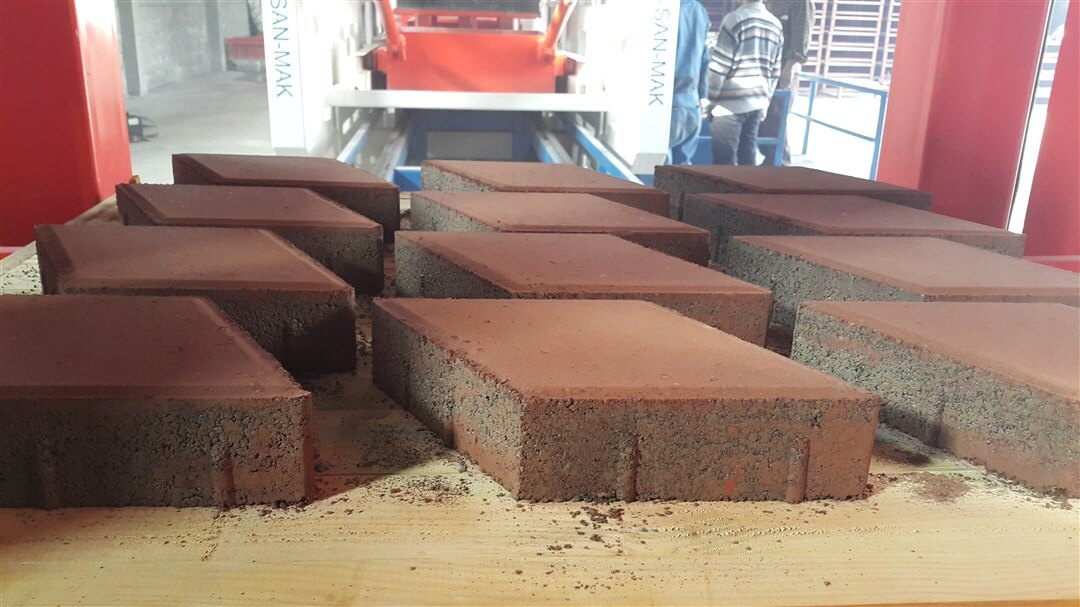 Ability to Produce Double-Layer Paving Blocks
With the second hopper mounted on a concrete block making machine, it can produce double-layer paving blocks. This machine is also called a paver block machine The advantage of double-layer paving blocks is that you can have different colors for the top layer and by mixing smaller raw materials you can have a smoother surface for the paving block.
Disadvantages of Stationary Concrete Block Making Machine:
---
It needs a concrete foundation for the place it is being installed on.
It needs pallets to produce products. All the stationary models need pallets to produce concrete products.
Higher capacities and full-automatic versions are a bit expensive but it is worth spending on them.
Advantages of The Mobile Block Making Machine
---
Due to its moving mechanism, the bricklaying doesn't need any pallets to produce concrete blocks. It presses the concrete blocks on the ground and moves to a new place. You don't need pallets for your mobile machine anymore and that is an advantage, it reduces your expenses of buying pallets and renewing your pallets after some time again and again.
Compared to stationary machinery, mobile concrete block making machine is simpler. Most of the production process is done manually. This is also a disadvantage because when it is manually controlled, the rate of mistake is higher and of course, it works slower compared to automatic process control.
No Need For Heavy Concrete Foundation or Roofing
Because of being mobile, you don't need any special foundation or roofing for your plant. The concrete products are made in the curing section and they are dried in the curing section. This is usually done by Sun.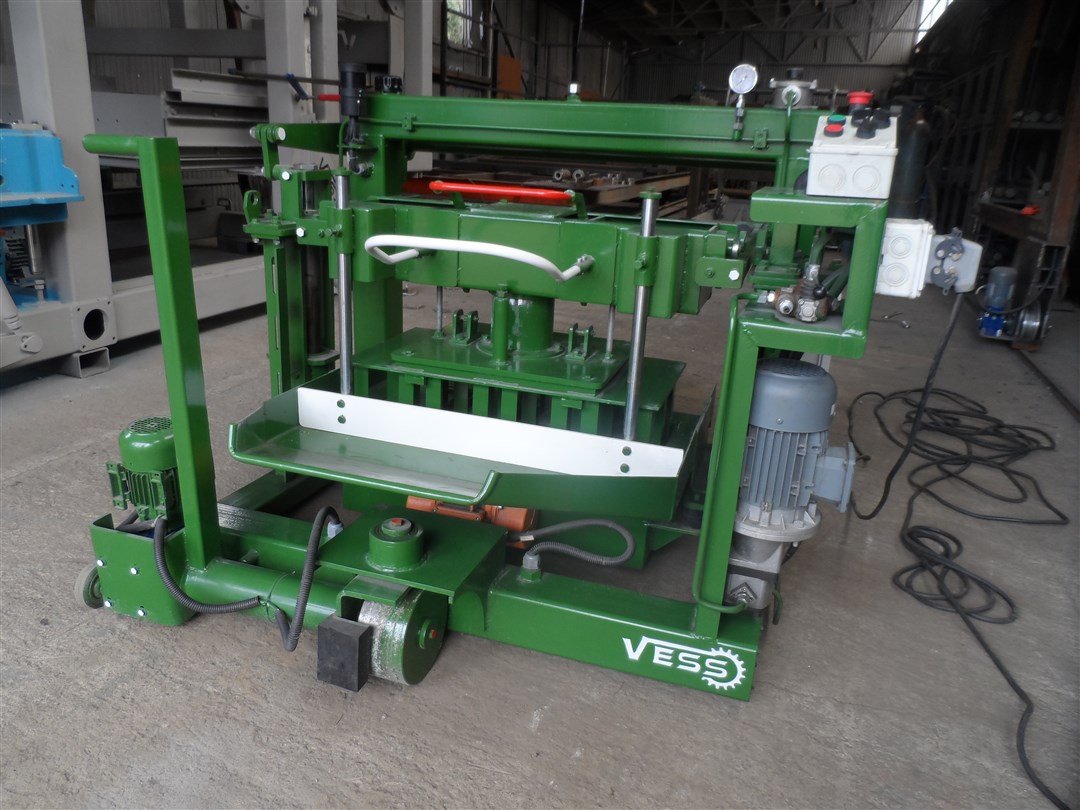 Because of its system and because it is a small machine compared to others it consumes less electric power and works almost silently.
No Need For Installation And Maintenance
To install a mobile concrete block making machine in your plant you do not need any guidance, installation, and commissioning from the manufacturer's factory and you do not need to pay for the factory's technicians to come to your plant and install the machine. All you need to do is to fill its hydraulic tank and power it up.
On the other hand, you don't need to spend much money on maintenance. Lubricating the parts defined by the factory will prevent your hollow block machine from failure in the long term as well.
Disadvantages of The Brick Laying Machine
---
Talking about the advantages, now let's see the other side of the story and talk about the disadvantages.
As it is mentioned it is a small machine and it can only produce between 2250 pieces of hollow blocks (manual brick laying machine) and 3750 pieces of hollow concrete blocks (full-automatic brick laying machine) in an eight-hour shift.
Mobile concrete block making machines can't produce paving blocks and for hollow blocks only a few molds are available. It can produce curbstones as well but only a few sizes.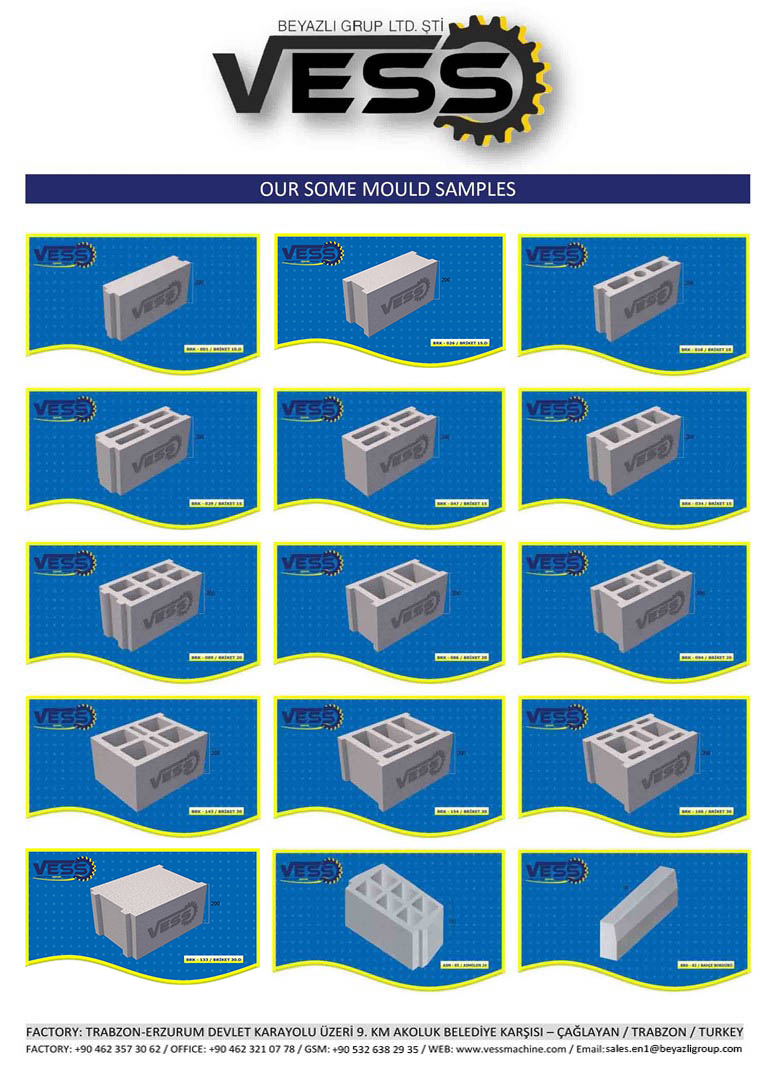 More Personnel Compared to The Capacity:
Four personnel are needed for your plant. Two personnel mix the aggregates and ready the mortar, one person delivers the mortar to the mobile block making machine, and one person operates the machine.
The Manual Process of Concrete Preparation:
To keep the same quality for your products it is necessary to mix the raw materials with the same ratio. With the manual system, it is not completely fulfilled and it is not as accurate as it is needed. This means if your product quality reduces you might lose your customer.
Solution For Concrete Block Machine Disadvantages
---
There is a new design for this machine that is introduced a few years ago. They are called compact block making machines. With these machines, most of the problems of the stationary concrete block machines are solved and they are very accurate and efficient. It is produced in two different capacities. smaller capacity is 8 pieces per drop and the bigger one is 12 per drop. for further details you can check Compact diamond bricklaying machines.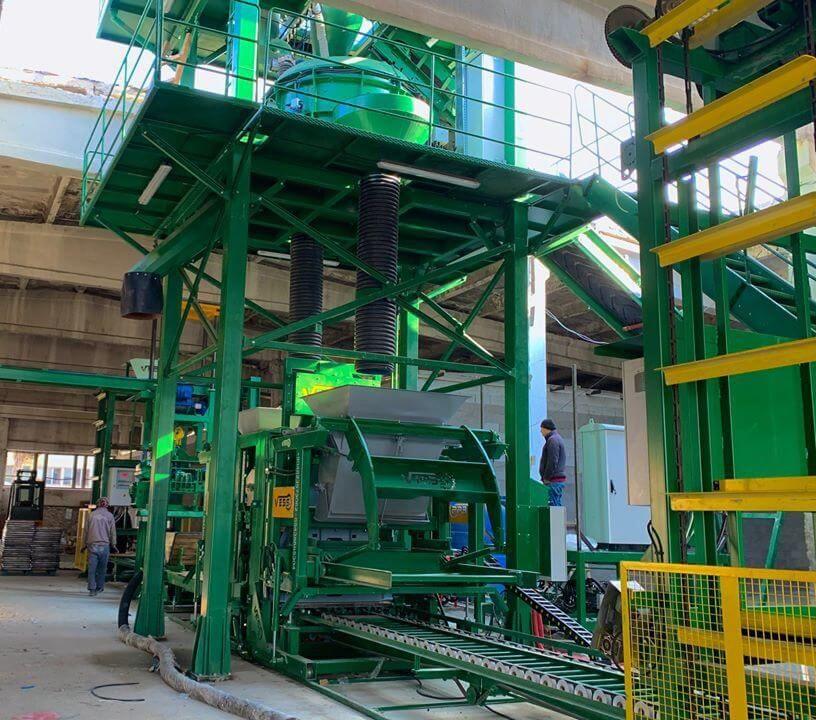 Conclusion:
---
To buy concrete block manufacturing machinery it is recommended to have three factors in your mind:
Your budget
Your target production capacity
Quality of the machine, raw materials used to manufacture the machine, and the electrical devices mounted on it
Bess uses well-known German brands like Schneider and Siemens for its concrete block making machines. Try not to spend your whole budget to buy machinery, you should save your budget for preparing your plant, buying raw material, and installing the machinery as well.
For a special offer for your own concrete block manufacturing business plan please contact us: