We as Bess and Vess machine producer are known in everywhere around the world for our automation system, we develop automatic brick making machine this machine can produce high-quality hollow block and paving blocks. automatic brick making machine is like the machine which is capable to work 24 hours and produce high-quality bricks. Nowadays, we try to respond to this requirement of our customers produce automatic brick making machine because we accept to increase development of buildings area.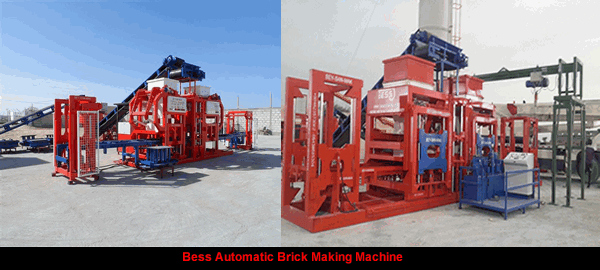 Our automatic brick making machine Is Made Like A Mortar Plant. Machine Is Designed To Work 24 Hours. It Has A Different Automation And Capacity System. Machine Is Very Fast And Has High Production Capacity. By Changing The Mould Machine Can Produce Any Types Of Concrete Paving Blocks - Hollow Blocks - Insulated Bricks – Different Curbstones – Asmolen And Chimney Blocks Which Height Must Be Between 5cm And 25 cm. Equipment List With Prices, Prepared Related To The Installation Layout Is Given Below. Daily Capacity (8 Hours) 4.000 Pieces Concrete Hollow Blocks /300 m² Paving Blocks…
Automatick Brick Making Machine Video
Making Brick From Concrete
According to the quality of our machine around the world makes sometime our different against other company in the same sector. Our Making Brick From Concrete is known on Europe standard. İnspite of the price, we still leaders in machine domain and construction region.
Brick Making Machine In India
According to geographic problem due to the climate, some area of the planet has tried to develop the automatic brick making machine. More of countries were known, even in Asian and Africa but brick making machine in india has been approved.we really understand the increasing of this automatic brick making machine that valorizes the construction and industry sector. Today we seem that the capital of India, new Delhi is occupied by the buildings due to this promotion of brick making machine in india

Interlocking Concrete Block Making Machine
We as Beyazli Group company, according to our experience in industrial mould and machines. We have got a lot experience in the plant installations, we finally save a lot of Interlocking concrete block making machine during all the installations. We can accept that a lot of those videos were saved especially about our automatic brick making machine. We have occurred this confidence of machines market in more than 23 countries around the world.