Digital technology has broken into the timber construction scene at ETH Zurich, where a research team is using programmed robots to construct load-bearing timber modules. These modules are being used to stabilize the top two levels of their DFAB HOUSE project, a three-story residential unit located in Dübendorf, which aims to bring a variety of digital construction methods together under one roof.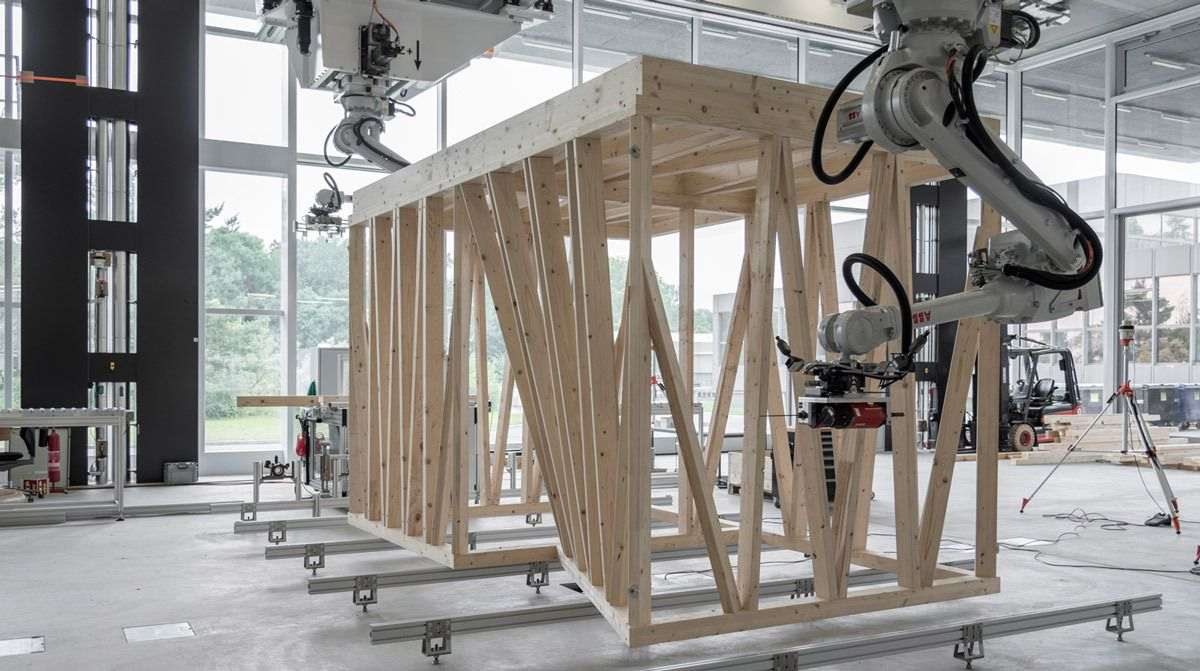 The process is quite simple. First, the robot takes a timber beam and guides it into a saw where it is cut to the correct size. After an automatic tool change, a second robot drills holes into the wood where the beams will be connected. In the third and final step, the two robots work together to position the beams, where workers then manually bolt them together. To prevent the robots from colliding during this process, the researchers developed a computer algorithm that calculates the path of motion for the robots each step of the way.


A total of six unique timber modules will be prefabricated using this technology for the first time. Once complete, they will be transported to the DFAB HOUSE construction site in Dübendorf, where they will be joined to build a three-story residential unit with more than 100 square meters of floor space.
This project is being spearheaded by Matthias Kohler, Professor of Architecture and Digital Fabrication at ETH Zurich, who also led a team of researchers to design "Rock Print" at the inaugural Chicago Biennal in 2015. According to Kohler, "If any change is made to the project overall, the computer model can be constantly adjusted to meet the new requirements. This kind of integrated digital architecture is closing the gap between design, planning, and execution."
Source:archdaily
We can provide you with this hollow block and paver making machine in South Africa

Contact ==> +90 549 325 6670 | Price ==> 37,000 USD*
The quality and features of our machines are suitable for all the countries in Africa including Ghana. Hollow block and paving block machine (both automatic and semi-automatic) are manufactured in Turkey and delivered to South Africa.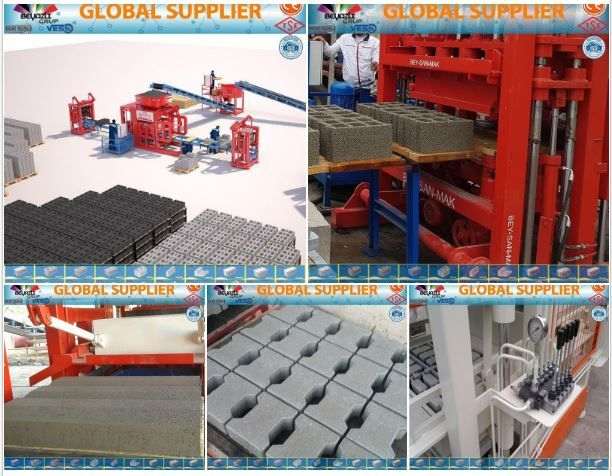 Hollow Block Making Machine - 6.000 hollow blocks 15 cm width per day
Paving Block making Machine - 300 m2 paving blocks per day
Curbstone Making Machine - 1000 curbstone 700 cm length per day
This hollow block machine produces not only hollow block but paving block, cement brick. We are Worldwide Concrete Hollow Brick Block And Paving Block Making Machine manufacturer. The factory is in the city of Trabzon. You can have a hollow block machine, manual hollow block making machine or semi-automatic hollow block machine for sale. For more information kindly refer to this link Hollow block making machine in South Africa.