Hessam

Hits: 2916
Small Concrete Block Machine
First, we need to know what a concrete block machine is to be able to speak about small ones. A concrete block machine is a machine that produces concrete blocks using vibration and compression. The compression is done by the hydraulic unit and through pistons of the machine and vibration is done by electric motors installed under the pallet table.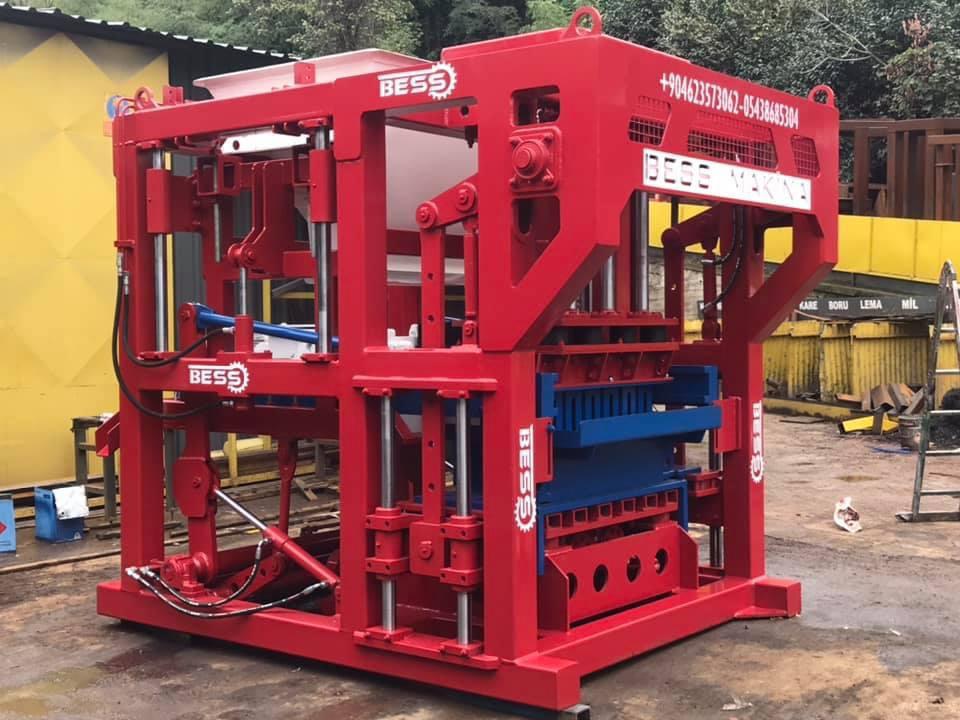 The concrete blocks are produced by molds and on the surface of the pallets. This means you need pallets and different molds to be able to produce concrete blocks.
Depending on the size of the machine, the dimensions of the mold and the pallet size change. Smaller machines have smaller pallets and lighter molds while the big concrete block machines have bigger pallets and bigger molds and as the result, they produce more blocks at the same time.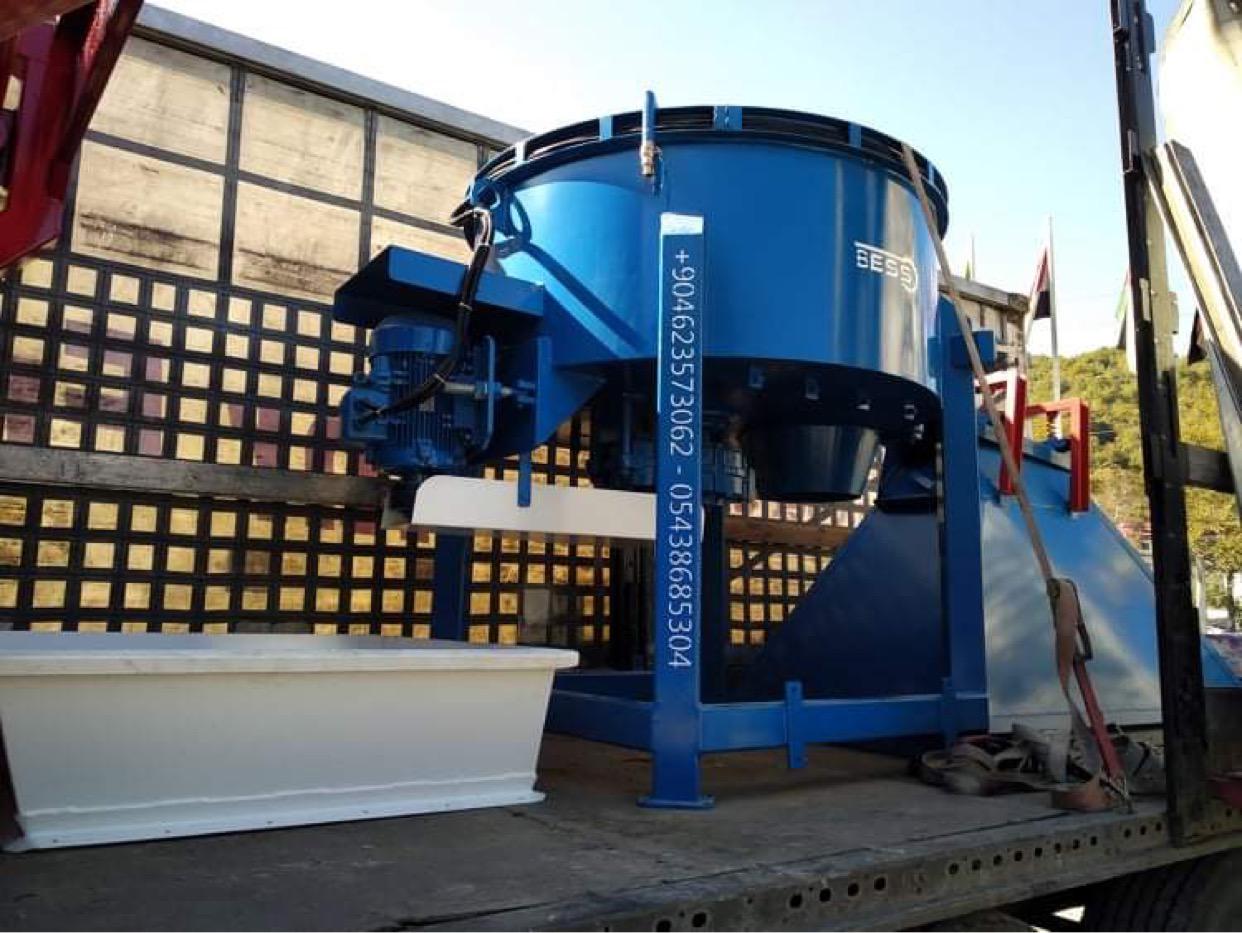 Concrete blocks are so popular these days because by changing the mold the concrete block machine can produce different types of concrete blocks with different shapes and sizes. These machines are also called brick making machine as well.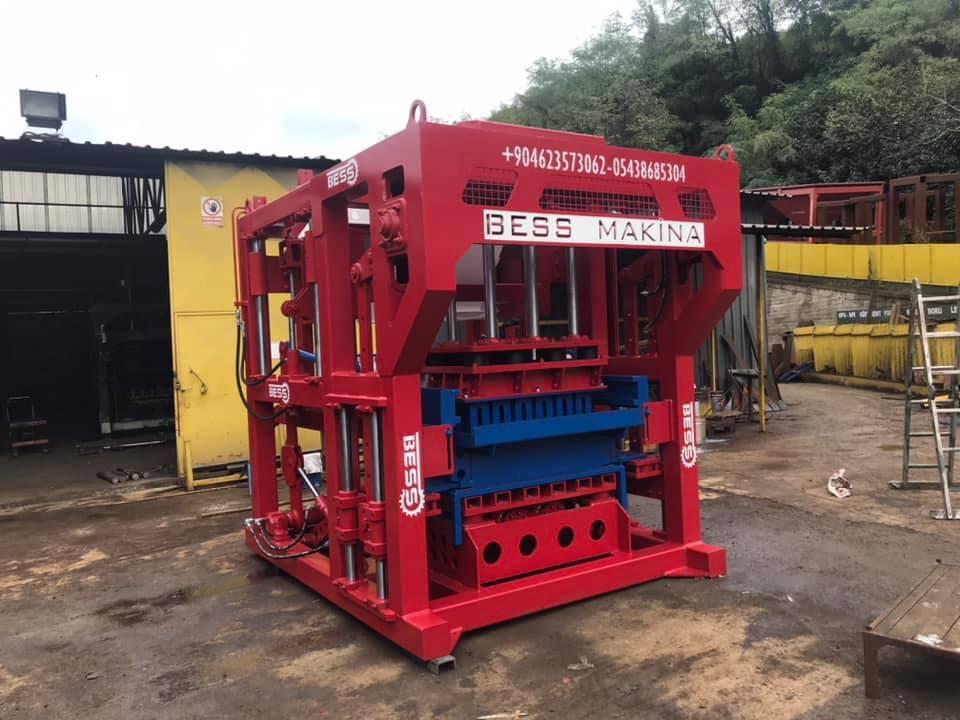 With more than 15 years of experience in manufacturing concrete block making machines and exporting them to 32 countries, Bess company offers small, medium, and high capacity block making machines with different automation levels.
The capacity of a concrete block making machine is determined by the number of standard blocks that it produces in one press.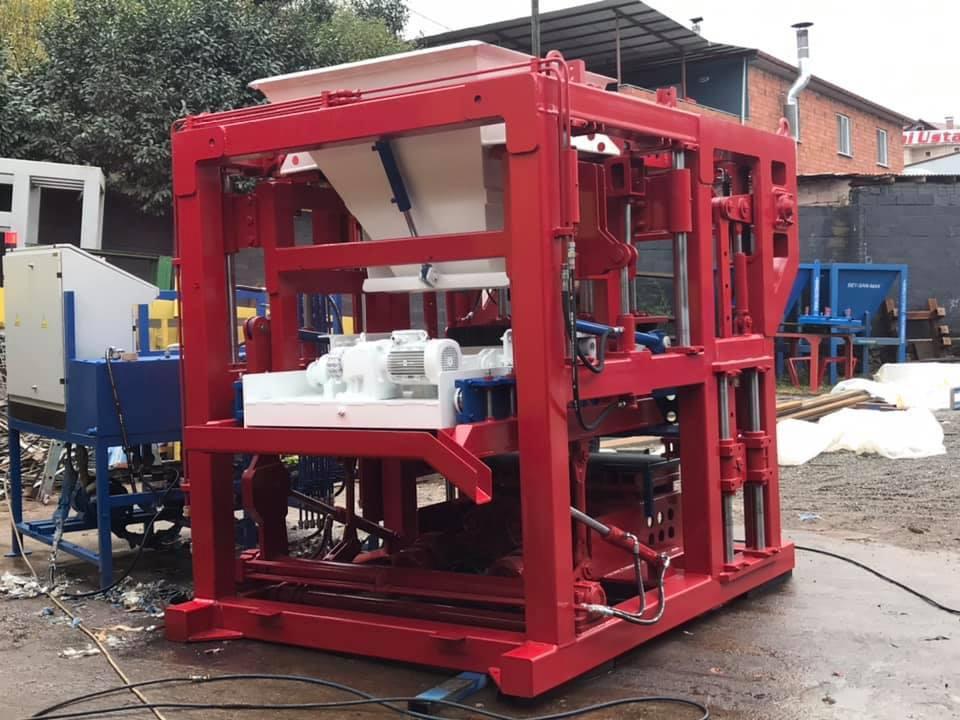 The standard block is a block with dimensions of 20cm width, 40cm length, and 20cm height.
Bess block making machines capacity:
| | | | |
| --- | --- | --- | --- |
| Concrete Block Machine Name | Capacity In One Press | Capacity For Standard Blocks In One Shift | Capacity For Paver Blocks In One Shift |
| PRS400 | 4 | 4.000 Pieces | 300 m² |
| PRS600 | 6 | 6.000 Pieces | 400 m² |
| PRS800 | 8 | 8.000 Pieces | 550 m² |
| PRS1000 | 10 | 10.000 Pieces | 700 m² |
If you need prices for the machines above you can contact our English department. The contact information is available at the end of this page
Small Concrete Block Machine PRS400
---
If you are looking for a small concrete block machine to start your business with, you are in the right place. Bess company has designed the PRS400 Concrete block machine to help the customers with a limited budget and limited experience to enter the field of concrete block production.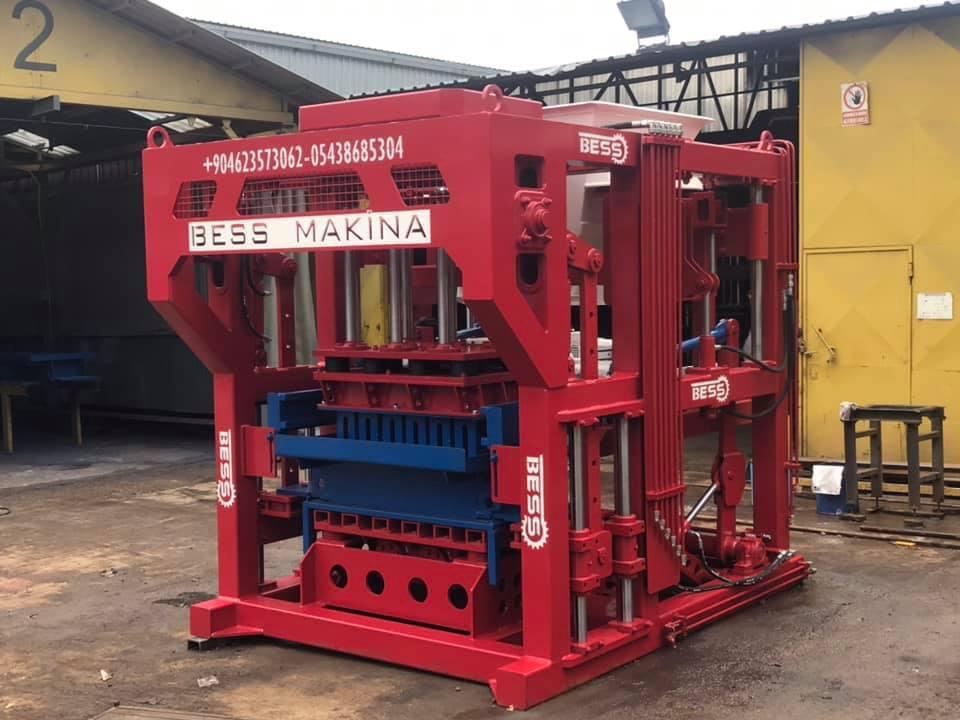 This machine is the smallest member of the PRS family. Our concrete block making machines are designed based on European standards and all the parts used on the machine are German brands. Bess Concrete block machines have 2 years of guarantee against any malfunction.
The brand we use for our electrical equipment is Schneider and Siemens, for our hydraulic system we use Bocsh brand equipment.
The prs400 Block making machine is a very sturdy machine. If you do the maintenance correctly and on time you won't face any malfunctions with the machine for many years. for further details, you can also read hollow block machine article as well.
Here are the technical details of the PRS400 concrete block machine:
PRS400 Concrete Block Making Machine Technical Details

CAPACITY OF STANDARD HOLLOW BLOCKS IN ONE PRESS

4 PIECES

CAPACITY OF INTERLOCKING BLOCKS IN ONE PRESS

12 PIECES
PALLET SIZE
100CM X 60CM X 4CM
VIBRATION FORCE
2 X 5.5KW
HYDRAULIC PRESSURE
100 - 200 BAR ADJUSTABLE
AUTOMATION LEVEL
SEMI-AUTOMATIC AND AUTOMATIC AVAILABLE
LAND NEEDED
1500 M²
CAN CHANGE THE MOLD?
YES
PRODUCT HEIGHT
5CM TO 30CM ADJUSTABLE
How To Buy A Concrete Block Machine?
---
If you have no experience in the field of concrete block production and you are planning to buy a concrete block machine to start your business you need to find a high-quality machine. High-quality machines prevent future problems and production losses in long-term use.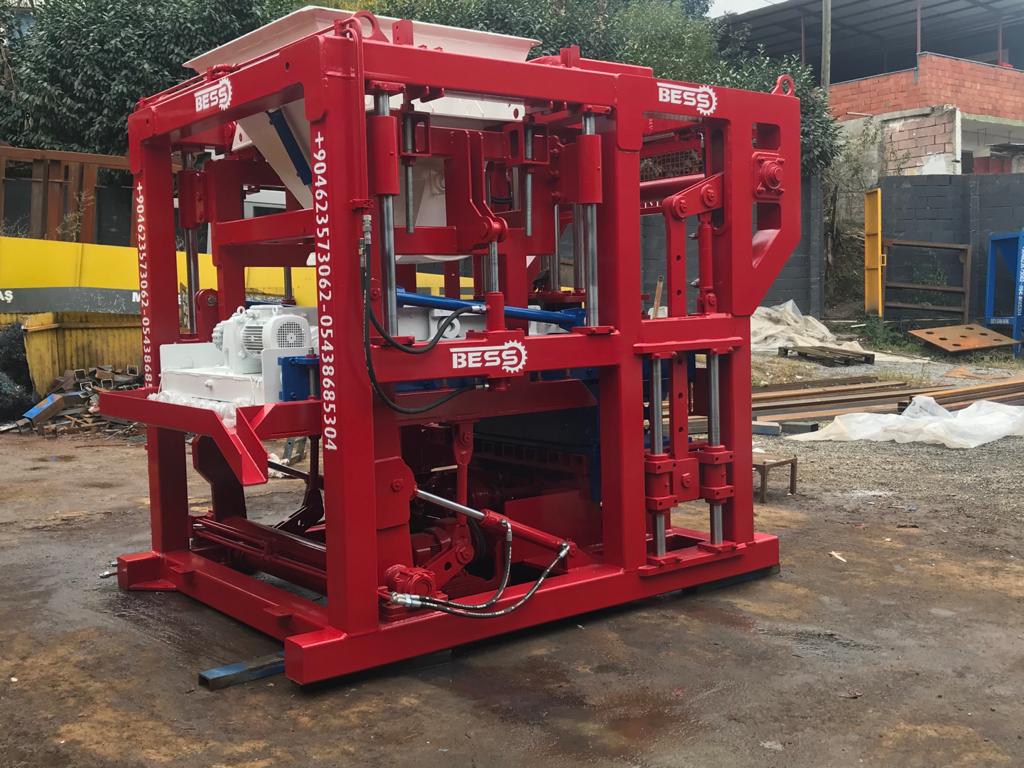 We recommend you to visit the company that you want to buy the machine from prior to ordering the machine. Make sure about the quality and capacity of the machine, then you can go ahead and order it.
Some products have cheaper prices but always remember that you get what you pay for. There is a reason for that product to be cheaper. We have compared our machines with Chinese machines as well.
Choosing the most expensive machine is also not wise enough. There is a lot of optional equipment with that machine that you don't need to start your job. The companies that can provide reference plants in your country or near countries are also a good choice if you are not planning to visit the manufacturing company.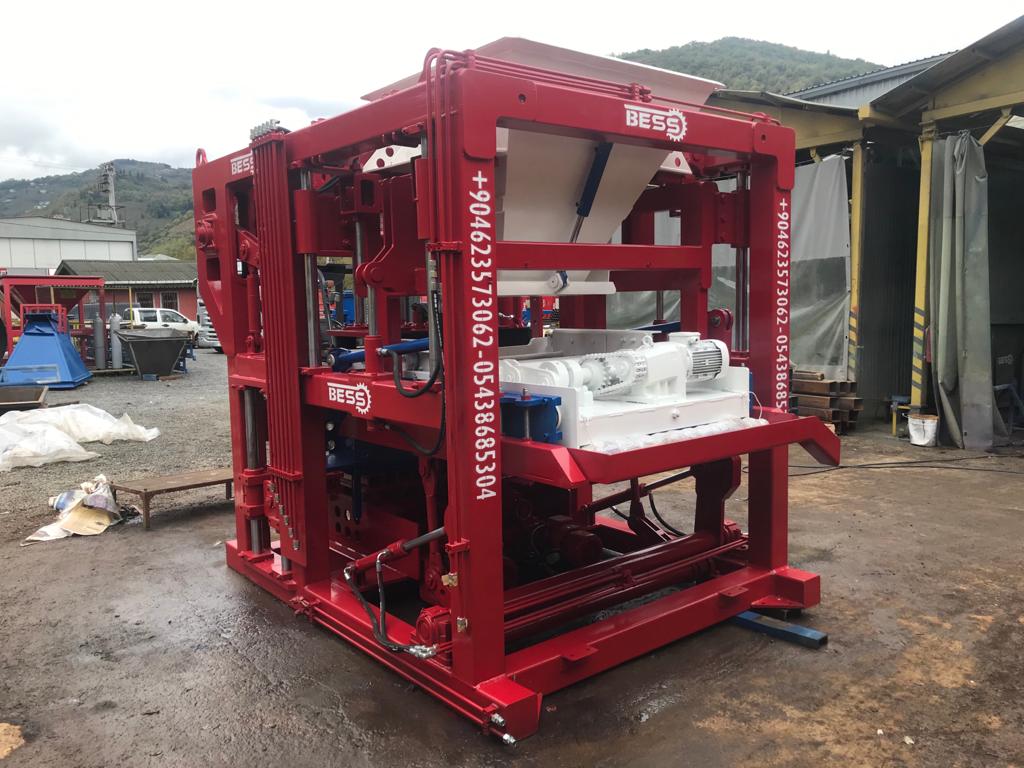 Concrete Block Machine

Products
---
Bess Concrete block machines can produce any shape with a height between 5cm up to 30cm with changing the mold. These products are:
1. Hollow blocks with different shapes and sizes
2. Solid blocks with different shapes and sizes
3. Paving blocks with different shapes and thicknesses
4. Curbstones
5. Lego blocks
6. Concrete gutters
7. Grasscretes
8. Special shapes of special purposes
For more details, you can visit the Bess mold gallery.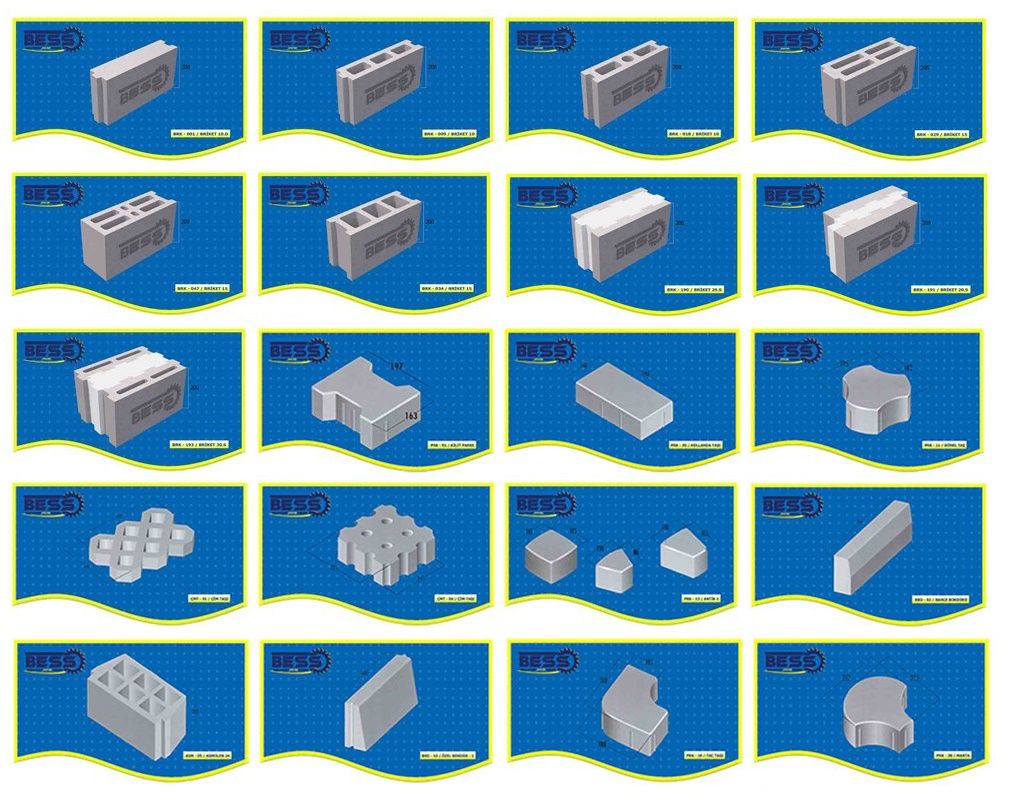 How To Start A Concrete Block Manufacturing Plant?
---
To start your own plant you need to follow the items below:
1. First you need to have land of about 1500 m² to 2000m² so you can start your concrete block manufacturing plant. A roofed area of 300m² is also recommended to install the machine in a roofed area.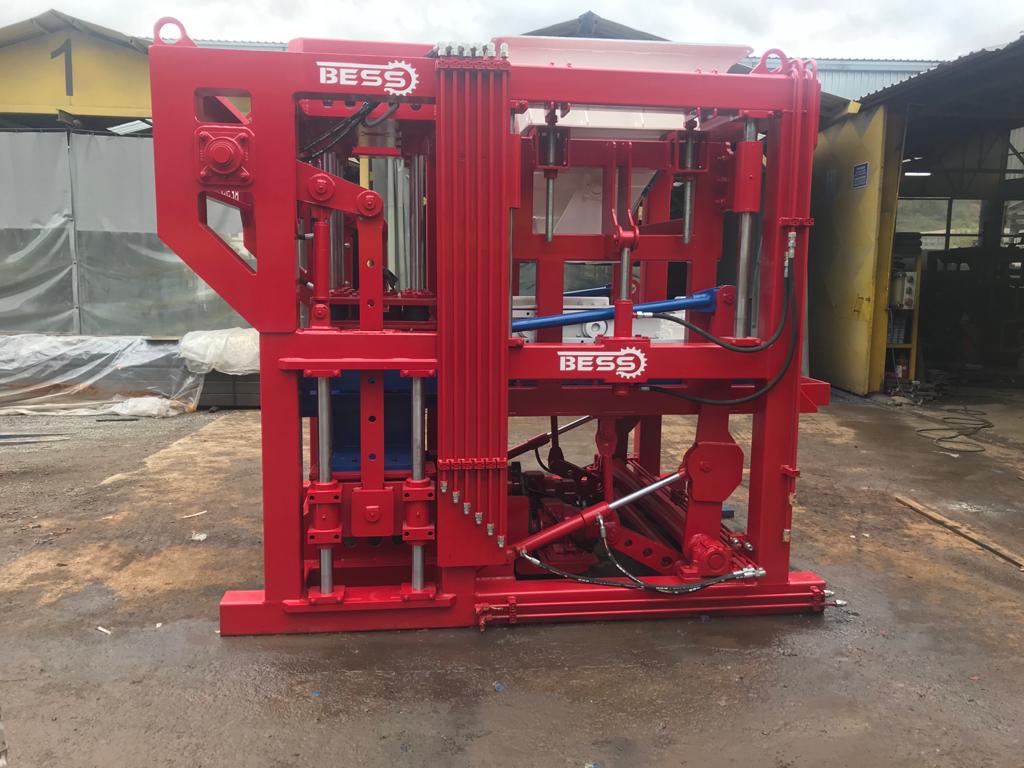 2. After providing the land you need to see which raw materials are available in your area and also how the cement is provided for your plant. Some customers use cement in bags while others buy them with trucks and store them in cement silos.
3. You need to decide what capacity concrete block making machine is the best for your plant. you can analyze your rival plants to find out the suitable capacity. The picture below shows the concrete block mold suitable for small block making machines.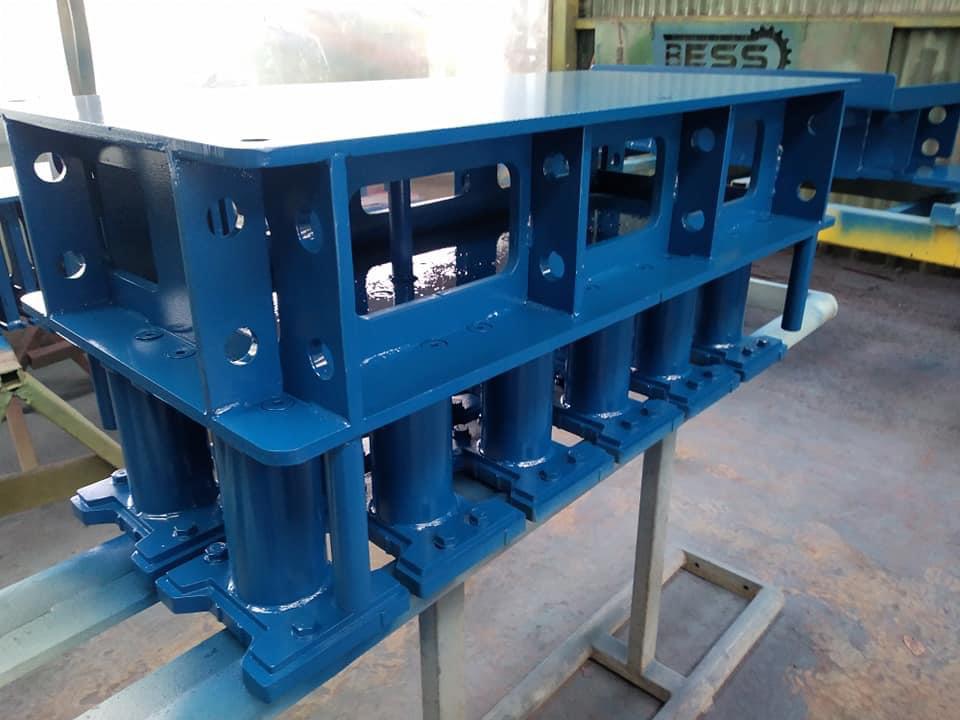 4. After ordering the concrete block machine you need to prepare your plan based on what the manufacturer company asks for.
5. When you order the machine and you receive it, a technical team will come and install the machine for you.
A concrete block making machine is a general name for this machine. You might hear different names as well.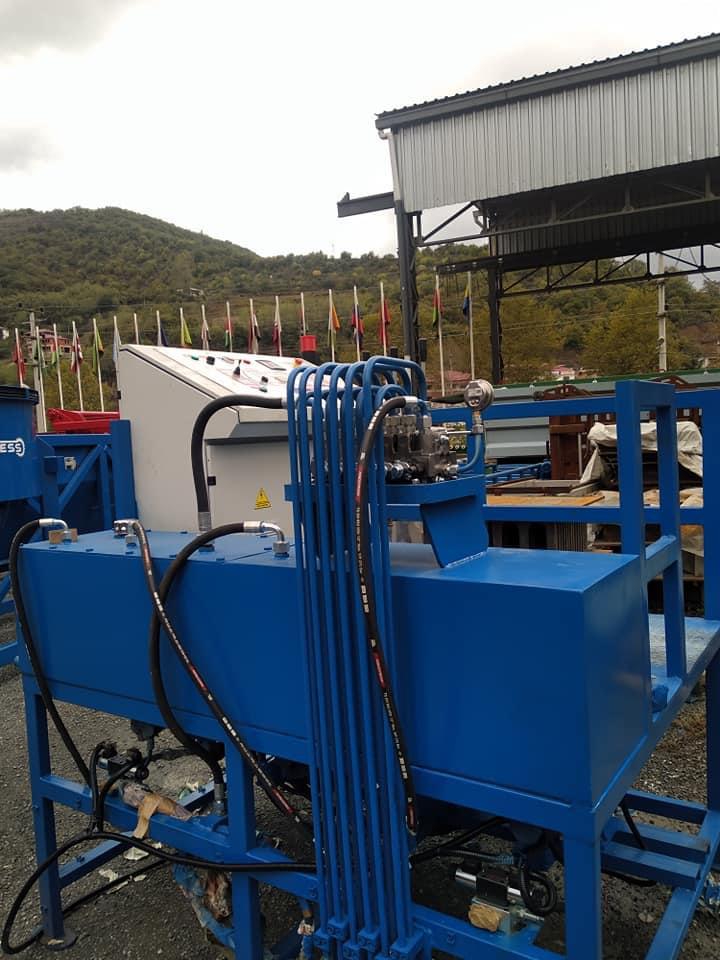 A hollow block machine is a single-hopper machine that produces only single-color blocks.
A paver block machine is a double-hopper machine that produces both single-color and double-color blocks.
Conclusion
---
If you still need more information about the machine or ordering details or you need price details you can contact us anytime.