Brick Making Machines
---
Brick making machines are generally machines that use compression and vibration to produce concrete bricks. The pressure is applied to the molds to produce these bricks, so by changing the mold, this machine can produce different types of concrete bricks.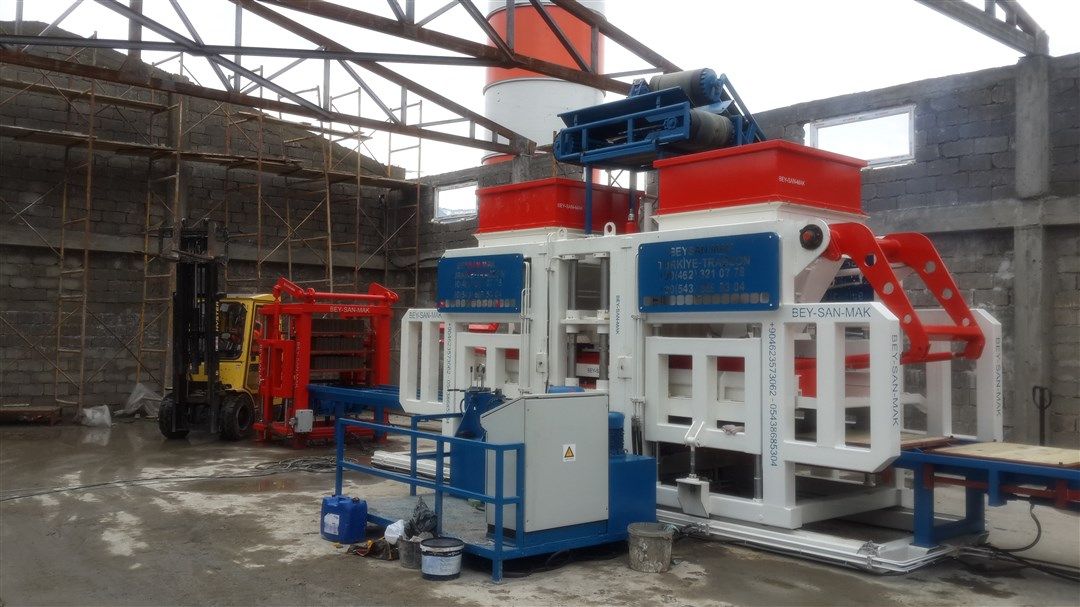 There are more than 500 different shapes that brick making machines can produce. Some of them are listed below:
1. Hollow blocks
2. Solid blocks
3. Paving blocks (single-layer and double-layer)
4. Styrofoam blocks
5. Curbstones
Based on the mortar the weight of the blocks can be different. Normally, the main ingredients of the mortar are powdered portland cement, water, and aggregate. If you add chemical additives or natural additives to your mortar you can also produce lightweight blocks. Lightweight bricks are more preferred these days because they considerably reduce the total weight of the building. Styrofoam concrete blocks are also another type of these lightweight bricks.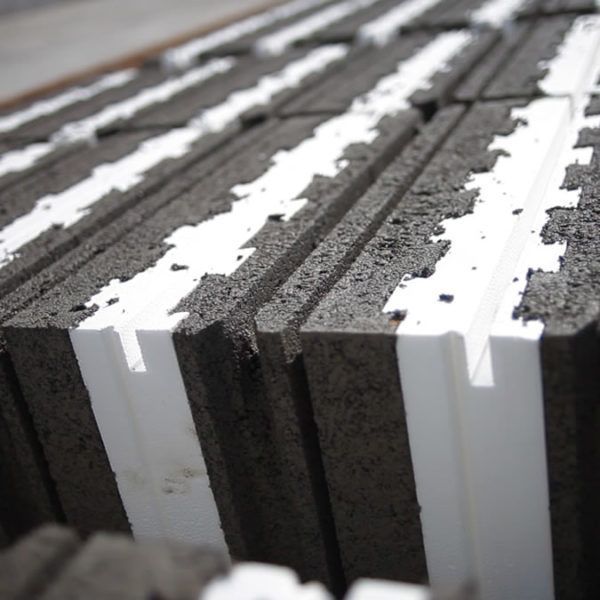 Generally, our customers use fly ash as an additive to reduce the weight of the bricks because fly ash is cheap and abundant in many countries. These bricks are called fly ash bricks in some countries. If you are interested to learn more about concrete blocks you can read our main article ''what concrete block is in general and in detail''.
There are different brands of brick making machines all around the world. Bess offers these machines in 4 automation levels available for customers:
1. Manual
2. Semi-automatic
3. Automatic
4. Fully automatic
Brick Making Machine Price
---
The price of the brick making machine depends on the automation level, the capacity, the country of origin, and the brands of the equipment used in the electric and hydraulic system.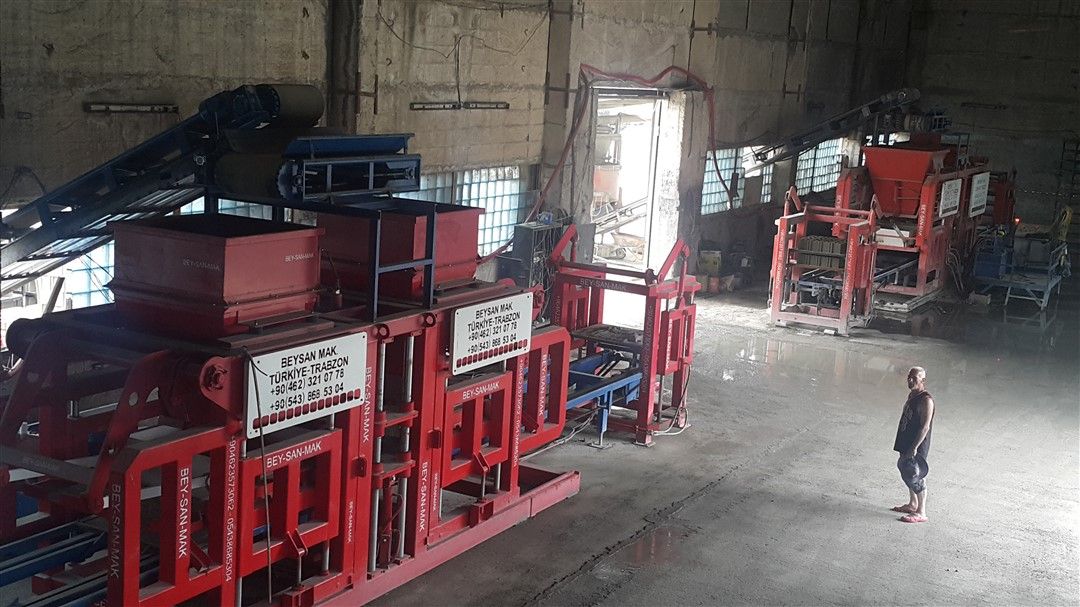 Bess uses Siemens and Schneider for the electrical system and Rexroth and Bosch for the hydraulic system. All the other brands used on the machine are German brands as well.
Here are a few sample machines that we have, you can also contact us for other options.
| | | | | | |
| --- | --- | --- | --- | --- | --- |
| Machine Name | Automation Level | Production Capacity | Hoppers | Installation | Price |
| PRS 402 | Semi-Automatic | 4000 Blocks / 300 m² Pavers | Double-Hopper | Included | 56.080 USD |
| PRS 602 | Semi-Automatic | 6000 Blocks / 400 m² Pavers | Double-Hopper | Included | 65.520 USD |
| PRS 802 | Automatic | 8000 Blocks / 550 m² Pavers | Double-Hopper | Included | 88.671 USD |
• Consider that these prices are full plants including mixer, aggregate hopper, brick making machine, handcarts, installation, commissioning and training.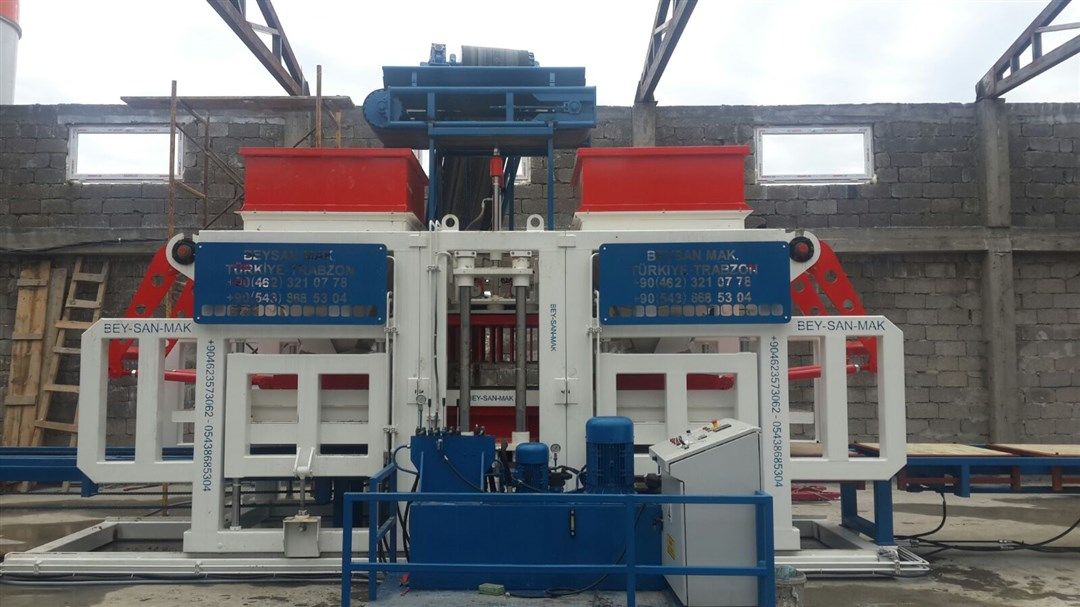 Brick Making Machine Advantages
---
First, we compare the brick making machine with the manual method. In the manual process, you can produce only a limited number of bricks with at least 10 workers but brick making machines are machines with high production capacity and they only need a maximum of 7 people. These machines can improve your production capacity and decrease the number of manpower you need.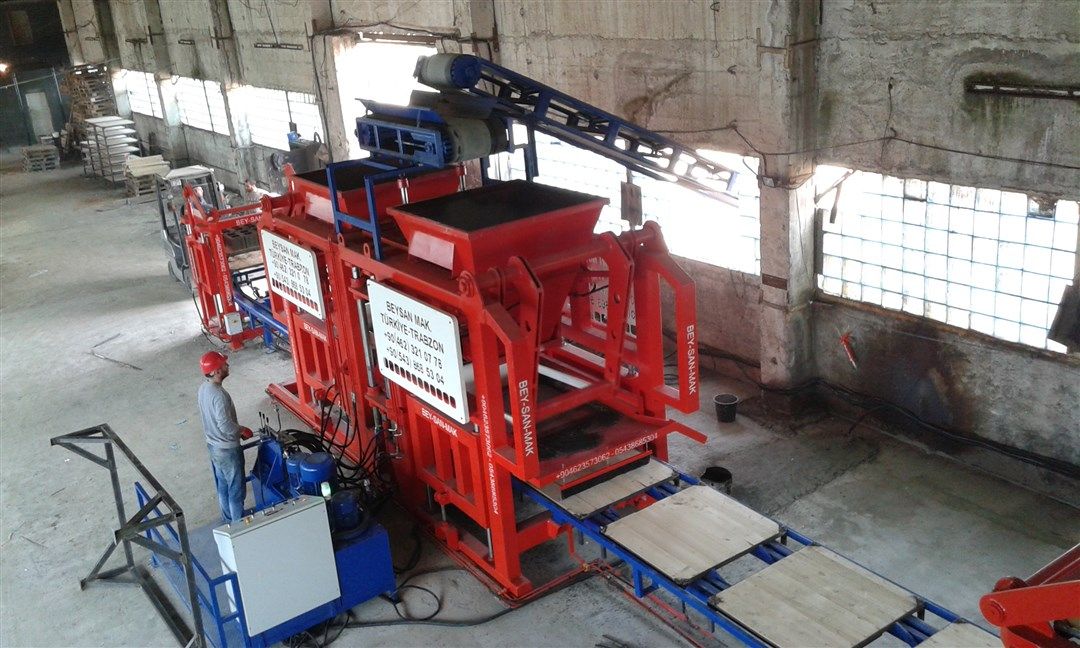 By improving your automation level you can also decrease the number of your workers to 3. These machines are called automatic brick making machines.
We are going to start with semi-automatic machines because we don't produce manual machines. The smallest semi-automatic brick making machine can produce 4000 pieces of standard hollow blocks or 300 m² of paving blocks in one shift.
One shift = 8 hours of working

Standard block = 20cm width x 40cm length x 20cm height
The capacity of the machine then increases to 6000 and 8000 pieces in one shift. For the capacities higher than 8000 pieces you will need the automatic and full automatic brick making machines because pallets will the too heavy to be carried by handcarts.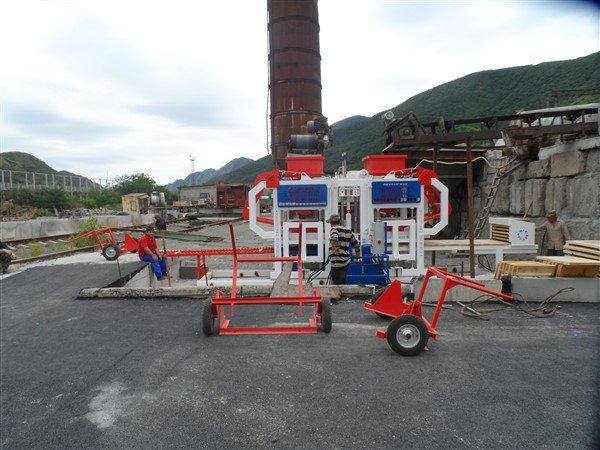 The automatic machines are offered at 8.000, 10.000, 12.000 and 15.000 production capacities. By increasing the production capacity your monthly income will be considerably higher and the number of workers in your plant will remain the same. But the total price of your plant is also higher. This depends on your budget.
In countries like the United Kingdom, Saudi Arabia, New Zealand, Australia, Canada, and European countries where labor costs and the land are expensive, the automatic and fully automatic machines are preferred.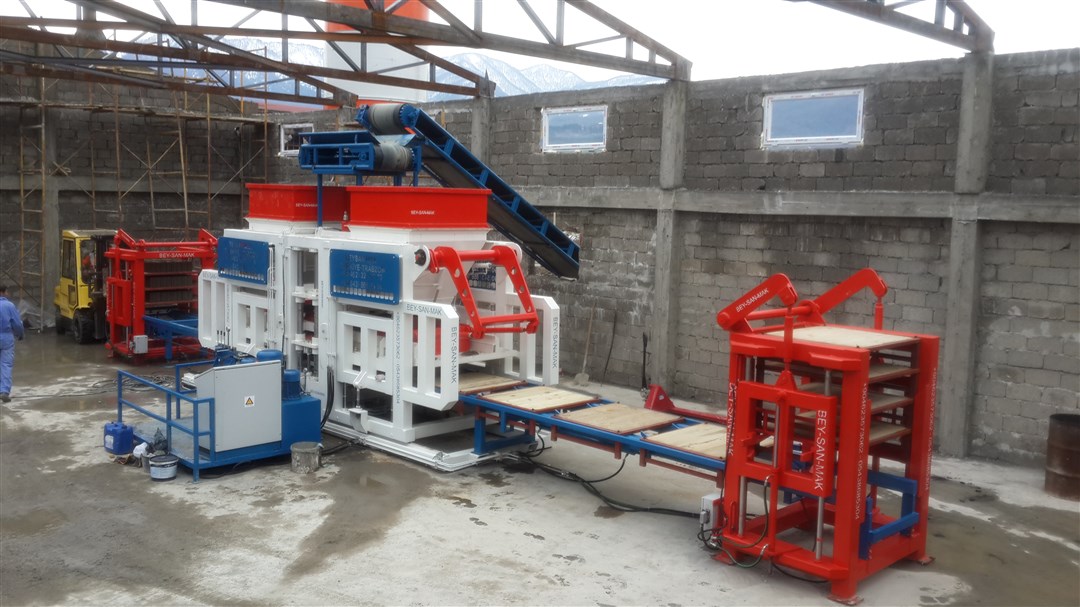 In countries like Uganda, Kenya, South Africa, Ghana, Gabon, Somalia, and other countries where the land and labor cost is cheap they prefer semi-automatic machines. For these countries when they have enough budget they buy the second machine instead of improving the automation level. There are also different names for the brick making machine in these countries, they call it a hollow block making machine or a block making machine as well.
The brick making machines have a second aggregate hopper called the color hopper. the second hopper makes the machine suitable for producing double-layer paving blocks. This is Suitable for customers living next to more developed cities. Paver blocks are used to make the city more beautiful.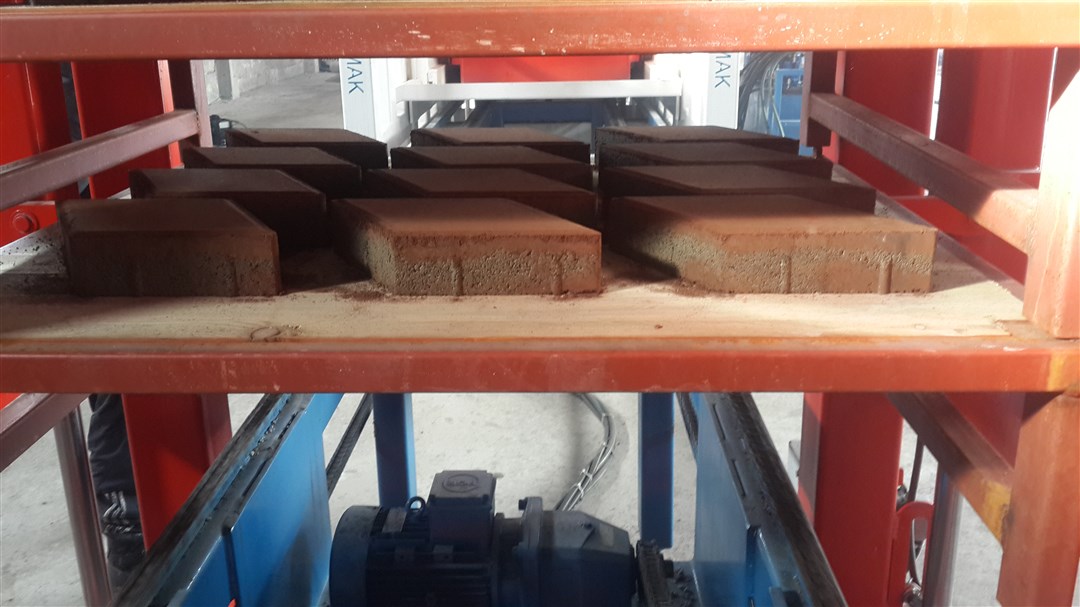 Concrete Brick Quality
---
The quality of the concrete bricks depends on the factors below
1. The vibration power of the machine
2. The compression force of the machine
3. The quality of the water used for the mortar
4. The quality of the powdered cement used for the mortar
5. The quality and the size of the aggregate used for the mortar
The brick making machines designed based on European standards have the best vibration/compression ratio. but it is very important to use smaller aggregates to have premium quality products. this is especially important in the surface of the paving blocks.

You can also visit the Bess Youtube channel for more videos
Block Making Machines
---
Block making machine works as the same system as the brick making machine but the difference is that the block making machines only have one hopper.
You can produce all the products mentioned before but the difference is that you can only produce single layer paving blocks. If you want to produce colored pavers you need to apply the color to the whole block if you choose the block making machine.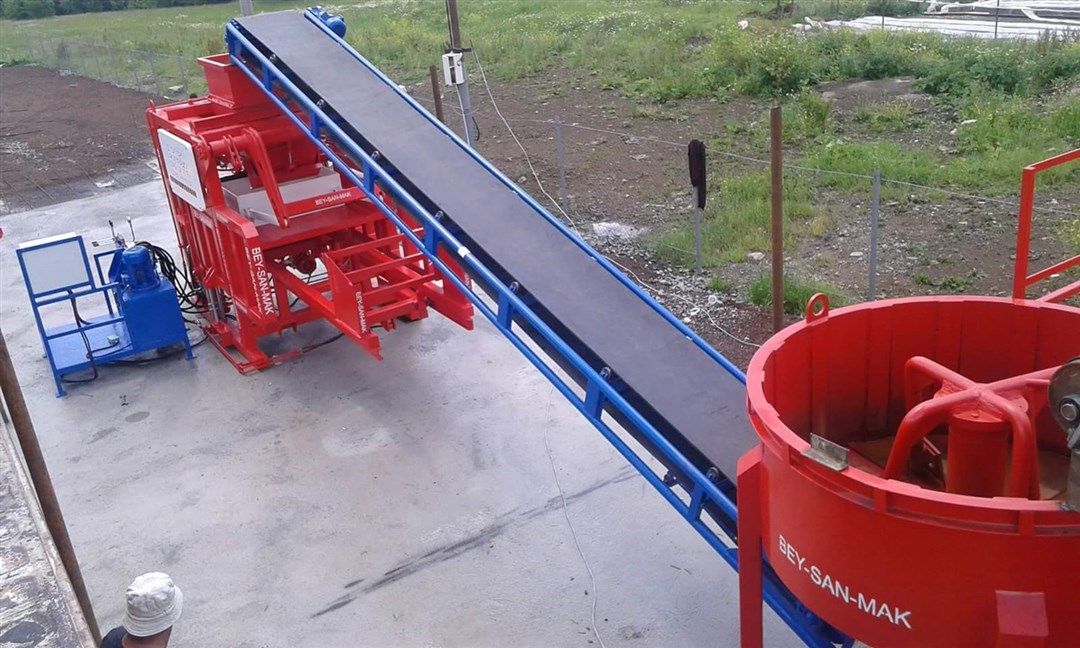 Block Making Machine Advantages
---
Some customers don't want to produce double layer pavers so we recommend block making machines. Block making machines have less equipment with them so they are cheaper than brick making machines with the production capacity remains the same.
Less developed countries choose block making machines mostly because they can start their business with a lower budget and in the future, they can add the second hopper. Bess company designs its block making machines in a way that they can be upgraded to brick making machines in the future. These machines are also called hollow block machines as well.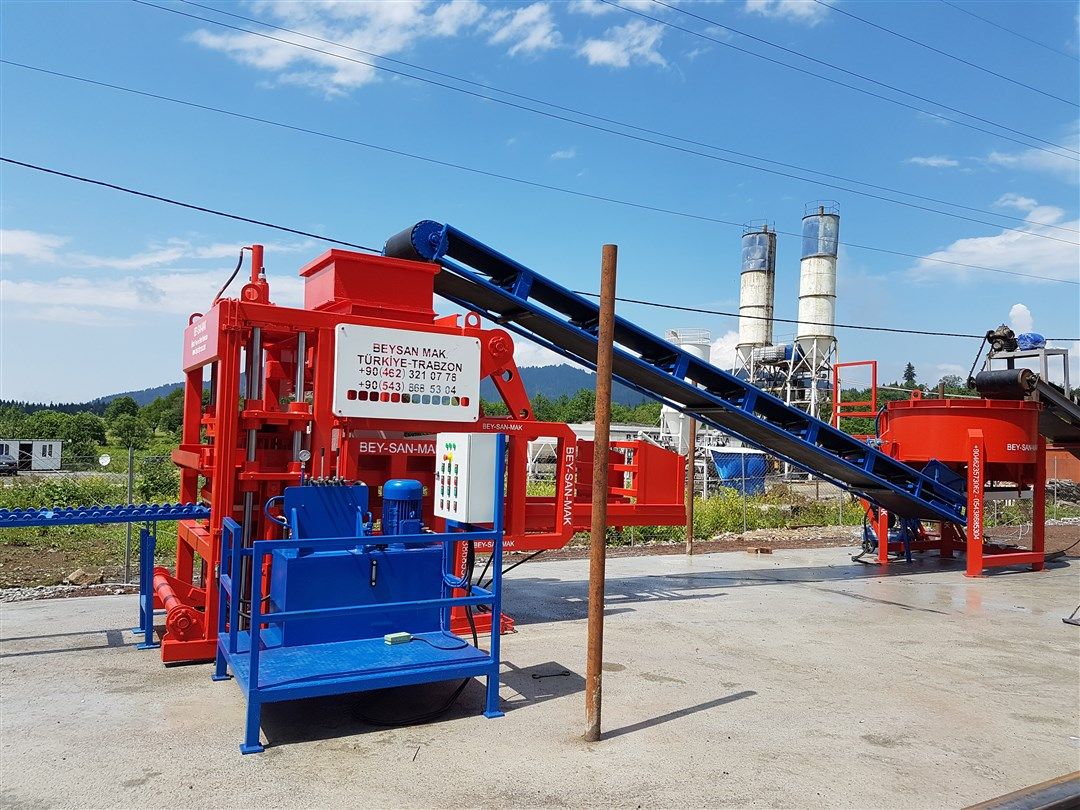 How Much Does A Block Making Machine Cost
---
The price of block making machines with capacities are listed below:
| | | | | | |
| --- | --- | --- | --- | --- | --- |
| Machine Name | Automation Level | Production Capacity | Hoppers | Installation | Price |
| Vess Eco | Semi-Automatic | 4000 Blocks / 300 m² Pavers | Single-Hopper | Included | 39800 USD |
| PRS 600 | Semi-Automatic | 6000 Blocks / 400 m² Pavers | Single-Hopper | Included | 47.080 USD |
| PRS 800 | Automatic | 8000 Blocks / 550 m² Pavers | Single-Hopper | Included | 75.520 USD |
| PRS 1000 | Automatic | 10000 Blocks / 700 m² Pavers | Single-Hopper | Included | 92.671 USD |
Block And Brick Making Machine Installation Cost
---
After you choose a suitable machine based on your budget and target capacity you will need to prepare your site for the installation of the machines. This includes the transportation cost from the Bess company to your country. Customs expenses and tax, preparing a suitable foundation for your machine, buying aggregate and cement, and hiring workers.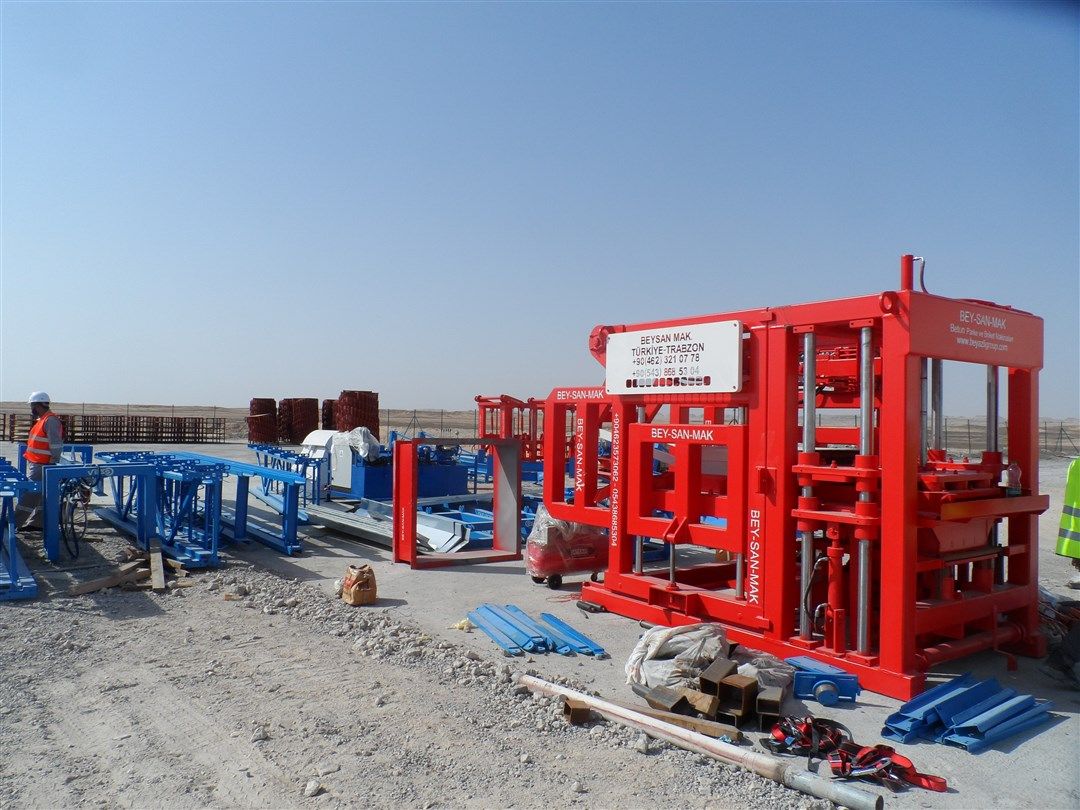 Keep in mind that if you live in a less developed country it is wiser to choose a semi-automatic higher capacity machine instead of an automatic machine.
Conclusion
---
Bess company offers free plant layout for your site, free installation, free commissioning, free staff training with a certificate that they can use the machine. Bess also offers 2 years of guarantee which is extendable up to 5 years.
Bess also offers a block production business plan free of charge for the customers considering their country. we also suggest popular mold shapes based on your country. contact our English department for the best prices, special offers, and also discounts.