Hollow Block
---
A hollow block is a block made of concrete and it has a hollow space between its walls. Based on the width of concrete blocks its possible to have more than 2 walls. To produce hollow blocks you need to prepare concrete that is made of water, aggregate, and cement.
When your concrete mortar is prepared, you need to pour it in the mold that you already prepared based on the shape that you want. The final process is to apply pressure to the mold to form the hollow block.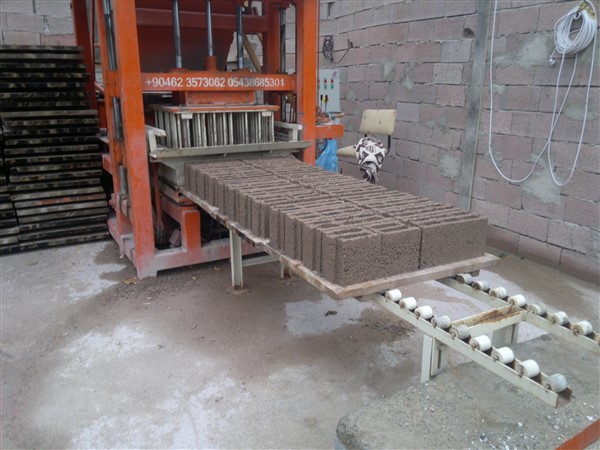 Based on your country, target capacity, and project budget there are many ways to produce these blocks. Bess prepares hollow blocks business plan for your project free of charge.
High-quality hollow blocks work with molds. This means if you buy a hollow block machine and order different molds you can produce hollow blocks, solid blocks, paving blocks, curbstones, roof gutters, and almost 300 other shapes.
If you are interested to know more about hollow blocks you can read what hollow block is in general and in detail.
Note that styrofoam concrete blocks are also considered in the group of hollow blocks. Instead of a hollow space in the middle of the concrete block, styrofoam is used. This guarantees better isolation for heat and sound.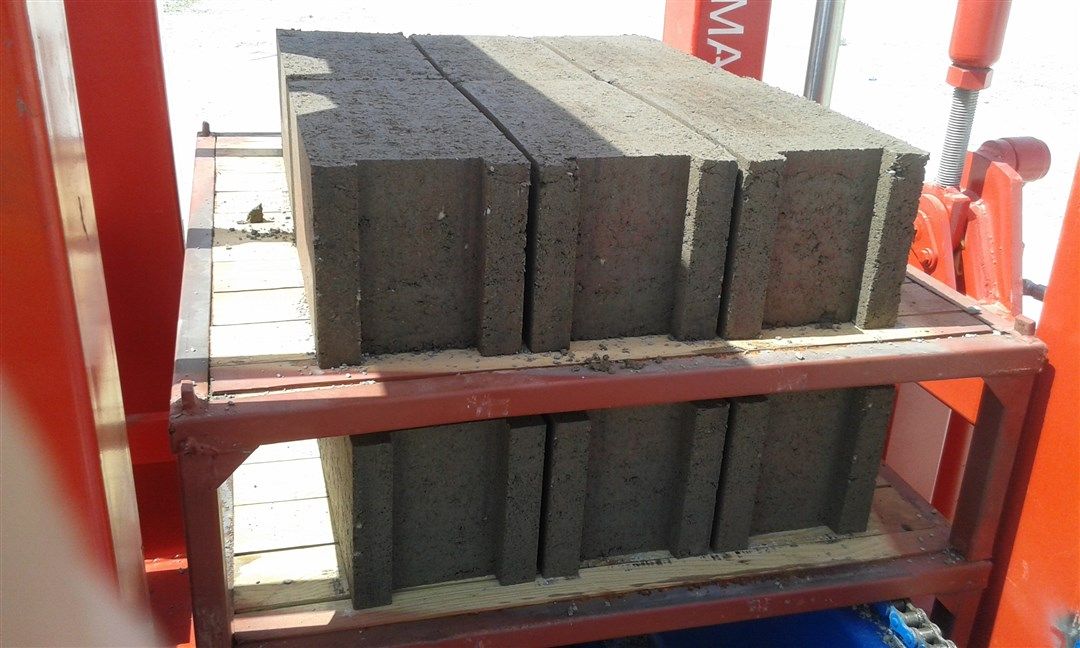 Hollow Block Machine Capacity
---
The capacity of the hollow block machine is determined by how many standard hollow blocks it can produce in one cycle.
You may wonder what a standard hollow block is, a standard hollow block machine is a block with 20cm width, 40cm length, 20cm height.
For example, if a hollow block machine produces 4 blocks in one cycle, it is a size 4 machine.
paver block machines also have a different standard system for their capacity. they are determined in square meters.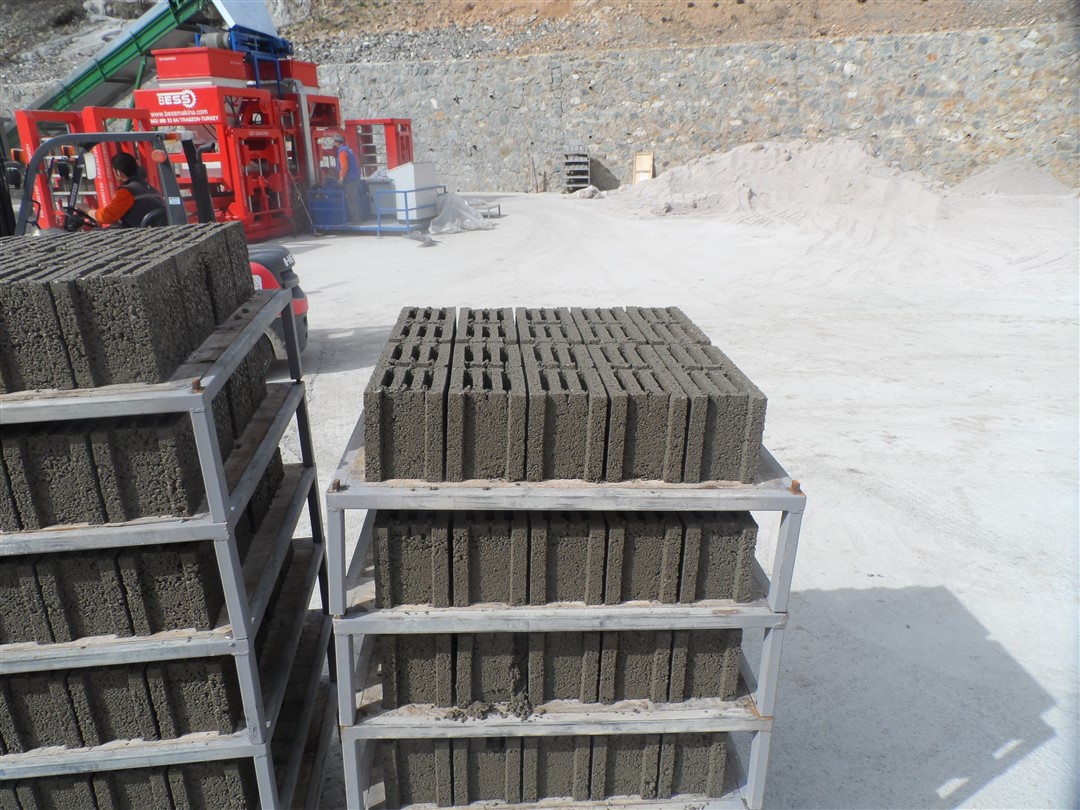 Hollow Block Machine
---
Generally speaking, a Hollow block machine is a machine that produces hollow blocks. You can also produce hollow blocks manually but there are a few problems. First of all, if you produce hollow blocks manually it will be too slow, the quality of the hollow blocks will also be low because you can't apply enough compression power to the blocks. Another problem is you need a lot of manpower for your plant. The concrete mixing ratio is another issue that you will face, this means your concrete ratio will be different each time you mix the ingredients and this directly affects the product quality.
The need for a hollow block machine that is fast, reliable, and works with less manpower is undeniable.
Hollow block machines are produced in different types, capacities, shapes, and automation levels.
Here is a reference to one of our machines, for more videos you can visit Bess Youtube Channel.
This machine is the simplest hollow block machine, mostly they are moving machines and they don't need pallets. They are also colled brick laying machines. They are the cheapest hollow block machines and very simple. The capacity of these machines is also low so they are suitable for very small projects.
1. Manual hollow block machine:
2. Semi-automatic hollow block machine:
The most preferred hollow block machine with people trying to enter the concrete block manufacturing business with a limited budget and a suitable machine is a semi-automatic hollow block machine. Semi-automatic hollow block machines can produce 4 up to 8 pieces in one cycle and the capacity of these machines is 4000 up to 8000 pieces of standard hollow blocks in an eight-hour shift.
you can read more about these machines in the article related to hollow block machines.

3. Automatic hollow block machine:
If you need to produce more than 8 standard blocks in one cycle you need to choose an automatic hollow block machine. This is due to the heavyweight of the pallets with the hollow blocks on them. When there are more than 8 blocks in one pallet, the pallet is very heavy and very difficult to carry by handcarts, for this reason, automatic hollow block machines are manufactured. The machine first piles up 5 pallets on top of each other then the forklift transfers the pallets to the curing area.
Automatic hollow block machines are more expensive than semi-automatic machines, but for higher capacities, there is no other choice.
Automatic hollow block machines are more preferred in the countries where labor cost is high. Because automatic machines require fewer workers compared to the semi-automatic version.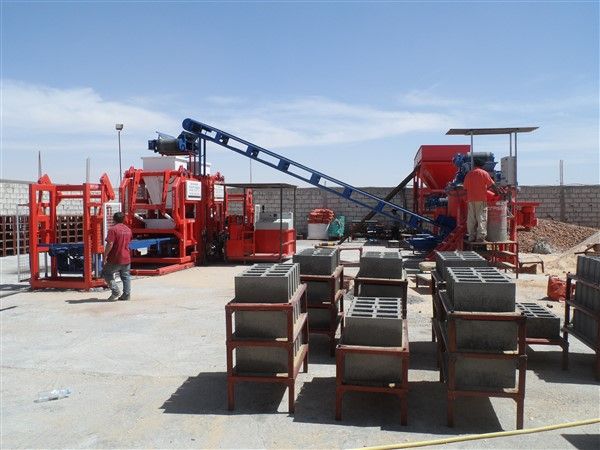 4. Fully automatic hollow block machine:
Fully-automatic concrete block machines are available starting from size 10 and the machine doesn't need any operators. As the name shows the machine works fully automatic. Fully automatic hollow block machines may look expensive in the beginning but the advantages far outweigh the price.
Fully automatic hollow block plants require minimum workers which is very important for some customers.

Power consumption is also very low if the used equipment is high-quality European brands.

The concrete ratio is always the same because of the automatic weighing system that the machine has.

The product height can be between 2cm - 40cm based on customer demand.

There are almost 500 concrete molds available for Fully automatic hollow block machines.

The production capacity of the fully automatic hollow block machines starts from 10 blocks in a cycle and going up to 24 blocks in one cycle.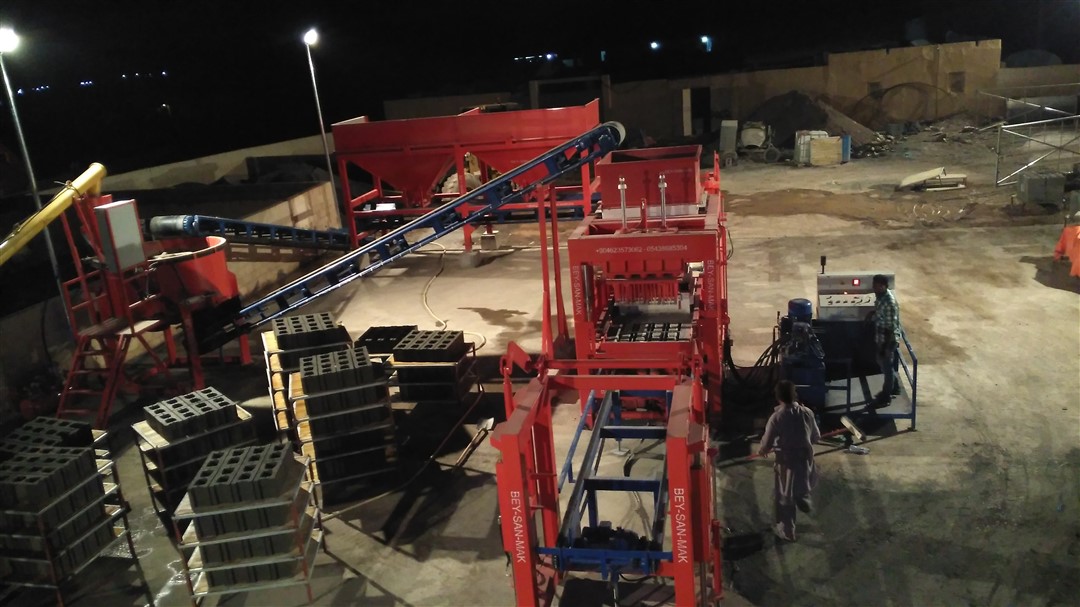 Hollow Block Machine Price
---
The price of a hollow block machine depends on a few factors.
1. Quality of the machine: The most important factor is the quality of the machine. The quality of the machine means the design of the machine, raw materials used in manufacturing, the brand of electrical and hydraulic equipment used on the machine, and using professional craftsman in the manufacturing process.
2. Country of origin: The country where the machine is manufactured has an important effect on the price of the machine. This is because the currency and installation wages are different in every country.
3. Installation costs: Bess company doesn't charge the customer for the installation of the machine
4. Optional equipment and spare parts: based on your project you can choose extra molds, spare parts, and optional equipment like pallet brush or product brush.
Since the price of the machines is different from another, I just put the price of our semi-automatic concrete block machine size 4. For more options and prices contact us.
| | | | | | |
| --- | --- | --- | --- | --- | --- |
| Name | Automation level | Capacity | Installation | Full plant | Price |
| Eco 4.1 hollow block machine | Semi-automatic | 4000 pieces in one shift | included | yes | 42.300 $ |
Conclusion
---
Bess produces concrete block machines in different capacities and different automation levels. If you are looking for a High-quality hollow block machine at a reasonable price and suitable for your project you can contact us. The contact information is attached below.
Bess hollow block machines have 2 years of guarantee which is also extendable to 5 years. Due to the high-quality Bess machines don't need roofing.
After 15 years of experience, Bess engineers redesigned the machines based on the latest European to keep the maintenance as simple as possible. Bess provides layout plans free of charge as well with the machine.
Bess also designed Eco hollow block machines for people with no experience in this field of business. It is easier than ever now to enter the hollow block manufacturing business.