World's Largest Construction Vessel Crosses Istanbul's Bosporus Strait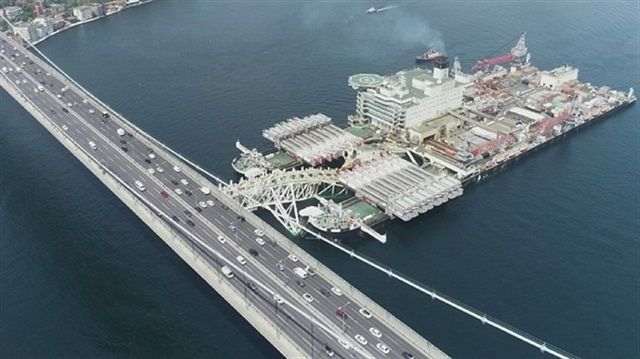 The world's largest construction vessel has entered Istanbul's Bosporus Strait from the Black Sea early on Wednesday morning as it resumes operations on the ongoing Turkstream Natural Gas Pipeline project.
The vessel was accompanied by coastal guards as it crossed the strait on its way to the Netherlands as it continues work on the 2nd Turkstream pipeline.
It is estimated that it will take the ship, called Pioneer Spirit which is owned by Allseas, about six hours to cross the Bosporus Strait.
Pioneering Spirit captain Loek Fernengel told journalists on the vessel that Allseas, the company that owns the ship, has the ship is the most technologically advanced pipelaying vessel in the world in the Pioneering Spirit, which is not only designed for pipelaying but also for the installation and decommissioning of oil and gas platforms.
The vessel has a maximum speed of 14 knots and can accommodate 571 people with an installed power capacity of 95,000 kilowatts.
The unique vessel with the size of six6 Boeing 747s is capable of lifting two-and-a-half2.5 Eiffel Towers at once.
Pioneer Spirit's construction started in 2012 and it is among a fleet of other Allseas enormous vessels including the Solitaire, Audacia, and Lorelay.
The vessel redefined heavy lifting with the single-lift removal of Shell's iconic 24,000-ton Brent Delta platform topsides from the North Sea in April 2017 - a world record for an offshore lift.
Source | www.yenisafak.com