HOLLOW BLOCK AND PAVING BLOCK MACHINES IN NAMIBIA
Investing in a concrete block production line is a great and advantageous project. We are providing our semi and full automatic hollow block and paving block machine and services in Namibia. Concrete blocks are manufactured in the required shape and sizes and these may be solid or hollow blocks. A paver is a block made of stone or concrete used for paving the roadway or backyard of our houses. If you have sufficient and reliable answers to these questions, you will make the best choice of a cement block making machine that produces hollow blocks, paving interlock blocks, curbstones, and many other types of concrete blocks.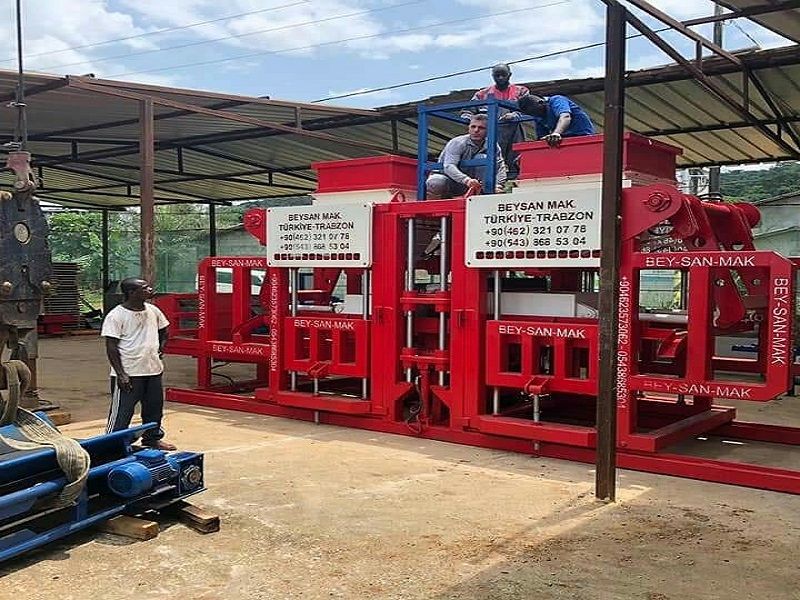 The next article will be about the different types of concrete blocks. The use of the latest technology on our concrete block machines has made a difference in terms of quality. We can give you the necessary information to have the best economic and quality block machine. For more information about our machine to produce hollow block, solid block, paving block, or curbstone, please, contact our sales rep in Namibia (contact information below).
This hollow block machine produces not only hollow blocks but paving blocks, and Curbstones. We are a WorldwideConcrete Block Making Machine manufacturer. The factory is situated in the port city of Trabzon. You can have a hollow block machine, manual hollow block making machine, or semi-automatic hollow block machine for sale. The concrete blocks making machine prices can change depending on the daily production capacity. We offer used hollow block machines as well. Their prices are cheaper compared to other hollow block making machine prices.
---
The format of the blocks or pavers depends on the choice of customers. The concrete block machine has the possibility to produce blocks with a size between 2 cm and 160 cm. The machine produces between 4 and 72 blocks in a single press. Our technology allows the machine to produce not only pavers but also different types of concrete blocks.

The quality and features of our machines are suitable for all the countries in Africa including Namibia. Hollow block and paving block machine (both automatic and semi-automatic) are manufactured in Turkey and shipped to all the cities in Namibia. The largest cities in Namibia are Windhoek, Rundu, Walvis Bay...
---
CONSTRUCTION AND OTHER BUSINESS TREND IN NAMIBIA
Some customers are looking for used concrete block making machine for sale. Customers are willing to buy this type of machine generally for some economic reasons. Most of the customers do not assume the fact that they do not have enough money. In this case, BEYAZLI GROUP can provide you a used concrete block making machine with two years of warranty. Investing in a concrete block production line is a good idea especially for a country like Namibia. We install our Hollow Block And Paving Block Machines in Namibia.
The process for manufacturing concrete blocks is fully automatic. The technology used for manufacturing our brick making machine meets European standards. Depending on the province you are living in, we can provide a semi-automatic concrete block machine or a fully automatic concrete block machine. Our machine allows you to produce Solid Concrete Blocks, Hollow Concrete Blocks, Paving Blocks, and curbstones by just changing the mold. Namibia's economy is tied closely to South Africa's due to their shared history.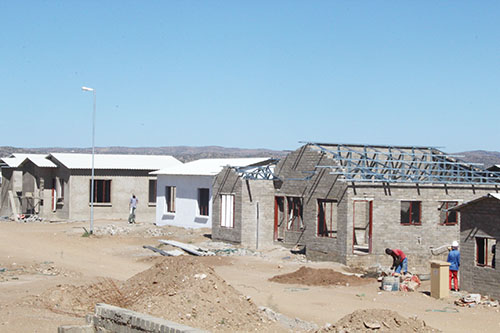 The largest economic sectors are mining (10.4% of the gross domestic product in 2009), agriculture (5.0%), manufacturing (13.5%), and tourism. In 2013, global business and financial news provider, Bloomberg, named Namibia the top emerging market economy in Africa and the 13th best in the world. Only four African countries made the Top 20 Emerging Markets list in the March 2013 issue of Bloomberg Markets magazine, and Namibia was rated ahead of Morocco (19th), South Africa (15th), and Zambia (14th).
---
CONTACT OUR SALES REP IN NAMIBIA
You can have
Hollow Block And Paving Block Machines in Namibia whatever the city you are living in.
We have received many customers of Hollow Block And Paving Block Machine from Namibia.