Sahar

Hits: 5558
Hollow Block And Paving Block Machine In Botswana
BESS HOLLOW BLOCK AND PAVING BLOCK MACHINE IN BOTSWANA
BESS provides semi and full automatic hollow block and paving block machines and services in Botswana. The use of the latest technology on these concrete block machines has made a difference in quality. A very high-power electric motor allows a vibration frequency of more than 4500 rpm. Suppose you want to invest in a concrete block production line.
In that case, we can give you the necessary information to have an economic brick making machine. For more information about our machine to produce hollow block, solid block, paving block, or curbstone, please, contact our sales rep in Botswana (contact information below).
---
SOME INFORMATION ABOUT THE BOTSWANA
Our company Beyazli Group can deliver the hollow block and paving block (pavers) making machine to all the cities in Botswana. With its fossilized river valleys and undulating grasslands, the massive Central Kalahari Game Reserve is home to numerous animals, including giraffes, cheetahs, hyenas, and wild dogs.
Botswana has maintained a strong tradition of stable representative democracy, with a consistent record of uninterrupted democratic elections and the best perceived corruption ranking in Africa since at least 1998. The largest cities in Botswana are Gaborone, Francistown, Molepolole, etc.
---
BESS HOLLOW AND PAVING BLOCK MAKING MACHINE AVAILABLE IN BOTSWANA
This hollow block machine produces not only hollow blocks but also paving blocks, cement brick. We are a worldwide concrete hollow brick block and paving block making machine manufacturer. The factory is situated in the port city of Trabzon. You can have a hollow block machine, manual hollow block making
machine,
or semi-automatic hollow block machine for sale.
The concrete blocks making machine prices can change depending on the daily production capacity. We offer used hollow block machine sales as well. Their prices are cheaper compared to other hollow block making machine price.
Hollow Block Making Machine
Paving Block making Machine
Curbstone Making Machine

6.000 hollow block 15 cm width per day

Semi-Automatic

300 m2 paving blocks per day

Semi-Automatic

1000 curbstone 700 cm length per day

Semi-Automatic
---
CONSTRUCTION AND OTHER BUSINESS TREND IN BOTSWANA
You can invest in quality and economic Machine producing Hollow block And Paving Block in Botswana. The technology used for manufacturing our concrete block machine meets European standards.
Depending on the province you are living in, we can provide a semi-automatic concrete block machine (also called manual concrete block machine) or a fully automatic concrete block machine. Our machine allows you to produce Solid Concrete Block, Hollow Concrete Blocks, Paving block, and curbstones by just changing the mold.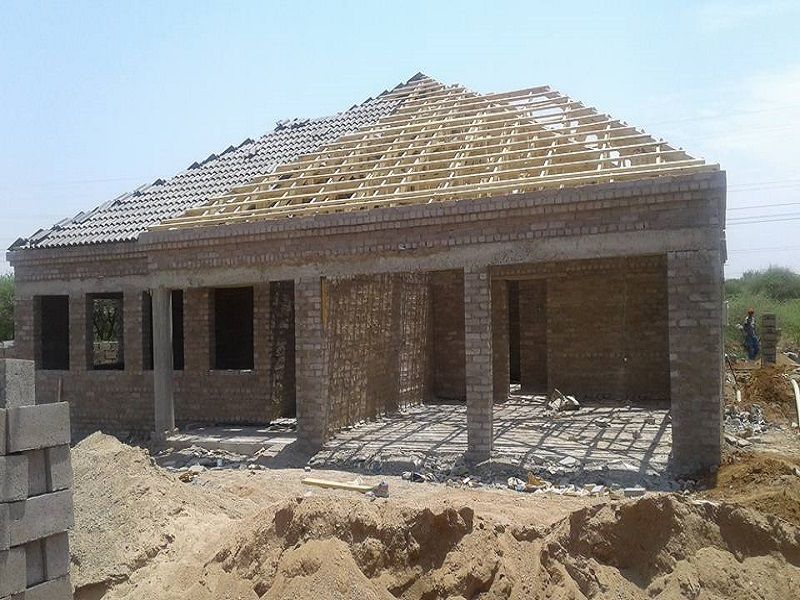 Since independence, Botswana has had one of the fastest growth rates in per capita income in the world. According to the International Monetary Fund, economic growth averaged over 9% per year from 1966 to 1999. Botswana has a high level of economic freedom compared to other African countries.
In this video, you can see a high-quality block-making machine that is a semi-automatic machine. It can produce both hollow blocks and paving blocks. This machine is for sale and ready to ship to Botswana. BESS provides full support from your concrete block business's project structure to establish the site and train your workers on how to use the machine and produce a good quality concrete block.
Bess factory produces other kinds of brick making machines too as automatic brick making machines and fully automatic block-making machines. Depending on the customer's budget, we have all kinds of machines to establish your business in this field. If you are living in other African countries and looking for a concrete block making machine for sale in Africa you can contact us to see in which countries we have machines.
---
CONTACT OUR SALES REP IN BOTSWANA
You can have
Hollow Block And Paving Block Machines in Botswana whatever the city you are living in.
We have received many customers of Hollow Block And Paving Block Machine from Botswana.