1. Type of concrete block
As you probably know, concrete blocks are mainly classified into two (2) types depending on the structure, the shape, the size and the manufacturing processes. These two types of concrete blocks are:
Solid Concrete Blocks

Hollow Concrete Blocks
Concrete blocks exist in several dimensions and shapes. This type of material is more resistant to natural disasters. In general, the hollow block walls are made of steel rods, cement, gravel, and other additional materials. For this reason, we are witnessing a strengthening of the construction with the hollow blocks.
In order to manufacture concrete blocks such as hollow block, paving interlock block, curbstone (or Kerbstone) etc. it is obviously necessary to have a concrete block machine. The process for manufacturing concrete block is fully automatic. However, depending on the market you can have semi-automatic concrete block machine (also called manual concrete block machine) or fully automatic concrete blocks making machine. Still, you will probably notice a considerable difference in the raw materials and molds used by every manufacturer. This is another topic! We will not talk about those dissimilarities in molds but instead the different types of concrete block making machines you will undoubtedly find on the market.
Solid Concrete Blocks
Solid concrete blocks are used rarely, this kind of blocks are heavy in weight and manufactured from dense aggregate. Solid concrete blocks are very strong and provides good stability to the structures. So for large work of masonry like for load bearing walls these kid of blocks is preferable. As solid blocks produced in larger sizes compared to bricks. So, it takes less time to construct concrete masonry than brick masonry.


Hollow Concrete Blocks
Hollow concrete blocks used a lot in construction industry they made of exactly the same aggregates as solid concrete blocks. as per the name we understand that this kind of blocks contain holes which fill with mortar of lightweight aggregate material.. The holes occupy between 25-50% of the total volume of the block. Hollow concrete blocks are used as conduits for electrical wiring, plumbing pipes and HVAC piping. Due to the hollows, the thermal and sound insulation properties of these bricks are very good, and they also require less concrete mortar or plastering compared to solid blocks. They are light weight blocks and easy to install.

8 popular Types of Hollow Concrete Blocks:
Stretcher block

Corner block

Pillar block

Jamb block

Partition block

Lintel block

Frogged brick block

Bull nose block
2. How to choose a cement block making machine price?
If you search "cement block machine for sale" in an engine like Google, you will probably have millions of result. That will almost be the same number of result if you have search "block machine price list" or "solid block making machine price" instead. It will not be easy for you to choose the best website and then buy a machine that suits you.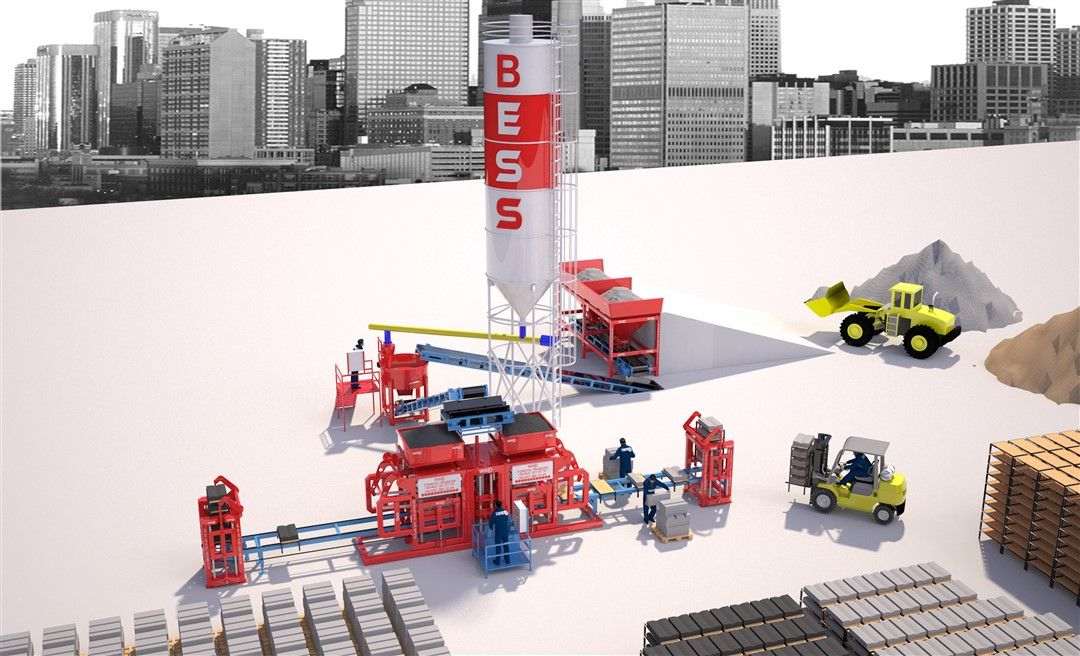 Every customer (or concrete block manufacturer) should be taking into consideration some questions before buying a concrete block machine:
Is this machine reliable, robust and solid enough to produce quality blocks?
Does the machine have all the features required for producing different types of concrete blocks?
What are the prices and discount available?
Do we have alternative and cost-effective concrete block machine with the same features?
Concrete blocks are manufactured in required shape and sizes and these may be solid or hollow blocks. A paver is a block made of stone or concrete used for paving the roadway or backyard of our houses. If you have sufficient and reliable answers to these questions, you will make the best choice of a cement block making machine that produces hollow blocks, paving interlock blocks, curbstones, and many other types of concrete block. The next article will be about the different types of concrete blocks.
According to our study, the hollow block making machine price in India or China is not very different from the price of other manufacturers in Turkey. The quality or features of these machines are sometimes not suitable for some countries in Asia or Africa regarding the differences in climate. Our company BEYAZLI GROUP manufactures concrete block machines not only for Turkey but also for all the countries over the world. Some features of our concrete block machines:
Paving block, hollow block, solid block and curbstones machines

Quality of Made in Turkey

Reliable Machines

Solid Machines

Robust Machines

Best Quality Machines.
Some customers are looking for used concrete block making machine for sale. Customers are willing to buy this type of machines generally for some economic reasons. Most of the customers do not assume the fact that they do not have enough money. In this case, BEYAZLI GROUP can provide you a used concrete block-making machine with two years of warranty.
3. Technology used in the concrete block machine
The technology used for the manufacture of our concrete block machine meets European standards. The technological part of the machines is generally similar to Siemens technologies because we are using some Siemens equipment. The use of the latest technology on these concrete block machines has made a difference in terms of quality. A very high power heat engine allows a vibration frequency of more than 4500 rpm. The format of the blocks or pavers depends on the choice of customers. The concrete block machine has the possibility to produce blocks with a size between 2 cm and 160 cm. The machine produces between 4 and 72 blocks in a single press. Our technology allows the machine to produce not only pavers but also different types of a concrete block such as:
The concrete hollow blocks (or bricks) like stretcher block, corner block, pillar block, jamb block, partition block, lintel block, frogged brick block, bull nose block…

Kerbstone or Curbstones

Standard Core-Fill Block

Column Block

Slump Block

Retaining-Wall Block

garden borders (curbstones like),

and the slabs for the construction of the buildings.
This technology allows you to produce all these types of concrete blocks in different color and pattern. If you are looking for a concrete block machine for sale, you can visit our products on the website. After purchasing the machine, we deliver three molds to the customer depending on his or her choice.
For more information about our concrete block making machines (or cement block machine) please, contact us by Email: This email address is being protected from spambots. You need JavaScript enabled to view it..