Hessam

Hits: 2325
Concrete Brick Making Machine Price
Concrete Brick Making Machine:
Concrete brick making machines are machines that produce concrete bricks by applying vibration and compression to the concrete block molds. There are different types of brick machines with different capacities and prices. Below you can see a sample picture of our concrete brick machine.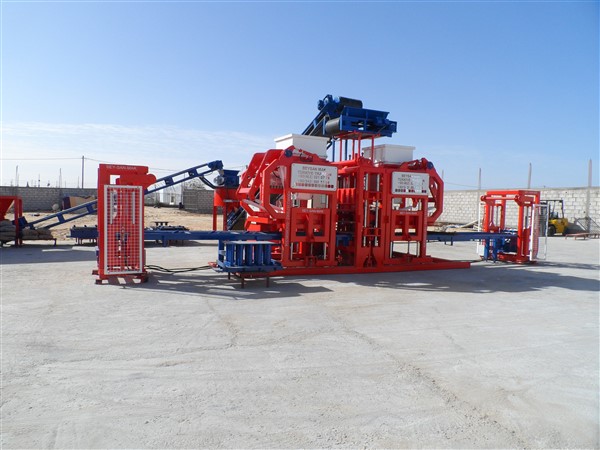 First, you need to provide your aggregate hopper with raw materials like sand or aggregate or fly ash, or any raw material used in your area. Then the machine will start to add them one by one to the mixer. after the raw materials are added the operator adds cement and water to the mixer to have the mortar needed for concrete brick production. when the mortar is prepared it is delivered to the mortar hopper of the machine by the conveyor belt.
The machine uses tho mortar to fill the concrete brick molds. there is a special mortar cart designed for the machine to make sure the mold is filled evenly on each side.
the concrete brick mold consists of two different parts.
1. upper mold
2. bottom mold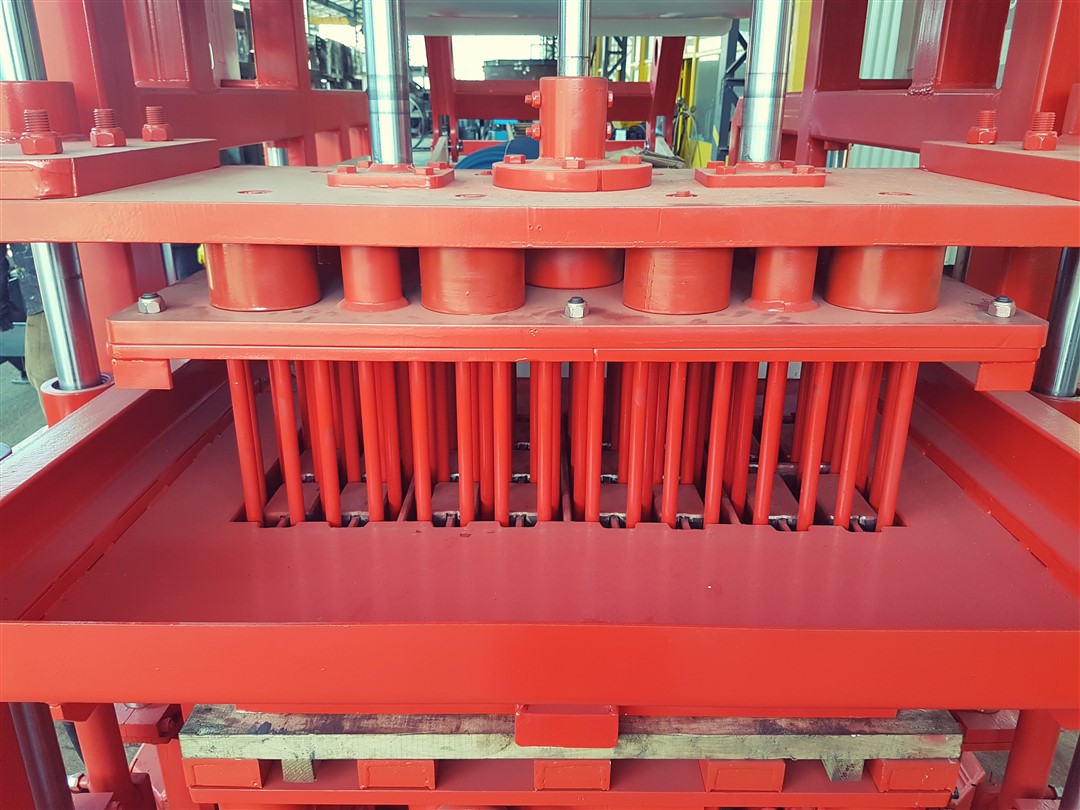 After the bottom mold is filled, the upper mold is forced down with pressure to compress the mortar in the molds. the compression force is adjustable between 100 bars to 200 bars.
This process is completed on the surface of the pallets. after the process is complete, the molds move up so the pallet can be delivered to the curing area.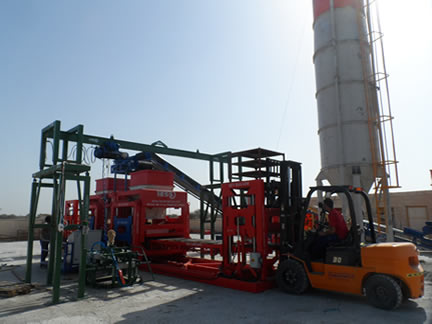 The concrete brick making machine can produce different types of concrete blocks by changing the mold. the only limit is the product height must be between 5cm to 30cm. The available common shapes are:
1. Hollow concrete blocks
2. Solid concrete blocks
3. Paving blocks (interlocking blocks)
4. Curbstones
5. Gutters
6. Lawn stones
7. Floor hollow blocks,
Below are a few models of our molds. for more models, you can visit our mold gallery.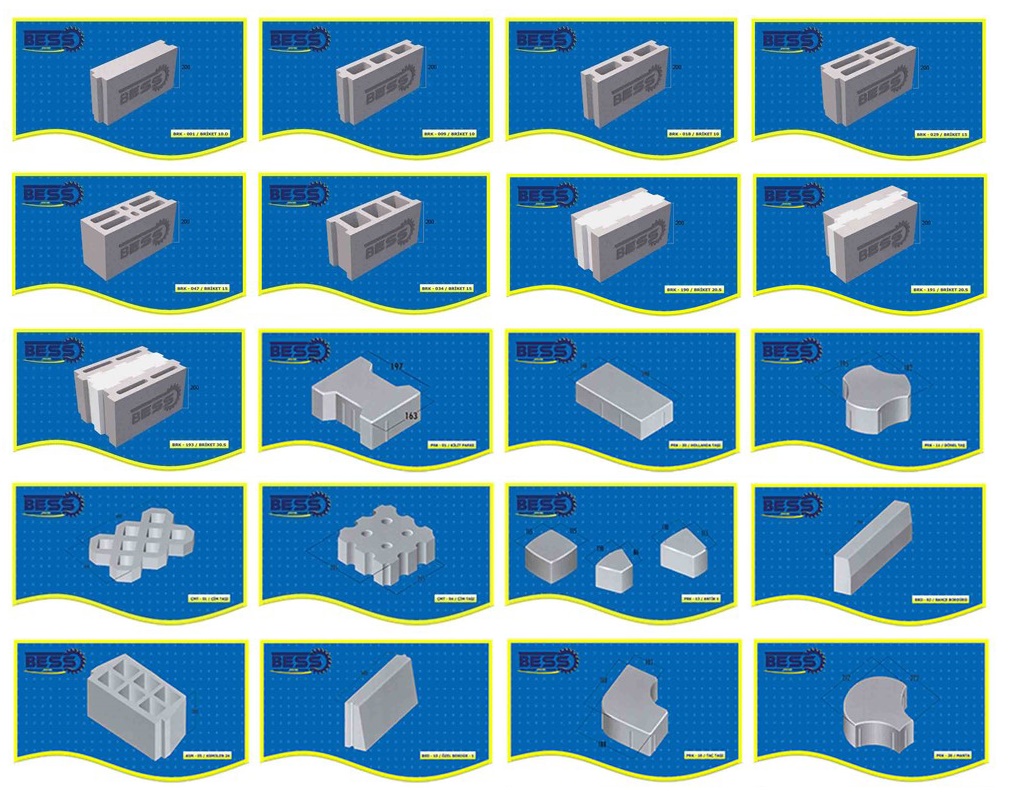 Concrete Brick Making Machine Price
---
Bess brick making machines are offered in both full sets and also part by part. If you have a mixer you can only order the machine or if you are starting you can order the full set.
concrete brick making machine price depends on many factors:
1. The automation level of the block making machine: Bess machines have 2 different automation levels, semi-automatic, and automatic. For countries with low labor costs, Bess always suggests semi-automatic machines. Totally you need 6 workers for a semi-automatic concrete brick making machine.
If you live in a country with high labor costs you better choose an automatic concrete brick machine. you totally need 4 workers for your whole plant.
2. The capacity of the brick making machine: there are 4 different capacities of brick making machines. They will be shown in the table please keep reading the article.
Our recommendation is that if you live in a country with low labor cost always choose a semi-automatic higher capacity machine instead of an automatic machine. Because it is simpler to operate and the maintenance is simpler. it is also better to have a higher capacity machine with 2 more workers instead of an automatic low capacity machine.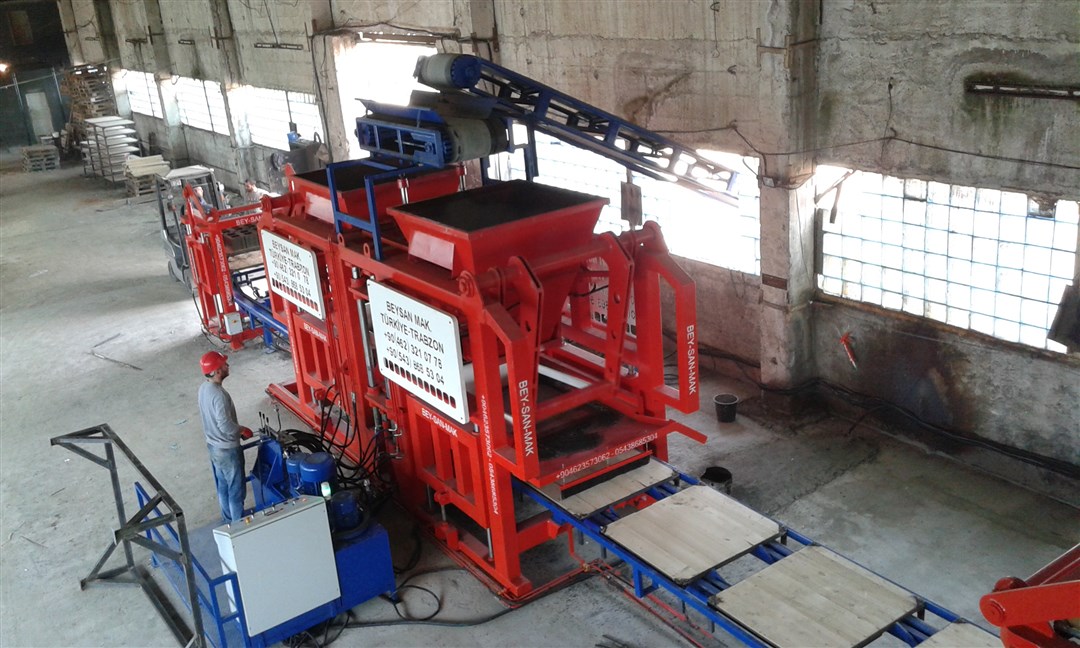 3. Transportation and equipment that comes with the machine: the number of molds you choose for your plant and also the country you live in is one of the price factors in the proforma invoice. Bess concrete block molds are premium quality molds with a press guarantee of 80.000 presses.
4. The brand of the equipment used in the concrete brick making machine: Bess company only uses well-known German brands like Schneider, Siemens, and Bosch for electrical and hydraulic parts. We guarantee our machines for 2 years against manufacturing faults as well.
The table below shows the capacity and also the concrete brick making machine price:
| | | | |
| --- | --- | --- | --- |
| Machine Name | Capacity | Installation | Price |
| PRS400 Semi-Automatic Machine | 4000 Pieces per shift (20x40x20cm blocks) | Included | 45750 USD |
| PRS400 Automatic Machine | 4000 Pieces per shift (20x40x20cm blocks) | Included | 64250 USD |
| PRS600 Semi-Automatic Machine | 6000 Pieces per shift (20x40x20cm blocks) | Included | 59680 USD |
| PRS600 Automatic Machine | 6000 Pieces per shift (20x40x20cm blocks) | Included | 71980 USD |
If you need further details about the machine or you don't know which machine is the best choice for your plant you can contact our English department at any time. Our sales department has more than 15 years of experience in this subject and they have sold more than 350 concrete brick making machines in 32 countries.