Concrete Brick Machine
---
The concrete brick machine is one of the most necessary equipment for producing concrete blocks like hollow blocks, solid blocks, paving blocks, curbstones, Lego blocks, roof gutters, grasscretes, and etc.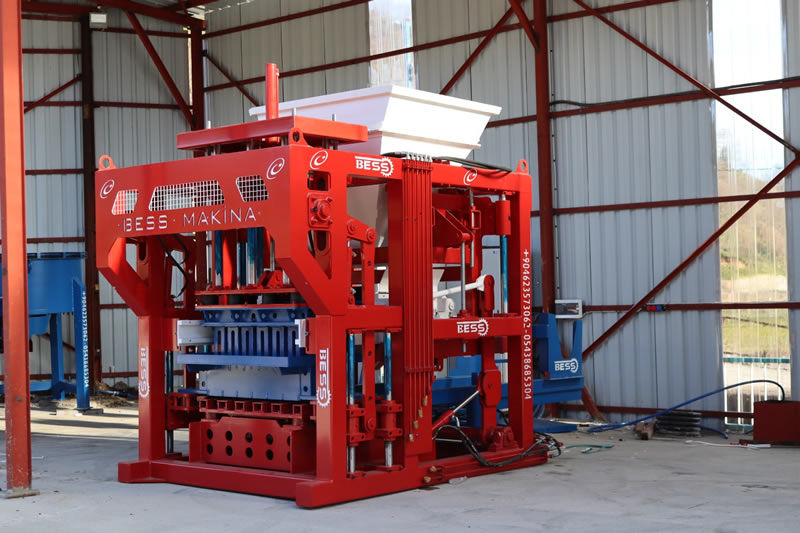 Bess offers different types of machines for those who are starting this business or those who want to change their own brick machines, we recommend purchasing a new concrete brick machine for the production of concrete blocks. Our company has good options for beginners or experienced customers, these are semi-automatic, automatic, or fully automatic block machines.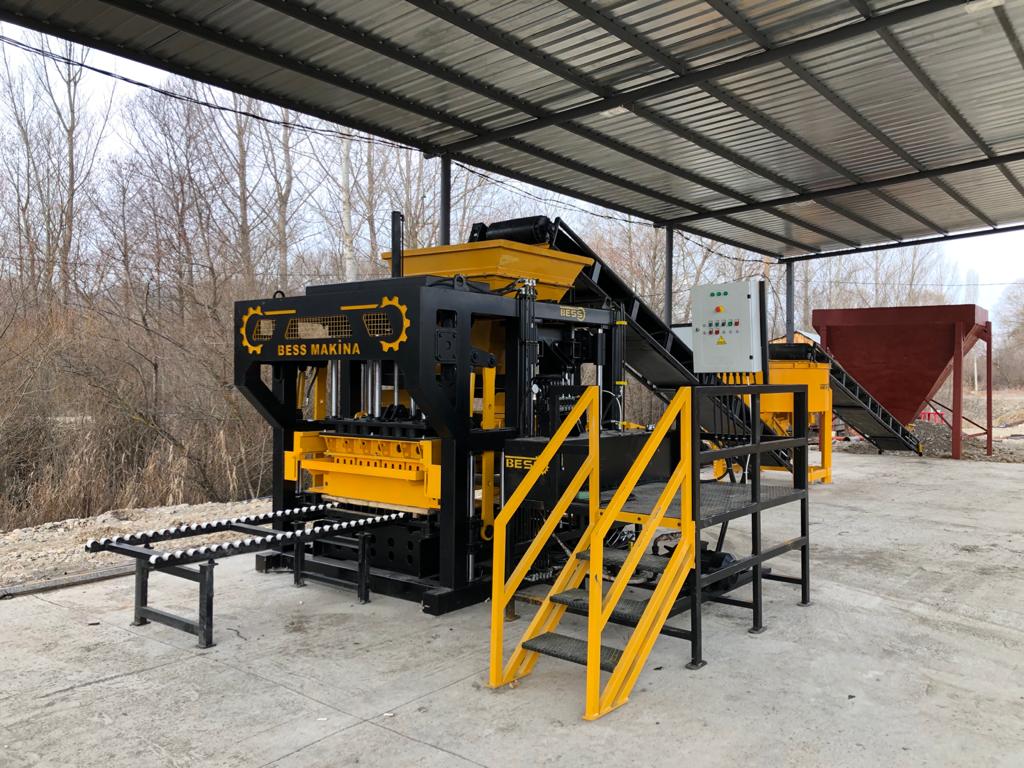 Each individual construction site can be viewed from different angles. For example, you are a team leader with a large professional team, your own equipment, and good contacts in the field of the construction market. With many orders, you can quickly work and develop, showing high results.
The results are based on professionalism and the use of modern technologies and are the provision of new orders, thanks to which you no longer interrupt from one construction site to another, but have a whole queue in your store.
This is what you need to strive for, and not just deal with the laying and construction of garages in cooperatives. So when you start producing concrete blocks with a concrete brick machine, you can upgrade your business in a very short time and this will be a very good and effective business. After a few years, you can buy another brick making machine and you can sell more concrete blocks to customers.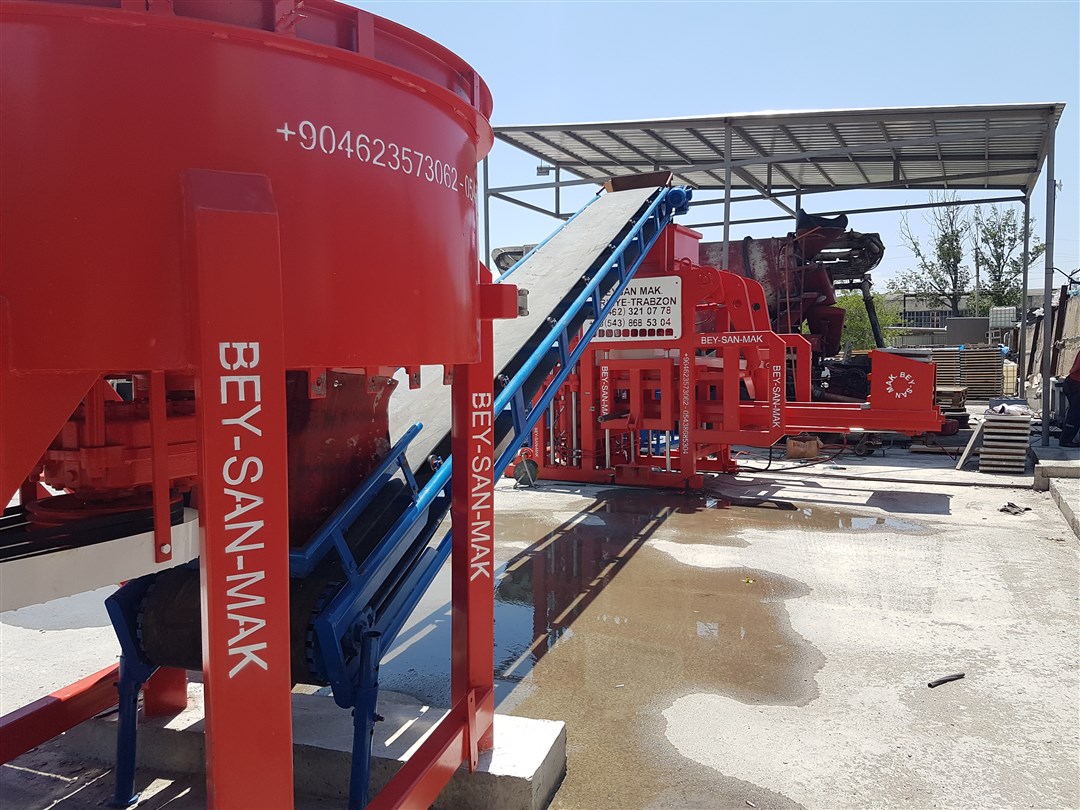 consider that buying the second machine or selling your current machine and buying a new one depends on different factors. If labor cost is cheap in your country and you have suitable land, you can keep your current machine and buy the second machine. the second machine needs to be higher in capacity but the automation level is better to be semi-automatic because labor cost is cheap in your area.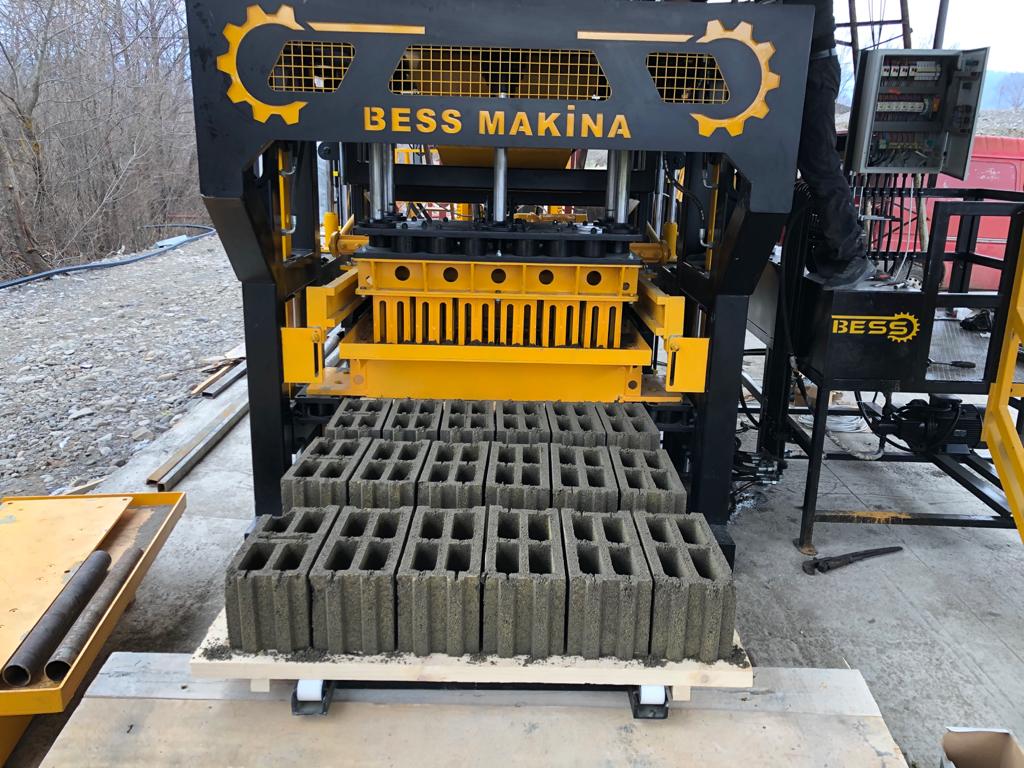 If you are living in a country where labor cost and land are expensive it would be wiser to sell your small machine and buy an automatic concrete brick machine with higher capacity.
Concrete Brick Machine For Sale
---
There are three different automation levels you can choose from. All the brick machines can produce different concrete products and for producing the different concrete blocks, it is just enough to change the mold. You can read some of the details of the concrete brick machine which we are currently manufacturing. Our company offers you a wide selection of options that are including semi-automatic, automatic, or fully automatic concrete brick making machines.
According to your needs and daily capacity, you can purchase one of them. The most important subject is to purchase a high-quality concrete block machine with reasonable prices and services.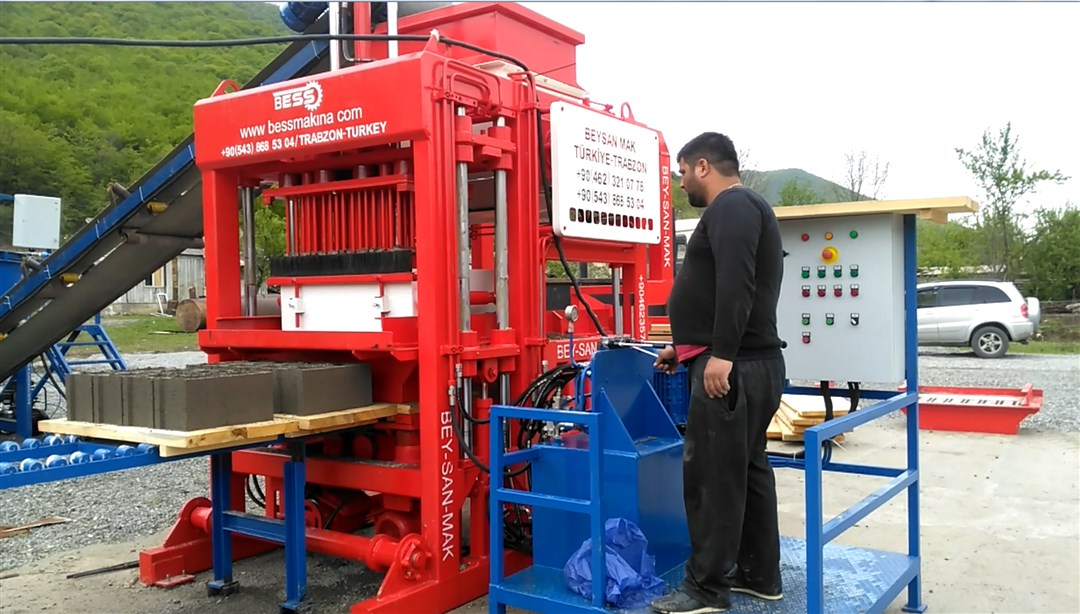 Concrete Brick Machine Details
---
We always recommend if you have a plan to buy any kind of block making machine, you can contact us and we can suggest to you the best option according to your project. You can read some details of the concrete brick machine which we offer you.
A stationary concrete block making machine has one or two hoppers and these block making machines can produce other various concrete products besides hollow blocks, paving slabs, curbstones, and others from 5cm to 30cm. According to your needs, or you can buy a block making machine with one or double hoppers.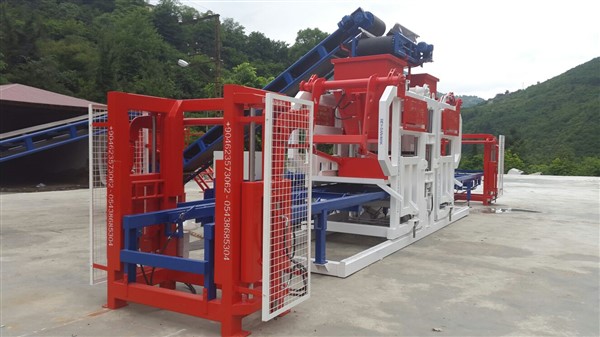 Stationary semi-automatic and automatic block machines are able to work all day 24 hours without any brakes and deformations.
All block making machines are made to high-quality standards in our company.
We use high-quality materials for semi-automatic and automatic machines. Our machines are also installed in European countries and we have ISO and CE standards for our concrete brick machines.
Here is a sample video of our machines. For more videos, you can visit BESS Machine EN.
Concrete Brick Machine In Hungary
---
Concrete is one of the most popular construction materials which is using almost all around the world and also in Europe. When you decide to buy a concrete brick machine, there are a lot of options that you can prefer. So, in this case, it is very important to buy a brick machine of high quality because if the machine is designed and performed well, so the final products will be in a good shape and form.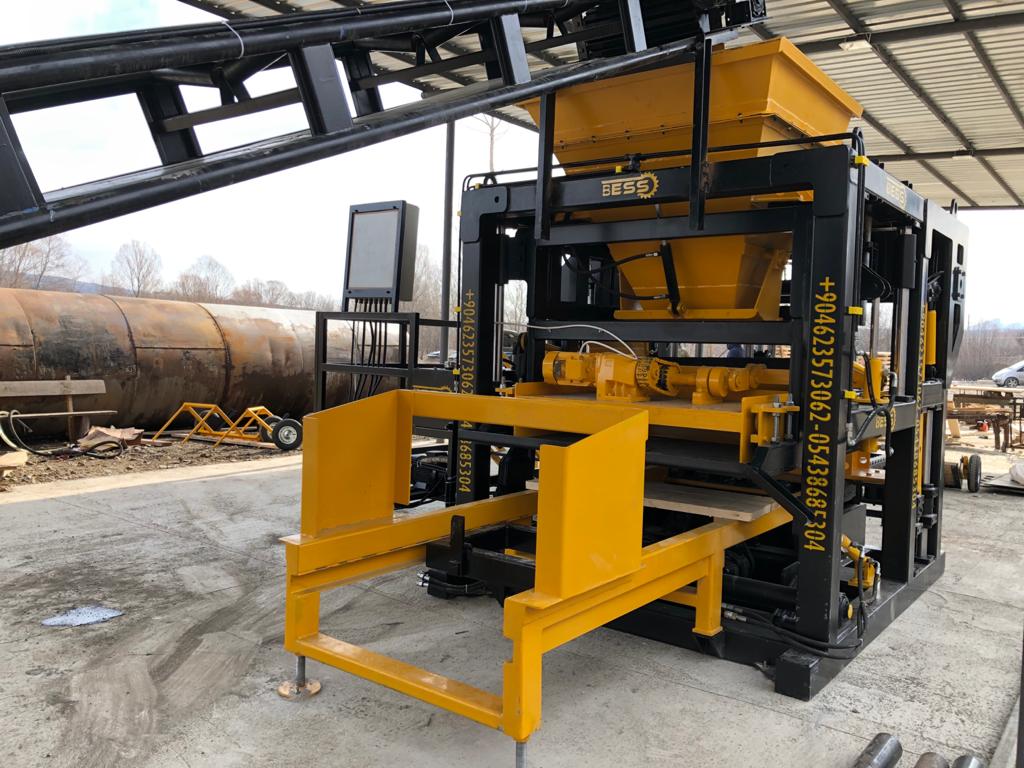 The Concrete Brick Machine In Ghana
---
Especially these days, a concrete block machine is the very necessary equipment that you need for producing concrete blocks, paving blocks, curbstones, and others. In Ghana according to the projects, it is better to purchase semi-automatic concrete block machines. Because of this reason, the expenses are no so much and you can produce different concrete blocks with high quality. For the concrete brick machine in Ghana, you can buy the block making machine at a reasonable price.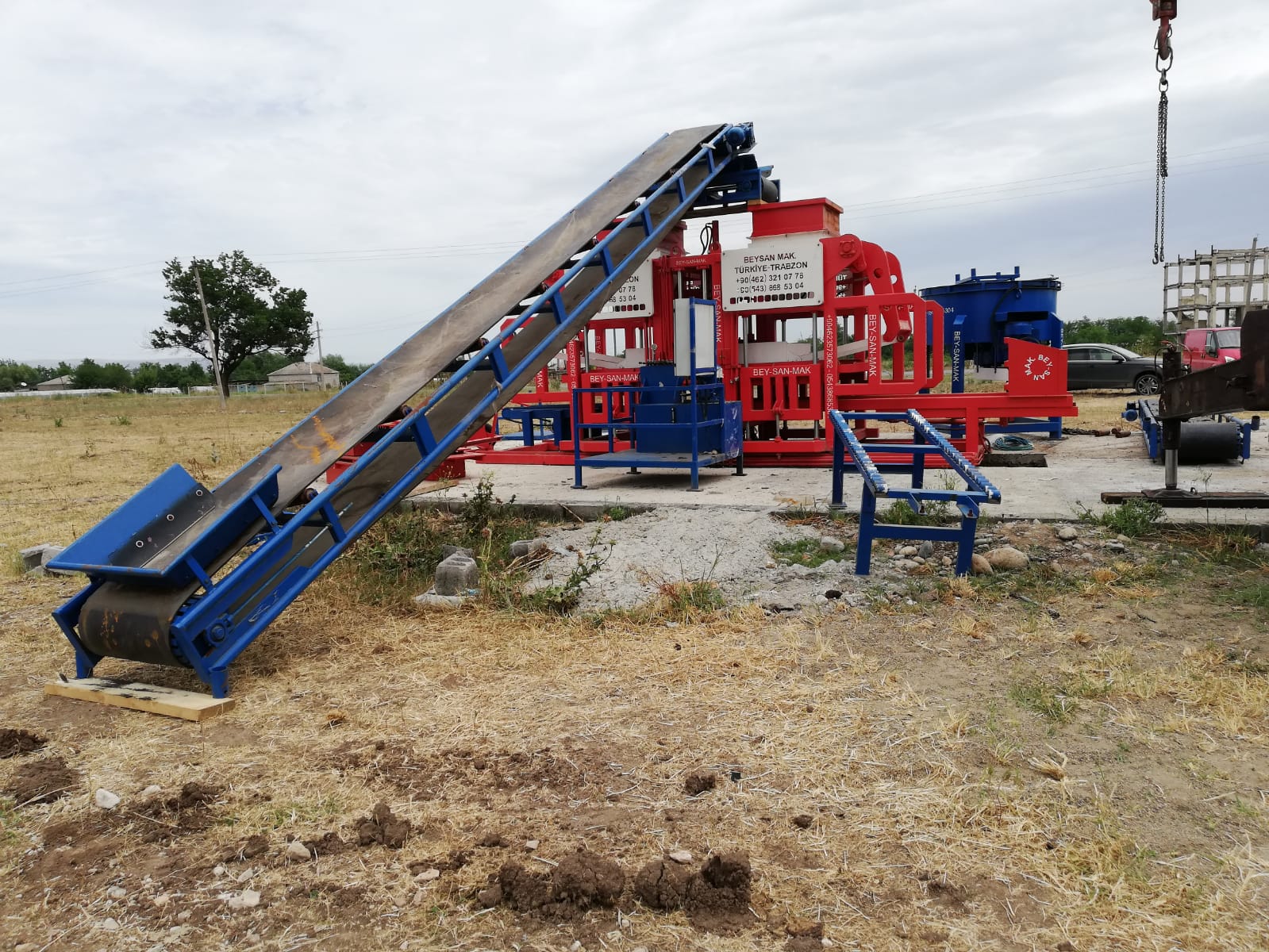 Concrete Block Making Machines Advantages Bess
---
Our company specializes in the manufacture and sale of equipment for the production of products used for the construction of partitions, walls, basements, and the like. Our block making machines are capable of producing lots of different items of concrete products from traditional materials. We cooperate with both large construction companies and private entrepreneurs.
Use of cutting edge technologies in production;

An integrated approach to solving customer problems;

Implementation of warranty and after-sales services;

Strict fulfillment of all contractual obligations;

Taking into account the wishes of customers at all stages of cooperation;

Payment terms according to customer demand based on the project;
Conclusion
---
Especially these days most of the clients are looking for the block making machine with high quality and also at a reasonable price. So if you contact us, we can offer you the best suitable option. We produce different kinds of block making machines for the production of concrete blocks, paving blocks, curbstones, and others. At your choice, we can offer you the most suitable machine for your production.