How to Produce Interlocking Blocks and Bricks
---
To produce interlocking blocks and bricks you need to prepare aggregate, water, and powdered cement. Then you need to mix them with a specific ratio used for this purpose. Usually, one unit of cement is mixed with 4 units of aggregate. After that, you will add water to have your mortar. Be careful not to add much water because this mortar is different from the mortar prepared in batching plants.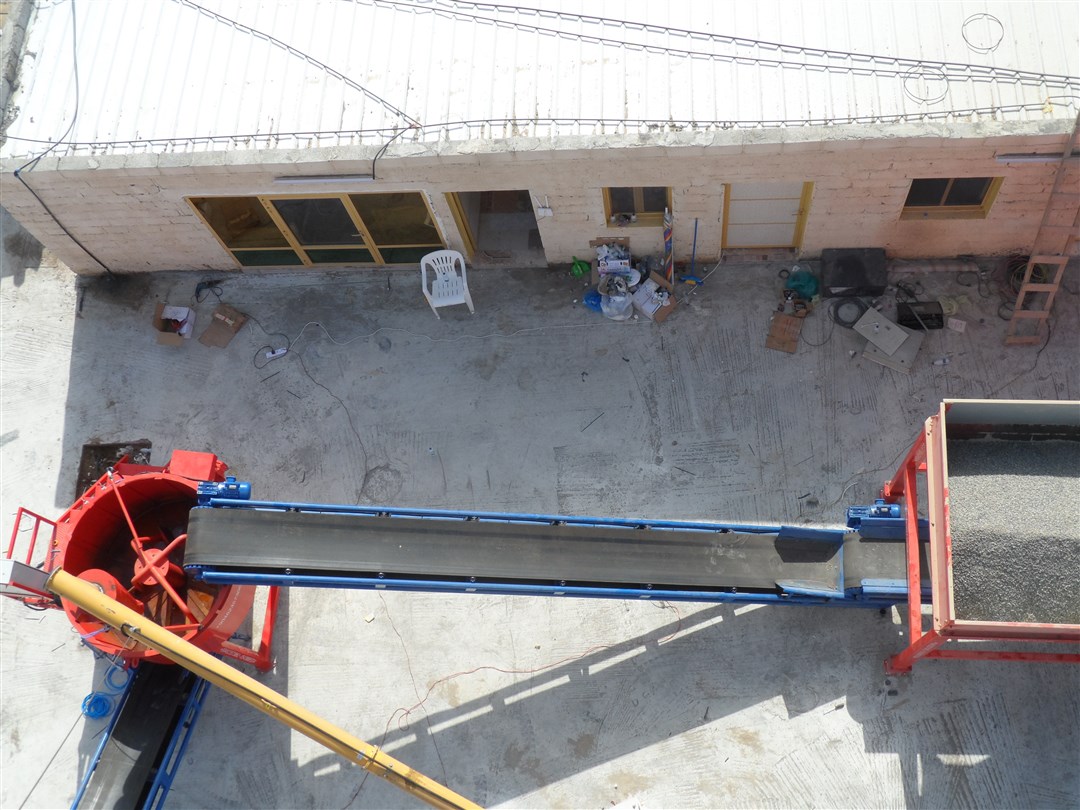 After the mortar preparation, you need a mold and enough pressure on the mold to shape the mortar. For this purpose there are a lot of options, you can use small manual machines, hydraulic presses, or automatic interlocking block machines in high capacities.
Finally, when the mortar has formed in the shape of the mold, it is delivered to the curing area where it is left for 18 to 24 hours to dry up. Normally, it is watered every six hours to make it stronger and more durable.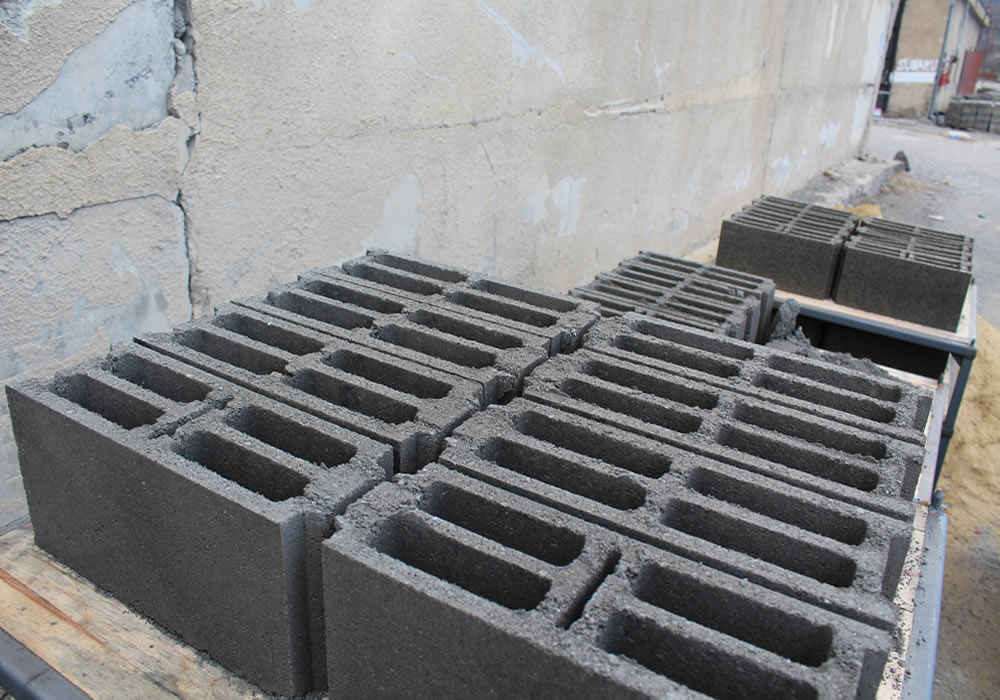 After the curing time, you can use your interlocking blocks according to their design. This can be on a wall, paver, or even roofs.
Interlocking Block advantages
---
Interlocking blocks are the same as concrete blocks but they have their special shape. Interlocking blocks can lock each other due to their special design. This is advantageous in many ways.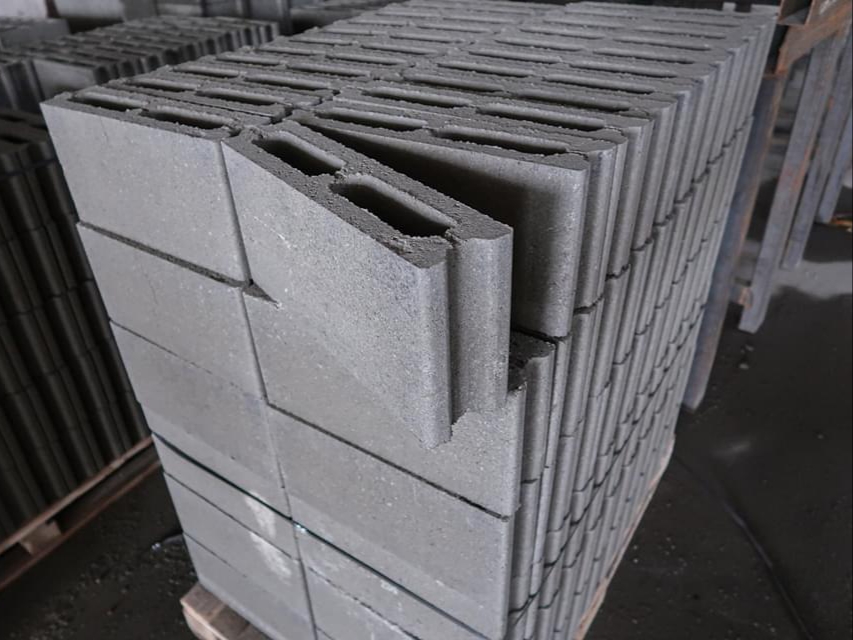 1. Less mortar is used between the blocks because they lock each other without any mortar used.
2. The construction speed will be much higher than normal blocks.
3. The interlocking blocks form a much stronger surface than normal bricks.
4. They reduce the total cost of a finished wall or paver because of the reduced man-hours.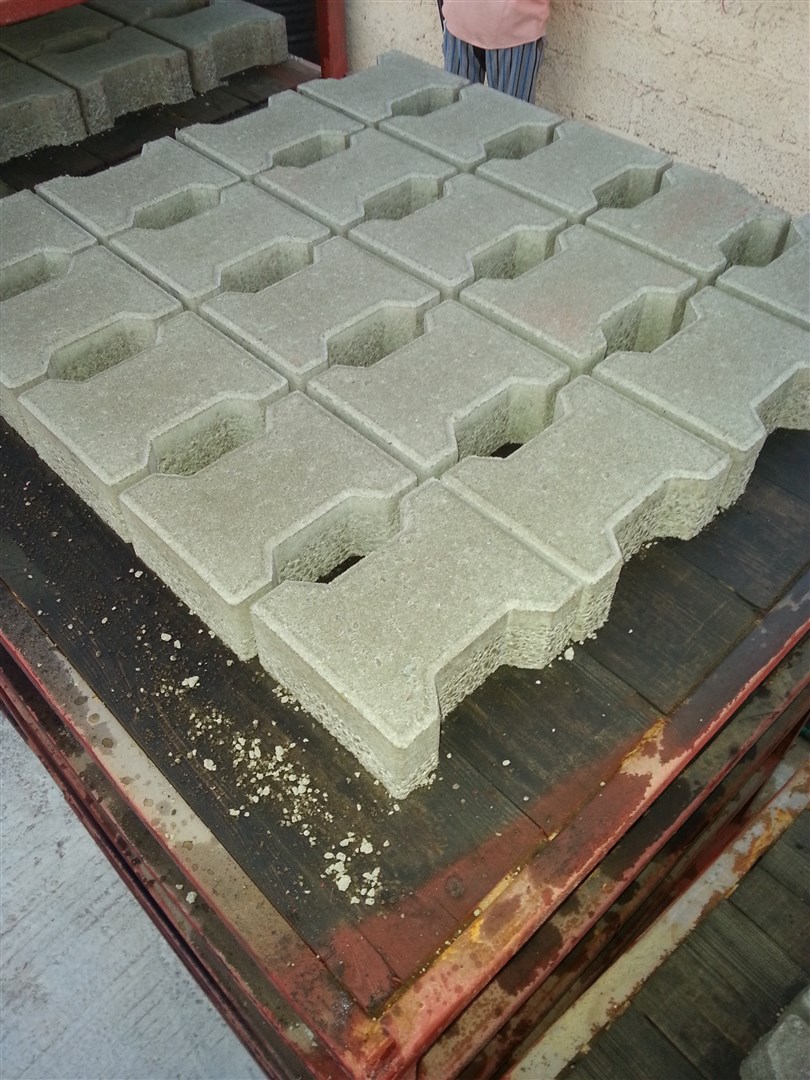 Interlocking Block Machine
---
Interlocking block machines are the machines with single hoppers. These machines can produce hollow blocks, solid blocks, curbstones, and single-layer paving blocks. If you want to produce colored blocks you need to apply the color to the whole block.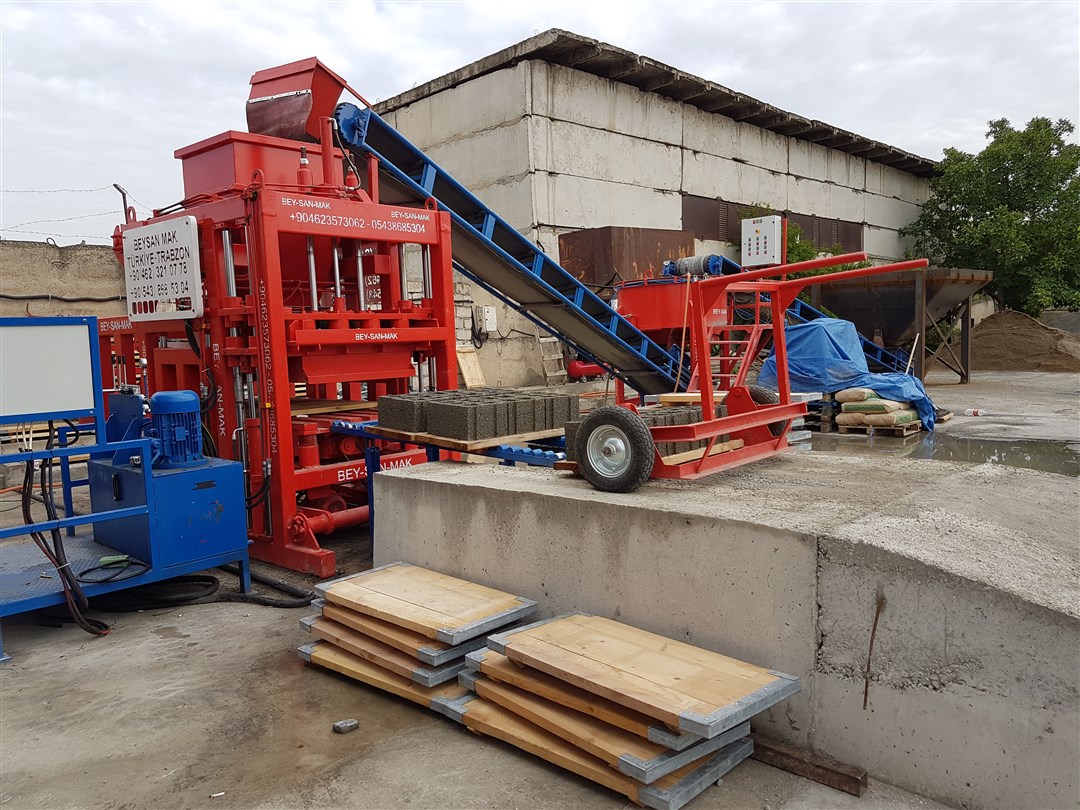 Interlocking block machines are produced in three different automation levels which are described in the following sections.
The interlocking block machines are also called hollow block machines.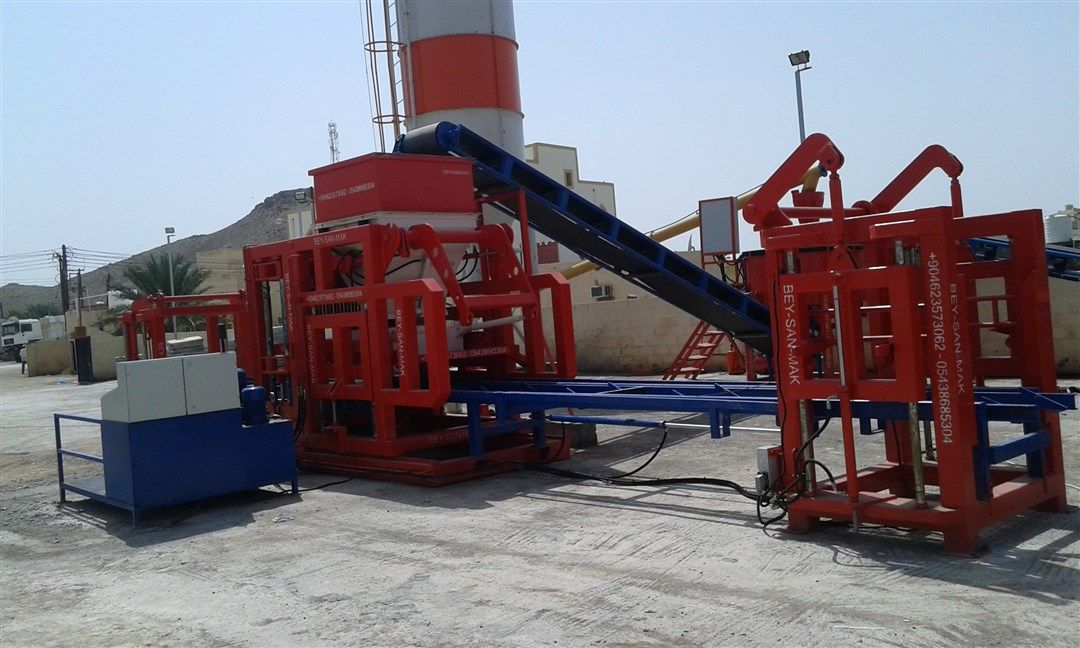 Interlocking brick machines are machines with double hoppers. These machines can produce hollow blocks, solid blocks, curbstones, and double-layer paving blocks. The second hopper is used for colored mortar. With these interlocking brick machines, you can apply color mortar only to the top layer of the paving block. With this system, you only use a little bit of color instead of coloring the whole block.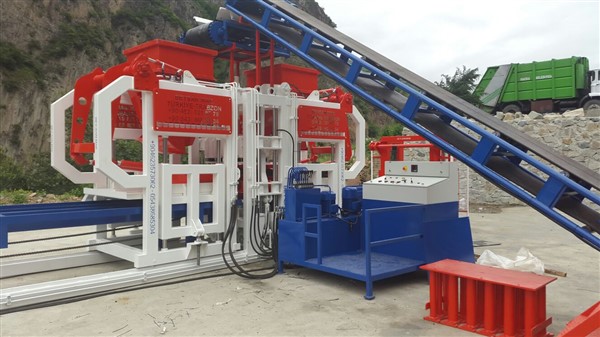 You can also apply smaller aggregates to the top layer to have a smoother surface as well.
The interlocking brick machines are also called paver block machines.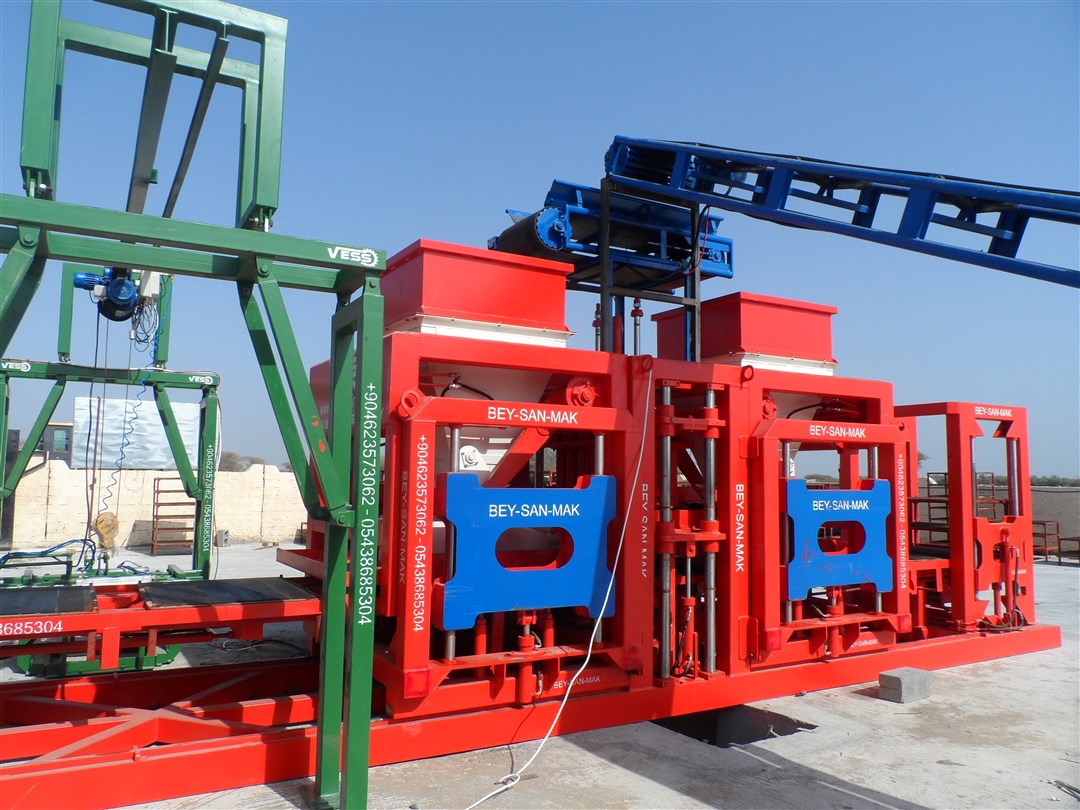 Consider that in many countries in the world paving blocks are called interlocking blocks as well. These interlocking blocks have different shapes and sizes and thicknesses. if the main product that you are producing is these blocks then you need an interlocking block machine which is a double hopper machine. Because sooner or later you will receive orders for these blocks with different colors.
Interlocking block machines are manufactured in mobile and stationary types. Consider that Bess produces these machines in full plant versions. This means these machines are offered as a set including the aggregate hoppers, conveyor belts, mixer, interlocking block machine, and other equipment needed for producing interlocking blocks.
>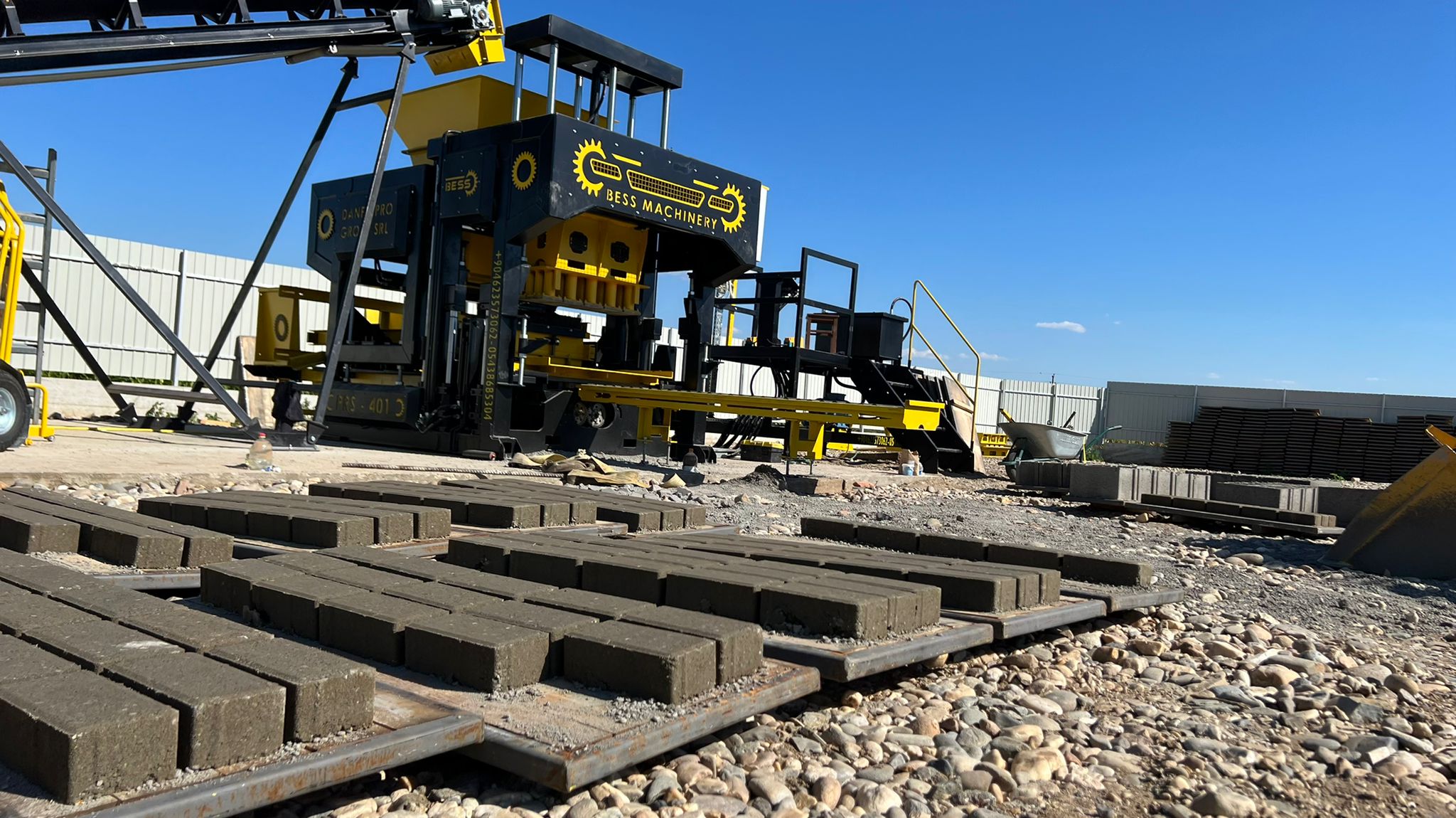 1. Semi-automatic interlocking block machine:
The semi-automatic interlocking block machines are the smallest machines in this category. The minimum capacity of these machines is 4000 interlocking blocks or 300 m² of interlocking paving blocks in one shift. After the production, the pallets are transported to the curing area by handcarts. You totally need 7 workers for this type of plant.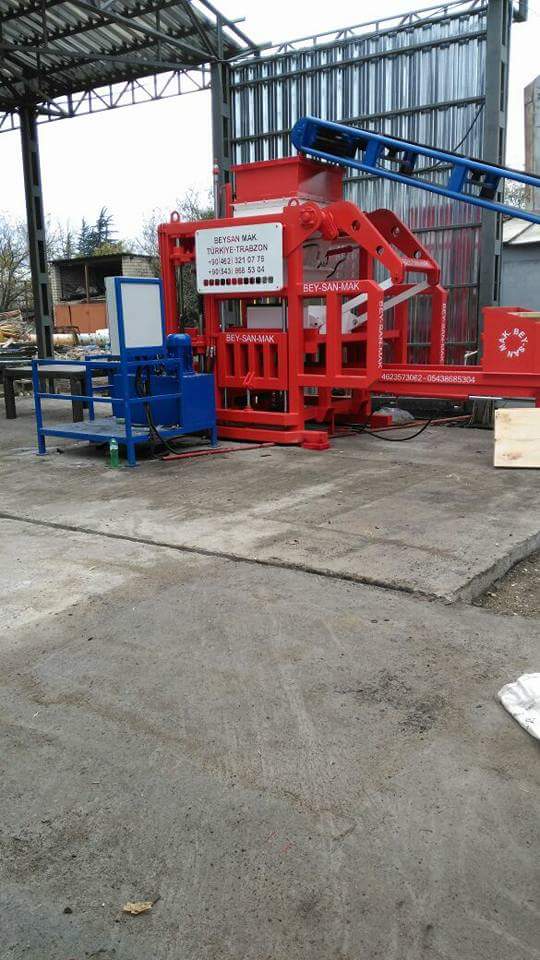 2. Automatic block machine:
Automatic interlocking brick machines are almost the same machines as the semi-automatic type with a major difference, loader and unloader robots are used on the machines. This means you need a forklift instead of handcarts to transport the pallets to the curing area.
In this method, you only need one worker for transportation and you also need a smaller curing area for your plant. Totally you need 5 workers for the automatic plants.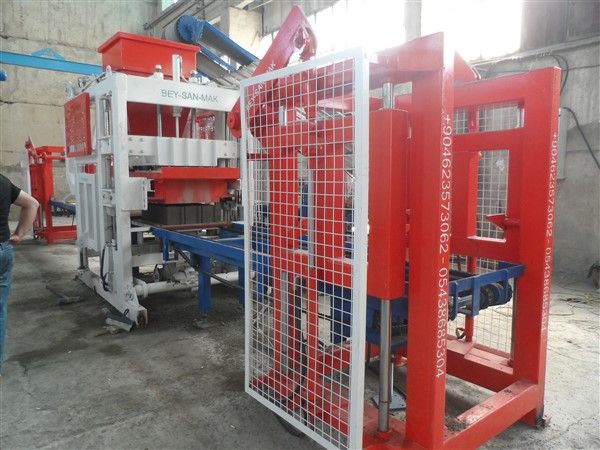 3. Fully automatic block making machine:
These machines are offered in high capacities and they are offered as full plants, you only need 2 workers to run your whole plant. Most of the job is done by robots in this type of plant. Note that fully automatic interlocking block machines are the most expensive option, but if you live in a country with high labor costs and expensive land, this option is perfect for you.
If you are interested in starting your interlocking block production plant and you don't know which machine is the best choice for you, you can ask our sales department to help you choose the right machine. Bess company is a well-known brand in the concrete block machine manufacturing industry. With more than 420 working machines in more than 38 countries, our sales department can suggest to you the best option based on your desired capacity, your land, and your budget.
You also need to consider labor costs in your country. If you are living in a country where labor cost is cheap, you better choose a semi-automatic machine with higher capacity instead of choosing a low-capacity small machine. if you feel confused and thinking about getting expert help you can contact us at any time. Our contact details are available at the end of this article.
Interlocking Block Machine Working Process
---
The video below shows the working process of the automatic interlocking block machine.
You can visit Bess Machine EN for semi-automatic types or double hopper versions.

Conclusion
---
Most of the time customers are confused by the different types of machines in the market with different brands and different working systems. Bess manufactures different interlocking block machines based on European standards. All the equipment used on the Bess machines is German brands as well.
Bess provides two years of guarantee for its interlocking block machines as well. If you don't know which machine suits you the best you can contact our English department. Our experienced sales representatives will help you choose the best machine based on your project.