There are many companies which design paving block machines, but the most important is to produce a robust machine with reliable production. Every time we are very intensive to offers a potent block machine. block machine that our company offersis; brick making machine, concrete block machine, paving block making machine, Smolen block machine, and chimney block machine.
When we are designing the machine, we produce the machine according to the customer demand. because major revolutions occurred in concrete block making machine paving block making machine in this century. Today brick making machine, paving block making machine or concrete blocks machine are Automatic And can produce up to 3.000 pieces block per hour depending on their size and production speed.
| | |
| --- | --- |
| | |
| semi-automatic paving block machine | semi-automatic paving machine |
The demanded characteristics are derived from the clients, needed data is collected during the company visits and from various choices in publishing machines. It is completed finally by the standard engineering design matrix decision. There is a variety of concrete block, paving making machine in the market. the blocks making machine can either be a manual machine, semi-Automatic paving block making machine And brick machine or also Automatic paving block making machine and brick machine.
Semi-Automatic paving making machine and brick machine
| | |
| --- | --- |
| | |
| paving block plant | paving block machine installation |
The approximate cost of the machine is estimated by investigating the reasonable price in the market. This paving block machine has great functional systems and features. you can see some of them below:
It has different Automation and capacity system.

The machine is very fast and has a high production capacity.

It has the ability to work

24 hours.

Control system can be manual or Automatic.

Vibration force is almost 42.500kg.

hoppers can be single or double.

Minimum-maximum production height is 5cm-25cm.

minimum total power usage.

Wooden pallet dimension depends on the capacity of the machine.
This is the optimum features of capacity that can produce high-quality paving blocks. By changing the mold this machine can produce many types of concrete paving blocks-hollow blocks-insulated bricks-different curbstone, Asmolen and chimney blocks which height must be between 5cm and 25cm. when choosing demanded supplies, the requirements associated with components performance while in operation are defined and initially well considered. paving block machine operation speed will seriously be trusted on the operators' capability to perform the activities in a cycle.
Automatic paving making machine and brick machine
| | |
| --- | --- |
| | |
| paving block machine with product samples | paving block machine, mixer and conveyor belt |
The processes include loading the mold, compaction of the concrete to remove the air cavity and finally the mold rejection. There is additional That require when pavingblock machine is installing, except product drying and curing rooms there is no extra equipment needed in the plant area. For a plant of these features the recommended installation, Curing and stock area are minimum3.000m2. there is no obligation for roofing. The prepared concrete floor should be a minimum one-third of the total area. Equipment specified in our campaign is special and layout for your demand. Indicators, which support continuous or permanent growing demand for housing countries allows us to produce paving block machine with different capacities. We made huge steps in the promotion of the paving block machine.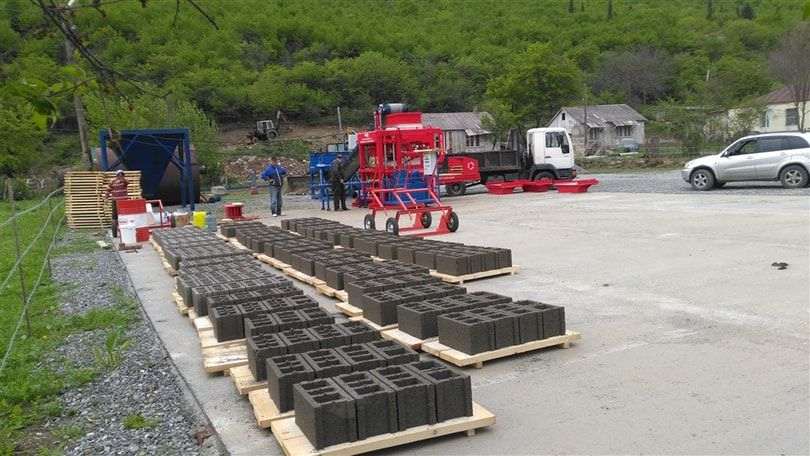 paving block machine producing hollow concrete blocks
Manufacturing of paving block machine is these following machines:
Semi-Automatic brick machine
PRS-400 daily 4.000 Piecehollow block

PRS-600 daily 6.000 Piece hollow block

PRS-800daily8.000 Piece hollow block

PRS-1000daily10.000 Piece hollow block

Automatic paving block machine
PRS-402daily 300m2
PRS-602 daily 400m2
PRS-802daily 550m2
PRS-1002daily700m2
All of these paving block machinesthat are specified with different codes show the capacity, different features also different prices. For example, semi-automatic PRS-402 paving block machine has technical specification such as operator control, vibration force of 36.500kg, machine dimension of 200cm/750cm/250, production capacity 100-120 pallets/hour, weigh Is 7.500kg, mortar hoppers and capacity is double hoppers and hydraulic motor power is 5.5kw.
The other things are, you are able to order paving block machine in many ways that you can think of. so, our staff will make everything ready for this paving block machine like installation and startup. The following factors are considered during the design process.
Simplicity, availability of spare parts of the paving block machine, reliability, operational and low maintenance cost is one of the most important features of this machine. One of the essential factors to improve the standard of living is the provision of reasonably good housing.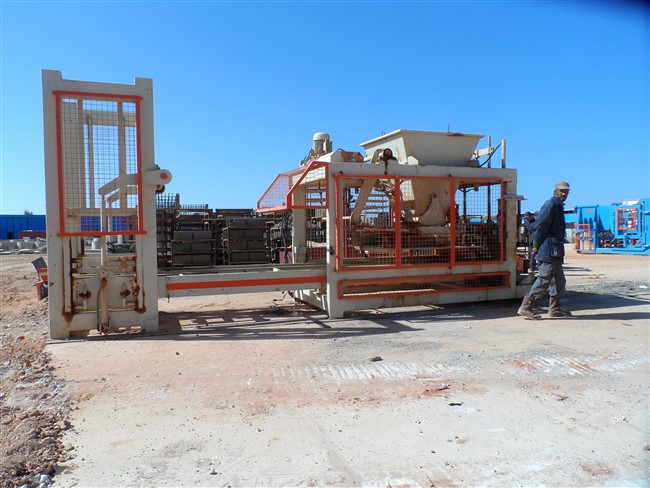 Single-hopper paving block machine
Rapid and uncontrolled urbanization in many developing countries like Africa has resulted in shortage of housing in recent years, especially in towns and suburb areas. most customers we distribute paving block machine are Arab countries, African countries, and Asian countries. we guarantee secure trading of paving block machine and business for all budgets. on time production on time delivery is also guaranteed. free infrastructure project and international contract with preferred language are also available.
| | |
| --- | --- |
| | |
| Mountage of the paving block machine | Installation of the paving block machine |
We publish the interviews and visuals about paving block machine projects we complete and interviews that our customers mention about our company on our websites, preventing unnecessary time and money losses for reference research. With all complete campaign that we organized, we provide all different equipment for paving block machine products that you need to purchase in one place effortlessly to create a complete plant.
for more information, you can contact: