Before you start manufacturing concrete blocks such as hollow block, paving interlock block, curbstone (or Kerbstone) etc. it is necessary to have a concrete block machine. We use different types of equipment for manufacturing a block or brick making machine. A silo is a structure for storing bulk materials. A cement silo is an essential equipment used for ready-mix concrete batching plant and for concrete products making machines. The ready-concrete mixing process cannot be done without a cement storage silo. It is also necessary for block making machine. Investing in a concrete block manufacturing company or other concrete blocks (such a pavers, borders, interlocks ...) can provide a very important return on investment (ROI), especially in a country where the sector of construction is in full swing stage. What is a cement silo made of? What is a cement silo price? In this article, we will talk about the description and price of the silo.
Description of the cement silo
A silo is a reservoir for storing building materials or agricultural products or an underground pit for storing and launching strategic missiles. Here we speak rather of cement silo. In general, cement silos are made of steel with a protective layer and a paint that you can choose in the colors of your company. A cement silo can be described as follows:
The upper part of the silo has a manhole, the location of the safety valve and a flange for the filter.
On the lower part of the cement silo is the flange for the filter, the loading hose with a connection.
On the peripheries two sleeves for cement level indicators (up and down).
At the cone an outlet with a generally round flange which allows fixing a butterfly valve. This valve must be closed when loading the cement into the silo. It is operated by a handle.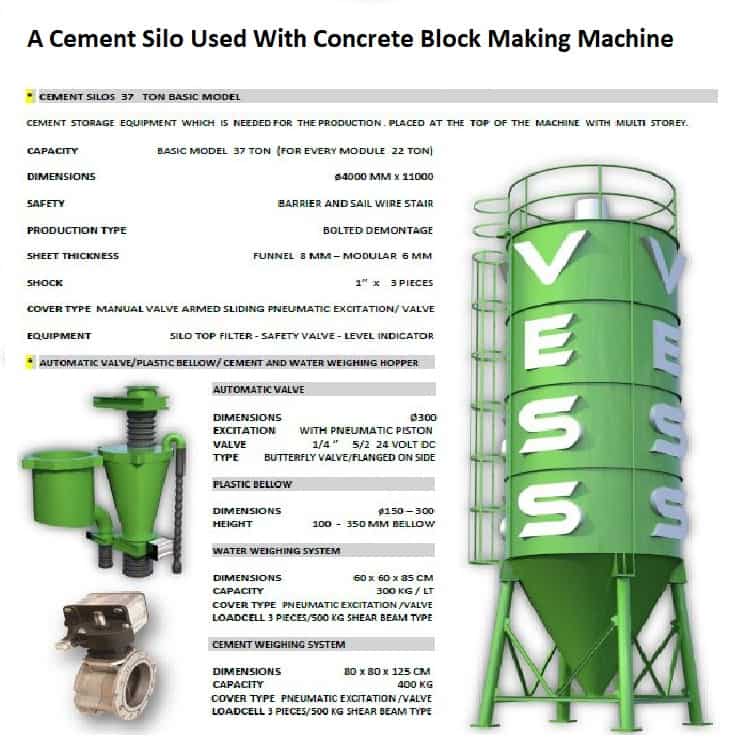 Cement silo price
The cement silo (or cement storage silo) is manufactured in our company BEYAZLI GROUP in Turkey with European standards. Sometimes we have used cement silo and used concrete plant that we make available to our customers. The price of used silo is much lower compared to new silos. The price varies according to the characteristics of the silo. Our cement silos are sold separately or fully equipped. We can deliver bare or fully equipped silos anywhere in the world. We ensure their implementation (installation) and first use.
Concrete Block Machine
Our technology allows you to produce all types of concrete blocks in different color and pattern. If you are looking for a concrete block machine for sale, you can visit our products below. After purchasing the machine, we deliver three molds to the customer depending on his or her choice.
---
The technology used for manufacturing our concrete block machine meets European standards. The technological part of the machines is generally Siemens technologies because we are using some Siemens equipment.

The use of the latest technology on these concrete block machines has made a difference in terms of quality. A very high power heat engine allows a vibration frequency of more than 4500 rpm.

The format of the blocks or pavers depends on the choice of customers. The concrete block machine has the possibility to produce blocks with a size between 2 cm and 120 cm.

---
Brick making machine - Hollow block machine Paving block & Curbstone
machine
...
Other equipment used in our concrete block machines
Our technology allows the machine to produce not only pavers but also different types of concrete block such as:
The concrete hollow blocks (or bricks) like stretcher block, corner block, pillar block, jamb block, partition block, lintel block, frogged brick block, bull nose block…

Kerbstone or Curbstones

Standard Core-Fill Block

Column Block

Slump Block

Retaining-Wall Block

garden borders (curbstones like),

and the slabs for the construction of the buildings.
For more information about our concrete block making machines (or cement block machine) please, contact us by Email:This email address is being protected from spambots. You need JavaScript enabled to view it. or WhatsApp +90 549 325 6670.