It is laying concrete block making machine, which will lay concrete block on the concrete floor and move to the next laying. Any type of concrete block can be produced with good quality by using different types of concrete block mould. This machine is very high-productive for startup concrete block producers, we always recommending our customers those which are first experience in this business to select these machines and start their concrete block production business. We are able to deliver our laying concrete block making machine to South Africa, Mali, Ghana, Ethiopia , Ghana, Saudi Arabia, Algeria, Qatar, Iran and everywhere you are.
Features of Laying Concrete Block Making Machine:
· Low power consumption
· Negligible maintenance
· Stand Over The Blocks Immediately
· Easy Maintenence
· Heavy Pressure
· Easy Working Method
· Low Power Capacity
· Less Labour Cost
· Platform Will Not Damage
Further, in order to maintain the efficiency of the catered range we have appointed a team of quality inspectors who examine our laying concrete block making machine on different set quality settings. Our machines are widely used in nearly all kind of buildings undertakings in the African Continent. These renferm residential, commercial and industrial sectors. Along with is, we also offer customization facility to the customers in Asian and African specialy in construction sector.All this, showed the the importance of the laying concrete block making machine.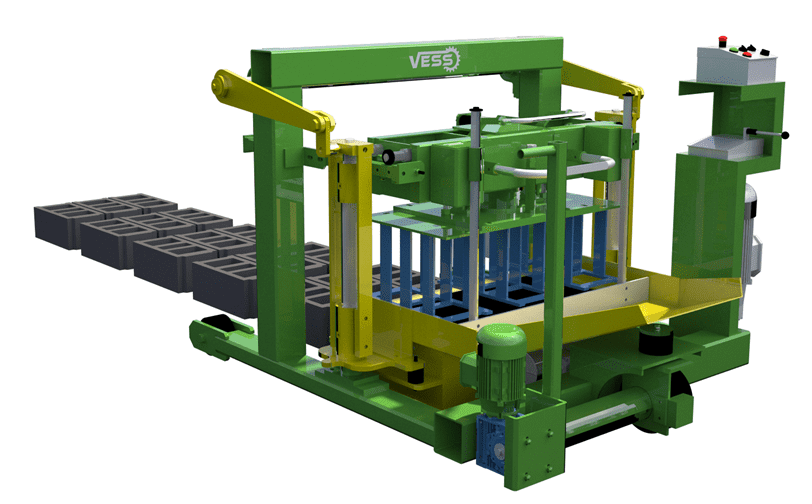 Industrial standards
They are manufactured with precise quality of raw material which are in compliance with the industrial standards.
Our Company BESS - VESS offers different types of semi-automatic laying concrete block making machine and hollow block machine.This products are made with high grade raw material and under the strict guidance of expert technicians. This machinery facilitates the production process in the building sites. The components assembled in the machinery are quality driven and offers smooth performance. It requires minimum maintenance and, can be replaced if required. All electrical parts are siemens - Rexroth - Bosch brand. laying concrete block making machine. They are aceptable in leading industrial rates especially in the African and Asian Market.
Technical Specifications
| | |
| --- | --- |
| Total Engine Power | 3.2 KW |
| Hydraulic Pressure | 50 Bar |
| Vibration | singlie vibration Engine |
| Produced Product | 18 - 20 Cm Height |
| Weight | 550 KG |
| Production Rate / 8 Hours | 2250 Piece of Hollow Block |
Size of Moulds
| | | |
| --- | --- | --- |
| 400x200x100 | 5 /press | 3750 / 8hours |
| 400x200x150 | 4 /press | 3000 / 8hours |
| 400x200x200 | 3 /press | 2250 / 8hours |